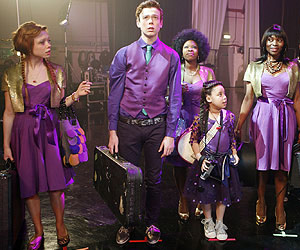 My Almost Famous Family follows the ups and downs of life in a big, raucous family and the craziness that comes with fame. From stolen pigs and rock star grandads to make-or-break maths tests and crazy teen TV presenters, life with the Swanns may look glamorous on the surface, but there's a lot of frantic paddling going on underneath!
When English musician Gary Swann (Andrew Clover) stepped on stage with African-American soul singer Sholandra (Rakie Ayola) in Las Vegas it was love at first verse. Now their families have joined, moved back to the UK and perform together as TV pop group We're In Perfect Harmony.
But with five children/pop stars living, singing and schooling under one roof, viewers can expect tears, tantrums - and the occasional spontaneous musical number!
First there are Gary's two children: 16-year-old self-styled bad boy of rock and secret softie Hadley; and 15-year-old quick-witted, musical genius Toyah. Then there are Sholandra's children: 15-year-old fame hungry diva-in-the-making Aretha; and 14-year-old family joker Isaac.
Completing the family is Gary and Sholandra's cheeky, entrepreneur in the making, eight-year-old Martha, who is deaf. "It's a big melodious comedy with a huge heart," reveals series producer Paul McKenzie.
"The Swann family are almost famous but the parents are determined to keep the kids grounded - which is pretty difficult when they've got five million viewers watching them every week."
CBBC wanted to create a fun comedy series with music at its heart and which also examined the effects fame can have on a family. McKenzie explains how the series came about and the challenges he faced:
"Knowing our audience's love of music, entertainment talent shows and famous faces, we decided it would be fun to make a show about a musical family on the treadmill trying to hit the big time. The notion of a family on the verges of fame who have one foot in the door and one foot grounded in reality was created. They might just make it, they might be famous... one day.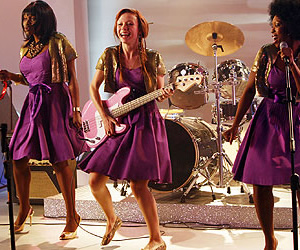 "However, parents Gary and Shalondra, who have been in the business before, are determined to make sure that they're all grounded (or they're grounded!) - the kids have got to do their school work and their chores. They're trying to make sure they're just regular kids."
With the idea for the series taking shape the next challenge was to work out how the music should work within the series. The team knew that they wanted to have music at the heart of the show but also wanted the series to stand out.
"By creating comedy songs as the musical element in a show we have created a fresh and funny way of embedding music within the series. So Toyah will sing about not being able to dance, whilst Isaac will rap about his ability to glue things back together that he's secretly broken.
"The comedic element gave us a licence to add some fun dance routines to add to the overall humour. When We're In Perfect Harmony play as the house band they will cover big pop numbers from The Ting Tings to The Noisettes' Don't Upset The Rhythm, so hopefully we have covered all the bases that our audience will enjoy.
"Our musical director Richie Webb, who worked on That Mitchell And Webb Look, Radio 4's Fifteen Minute Musicals and Horrible Histories, came up trumps with some fantastic numbers which are really catchy and very funny."
In addition to humour and music, the team also spent a lot of time searching for the right person to play Martha. She is a funny, independent mixed-race deaf child. As Gary and Shalondra's only child together she is the link gelling the family together.
After a long search across more than 200 people and organisations the team discovered eight-year-old Rachel through her deaf unit at school. Although able to hear herself, Rachel's parents are deaf and her first language was BSL (British Sign Language).
"She was pefect to play Martha - combining the comedy timing to bring her to life as well as a personal empathy of the issues facing deaf people."
To ensure Martha's character was a realistic representation the production team employed an interpreter on set, who also taught the cast how to sign, and employed Daryl Jackson, a deaf actor/signer, to look and advise on the scripts and episodes.
Paul was also so impressed by one young deaf actor from the auditions for the role, Mikey Riddington-Smith, that he created a guest part especially for him.