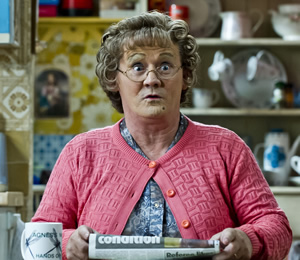 Brendan O'Carroll talks about the third series of his hit BBC sitcom:
There's so much excitement about the new series. How was it being back in the studio?
Exciting, but we were apprehensive because people have been looking forward to seeing it. It's a bit like hoping that you can still sing when you come back for your third album!
How long does it take you to write a series worth of material?
We try out all the gags on tour and take what works and use it for the TV series. The Marx Brothers used to do it and it really helps everyone get into a rhythm. I always ask 'would I be embarrassed to put this on stage?' to check if it's right. I don't sit down and plan how the series is going to go, it just happens spontaneously on tour and translates into the sitcom material. I make it up as I go along!
The response to Mrs. Brown's Boys has been amazing. What's the secret of its success?
I think the audience love the unexpectedness, especially the live audience; we hear a lot of "I was there the night that she did that" etc. The show is always different, you can see the show six times and it will never be the same. It's unexpected for the cast too - they've learnt that they never know what I might do.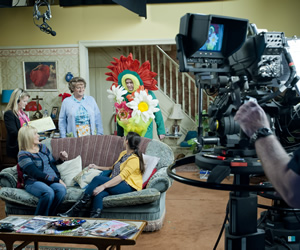 Do the cast stick to the script or do you go off on tangents?
It's important that everyone knows the script back to front and then we can play with it. Jenny (Jennifer Gibney who plays Cathy) is my rock as she is always able to bring us back to the script. When we're in a scene together, I know I can really muck around!
The whole cast being family is a very unusual element. How did this come about and what is it like?
If you'd told me how it would turn out twenty years ago, I'd never have believed it! It's peculiar as it didn't start off like this and wasn't planned. It started with me marrying an actress, then my son married and actress and so on. Not planned at all, but we are so lucky.
I frequently say that "God sent them to us" and it's true, they're amazing. The biggest grumble from most comedians is that when they're working they don't get to see their family, so we are very lucky indeed. Even when we're not working, we live very close to each other - by choice!
Can we expect to see the return of all the characters from Series 2?
Everyone, except Father Quinn, who's in rehab. Agnes is not impressed with his replacement Father Damien, who's a bit new age for her. It doesn't end well as when Father Quinn returns, Agnes's actions inadvertently send him back into rehab.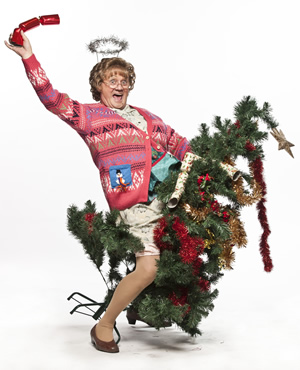 What else can we expect from Series 3?
It's in the same vein and gives a snapshot of the Brown family at different stages of the year. Agnes is trying to stop the children from growing up as usual. She's happy for them to do anything, as long as it's through her! There's also a 'When Harry Met Sally moment' with Agnes and two priests to look out for...

What will you be doing for Christmas?
We will be having a big family Christmas in Dublin, with 14 for Christmas Dinner. I'll be doing the cooking and my wife will be doing the entertainment - belly dancing probably.
We'll record the Christmas Eve special and have got 60 people coming over to watch it on Christmas Day. Then it's off to Florida on Boxing Day.
The new Mrs Brown's Boys Christmas specials are on Christmas Eve and Boxing Day. Series 3 starts on New Year's Day.