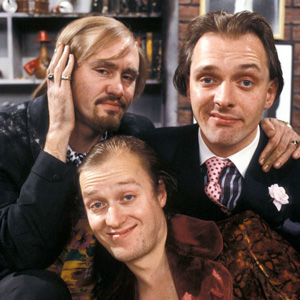 If you haven't heard of Filthy Rich & Catflap, then don't be glum - you're not alone.
The BBC sitcom, filmed in 1986 and aired early the next year, came from the same stable as The Young Ones and The Comic Strip Presents..., but failed to mirror the roaring success of its predecessors.
It has all the hallmarks of the Mayall/Elton et al team - it's rude and lively, but on closer inspection, it strains at the edges, somehow not quite meeting the high expectations of the mid-80s comedy audience, now well versed in the comedy movement of the time.
The series was panned critically when compared to its contemporaries, ironic considering the tongue-lashings from reviewers that The Young Ones was initially subject to. It also attracted respectable viewing figures; it just failed to take off in the same way.
Never the less, its six episodes remain an example of time in comedy history, and are doubtless a staple component of any Rik Mayall fan's collection. In fact, the series is very much a missing link between The Young Ones and Bottom - the fight scenes infamous in the latter series are ever-present in Filthy Rich & Catflap, as is the vulgarity and the fart jokes.
Planting a satirical smack firmly in the face of the showbiz industry, Filthy Rich & Catflap sees Mayall take on the guise of Richie Rich, a Z-list TV celebrity with an A-list ego and, as far as the eye can see, dubious talent.
Richie's useless agent, Ralph Filthy (Nigel Planer), and alcoholic minder Eddie Catflap (Adrian Edmondson) complete the trio - all three of whom are achingly familiar, albeit with different names.
Like The Young Ones, the world they inhabit is somewhat surreal and anarchic, typical of the type of alternative comedy mooching about at the time. But Filthy Rich & Catflap has a particularly nasty kick to it - all three socialise with grossly exaggerated media stereotypes and parodies, all with an unfriendly edge.
The show also features some painfully accurate spoofs, most notably the cheesy game show Oo-Er, Sounds A Bit Rude. Digs at Margaret Thatcher and her Government - an Elton trademark - are frequent, too.
The plots see Richie bump off several milkmen and meet The Nolans; Eddie blackmail Richie in a paternity scam; and Ralph sent to prison. Richie eventually becomes famous by dishing the dirt on every celebrity, meaning he's the cleanest actor on the block, leaving TV companies no choice but to hire him.
Filthy Rich & Catflap did not progress to a second series despite the last episode hinting at continuing storylines, and was only repeated by the BBC once. True, it may not be a classic, but the poke at the cult of celebrity - and the quest for it - is still as relevant today as it was then. Any self-respecting comedy fan should give it a whirl, for old time's sake if nothing more.