Page 14

The Comedian's Comedian Podcast with Stuart Goldsmith Page 14
Stuart Goldsmith talks to fellow stand-up comedians about how they create funny stuff and manage their career. These in-depth interviews are interesting and frequently revealing. There are now well over 200 episodes.
Previous episodes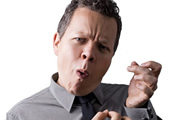 22nd March 2012. 56 minutes.
The first ever episode of ComComPod. Stuart talks to musical comedian Rob Deering.