Alex Lowe: Clinton Baptiste
One random comedian, eight random questions: it's the ultimate test of funny person and fate. This week it's the mirthsome mentalist Clinton Baptiste - or rather the man who plays him, Alex Lowe.
You may also know Alex as our foremost phone-in troubler, Barry from Watford, or for Zelig-like pop-ups in some of Britain's finest comedies: The Fast Show, House Of Fools, Cold Feet, Toast Of London, Absolutely Fabulous, 15 Storeys High, Minder, not to mention several higher-brow roles with Kenneth Branagh. Now his memorable character from Phoenix Nights (then Britain's Got The Pop Factor...) is enjoying a new life. Which is appropriate.
"The tour features me as Clinton Baptiste, a useless end of the pier Northern psychic clairvoyant medium," says Lowe. "He is hopelessly tactless with his audience and pretty disdainful of them. Just the sort of person you don't want prying into your subconscious."
How was Baptiste actually born? "Originally, Clinton was the brilliant creation of Peter Kay and Neil Fitzmaurice who invented him for Phoenix Nights," Lowe explains. "I played him in the first series of the show way back in 2001, and happily they are fine with me taking it further."
"The tour keeps getting longer, which is so gratifying. We finish in June 2020 and will hopefully be doing another tour in 2021 of a new Clinton show. I love performing live and actually I love staying in hotels: I never understand when popstars bemoan touring. What's not to like? Clean sheets and cooked breakfast every morning..."
Magic. Alex Lowe, your Random 8 await.
What was your childhood career dream?
I only ever wanted to be actor. I was a child actor from the age of 12 in a number of plays and TV programmes, which was very exciting, and luckily my parents were very supportive and came with me everywhere as my chaperones; sitting around for hours for filming, or in my dressing room for theatre plays. They thought it was just a hobby, but I have stuck to it doggedly.
Do you have a favourite device?
Obviously my iPhone. I can't operate without it. My wife is constantly telling me off for staring at it and recently on tour my tour manager commented on how long I spend on it, which was alarming because I thought I'd cut down since the start of the year.
What's the best or worst book you've ever read?
Hmm. One of the best was London Fields by Martin Amis. As a child I read a book called The Borrowed House by Hilda Van Stockum, which was about a German girl in the Hitler Youth who discovers a hideaway. A similar thing to Jojo Rabbit, I suppose. For a lad of eleven comprehending the Second World War it was invaluable.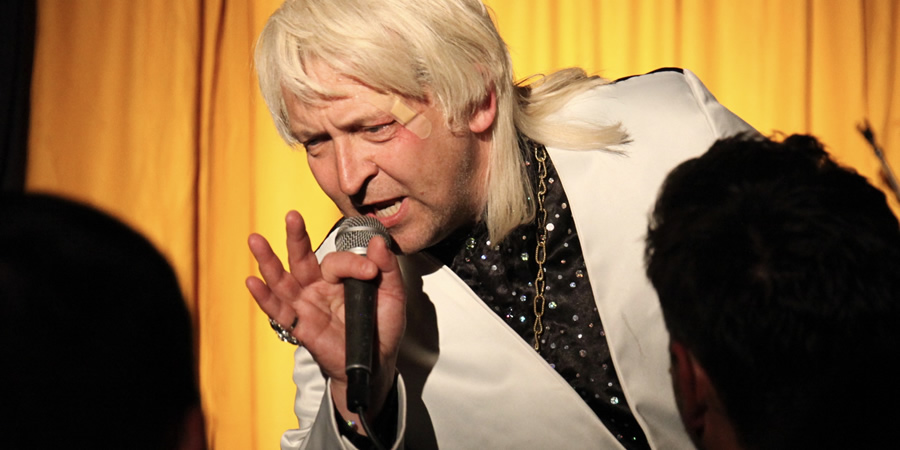 Which place you've visited was the biggest anti-climax?
Most beaches anywhere. I always find them hot, sandy and uncomfortable, yet everyone seems to love them. I don't get the fascination. Even when you pluck up the courage to go in the stinky sea, it's cold and there's a chance your bare feet will stand on something sharp. Overrated. Sitting round a pool with a sunshade and a bar nearby knocks it into a cocked hat!
What's the best thing you ever bought a ticket for?
QPR v West Brom, 1982 FA Cup Semi Final at Highbury. Clive Allen scored at the North Bank end to send us to Wembley. Delirium.
Who's the most interesting person you ever met?
My wife. She has opinions that I can never disagree with. Well, rarely. She is so intelligent and genuinely compassionate that I will always listen to her and usually follow her advice. That's being completely serious.
Which film or show would you love to have acted in (and which part)?
I would love to have been in 1917, which I saw the other day and blew me away. I'm too old for the two leads, but maybe if I was the Benedict Cumberbatch or Andrew Scott part... dunno.
Who are you most envious of?
No one, really. I suddenly thought the other day I'd love to be Chris Martin from Coldplay for some reason. He seems to have a ton of cash, still playing stadiums and looks as fit as a fiddle with all his alternative bollocks.
Meanwhile, I'm on tour seeking out the nearest Greggs and berating myself every morning for drinking after the show.