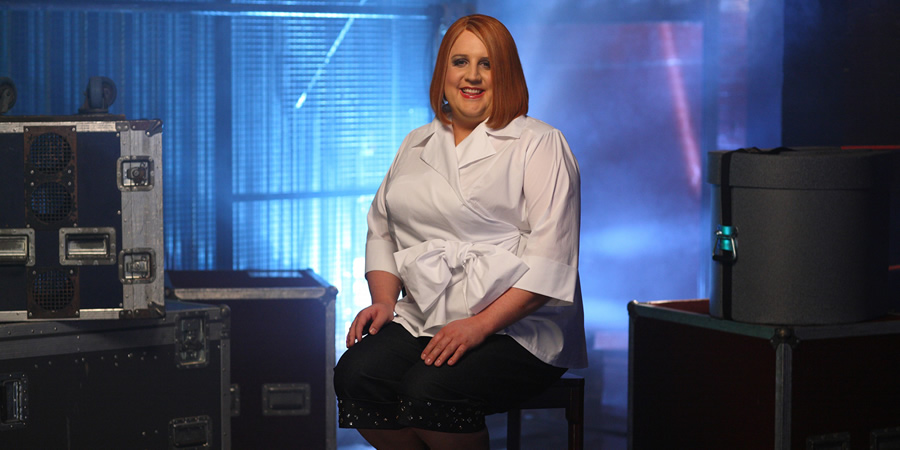 Genre

Comedy

Broadcast

Channel

Episodes

Starring

Peter Kay, Jo Enright, Karl Lucas, David Hulston, Sian Gibson, Marc Pickering, Cat Deeley, Neil Fox and others

Writers

Directors

Peter Kay and Chris Power

Producer
Britain's Got The Pop Factor And Possibly A New Celebrity Jesus Christ Soapstar Superstar Strictly On Ice is Britain's latest reality talent show. It's the ultimate reality show and solo artist Geraldine McQueen must battle it out with pop band Two Up, Two Down to be named the winner.
The programme, hosted by Cat Deeley, follows the contestants' attempts to make it the top, while all the time being watched by judges Nicki Chapman, Pete Waterman and Neil Fox.
Production companies

Soundtrack

The covers included Enigma (Return to Innocence); The O'Jays (Love Train); Michael Jackson (Earth Song); The Village People (YMCA); St Winifred's School Choir (There's No-one Quite Like Grandma); Starship (We Built This City); Destiny's Child (Bootylicious); Dolly Parton (Nine To Five); Bonnie Tyler (Holding Out For A Hero); Mariah Carey (Hero); TLC (Waterfalls); Bruce Springsteen (Born to Run); The Special AKA (Free Nelson Mandela); Rihanna (Umbrella); B*witched (C'est la Vie) and Kelis (Milkshake).

The Winner's Song was created by Peter Kay and Gary Barlow. The show's theme music was composed by Eliot Kennedy.

Laugh track

None
Broadcast details
First broadcast

Sunday 12th October 2008 on Channel 4 at 8pm

Last new broadcast

Friday 19th December 2008 on Channel 4 at 9pm

Last repeat

Saturday 26th March 2011 at 9:00pm
Website links