Michael Brunström
James Joyce, Olympic sports and a 1963 comedy sketch that's inexplicably big on the continent: which British comedian brings them all together? It is, of course, Michael Brunström (given that his name's at the top there), who's doing gigs about all three in the near future.
First up he's performing at Sweetly, Dirty, Dirtier, a multi-act show at London's Bill Murray pub to celebrate Bloomsday, on June 16th, a date immortalised by Joyce's epic novel Ulysses. Other guests include Simon Munnery, Tony Law and Helen Duff: but what unique attributes does Brunström bring?
"I have an affinity for Joyce's enfantômastic neolojisms," he says. "And I have actually read Finnegans Wake. For Sweetly, Dirty, Dirtier I'm going to attempt to orchestrate a mass speed-read of it. I reckon if we divvy it up among the entire audience, we can blast through the whole 628 pages in under 10 minutes."
It's quite a challenge - and that's also the gist of Brunström's own new venture. A former winner of the hallowed Malcolm Hardee Award for Comic Originality, he's returning to the Edinburgh Fringe in a typically unexpected fashion.
"I'm really looking forward to Edinburgh, where I'm performing my sixth full-length show World of Sports, in which I play an Olympic athlete," he says. "I'm also staging a live adaptation of the 1963 Freddie Frinton sketch Dinner for One, which is shown every year at New Year on German television."
Classic Brunström. Now let's check out his backstory.
First gig?
This would've been in about 2012. I'd being doing improv a few years before my first solo comedy gig. A couple of pals - Dave Waller and Ryan Miller - were hosting an improvised chat show, with character comedians as guests, and they invited me to do a short act in between the guests.
"We've got Alexis Dubus as Marcel Lucont and Sarah-Louise Young as La Poule Plombée, so can you do something French-themed?" Obviously any attempt to do a French character would look rubbish alongside those two star acts, so I decided to be a French thing instead: the River Loire.
I came on as 'The Human Loire: half-man, half-longest river in France'. The act was so dumb and so inexplicably successful that I used it as the central bit of my first Edinburgh hour a couple of years later.
Favourite show, ever?
I try to remind myself to treat every gig as if it were the favourite of my career. After all, my impressions of 'how well it went' will inevitably alter drastically over time anyway. But I have warm memories of a sweaty performance of The Hay Wain Reloaded at Edinburgh in 2016.
I'd had a rough Fringe, with a couple of cancelled shows due to lack of audience, but somehow I managed to pack the room for the final performance. At the show's climax - when in character as John Constable I paint The Hay Wain - the audience, entirely unprompted, started chanting "Hay Wain! Hay Wain! Hay Wain!" A beautiful moment.
Worst gig?
I sometimes shudder to recall the last ever performance of The Golden Age of Steam in 2015. It was on the top deck of Bob Slayer's bus on a rainy November night in a Nottingham car park. I had two pals in the front row, and group of drunk bikers in the back, who had wandered in entirely by chance having no idea what was going on.
Which one person influenced your comedy life most significantly?
I had the miraculous good fortune to encounter the genius Ken Campbell, who literally plucked me off the street and got me into performance. He was both supportive and incredibly demanding. He sadly died around eleven years ago, but is an ever-present invisible mentor to me, goading and guiding me.
And who's the most disagreeable person you've come across in the business?
You. For asking me such a negative and divisive question.
Is there one routine/gag you loved, that audiences inexplicably didn't?
There's lots. This happens all the time. Most recently, I thought it would be brilliant and hilarious if I came on stage dressed as a top hat wearing a top hat ("elegance squared!") and sang Roy Orbison's Cryin'. It was met by a sea of blank faces.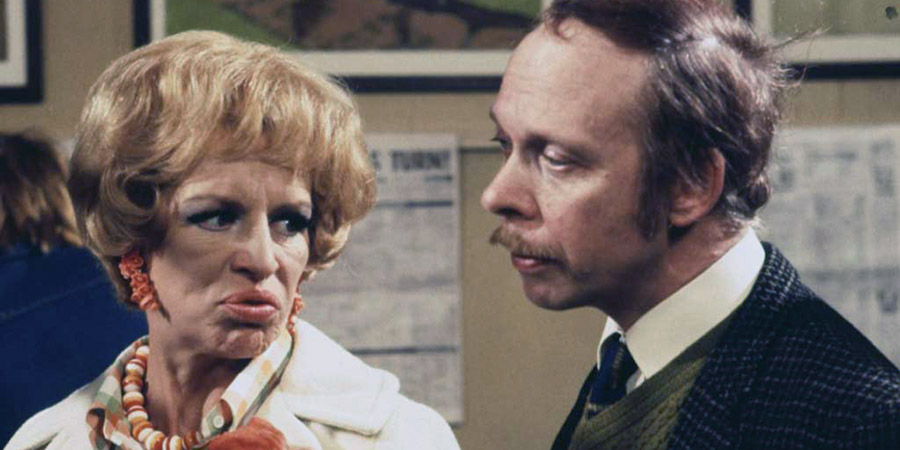 Who would you say was the best Joyce: James who wrote Ulysses or Yootha who played Mildred in the ITV sitcom George & Mildred?
I'd love to have been a fly on the wall at James Joyce's audition for Man About The House, but don't think he would have done justice to the role as Yootha did.
The most memorable review, heckle or post-gig reaction?
My 2017 Edinburgh show was called Parsley, and was an hour of parsley-based humour. Once, about two-thirds in, a bloke in the third row shouted out "You should'a done rosemary!" and I think that's the funniest thing that's ever happened while I was on stage.
How do you feel about where your career is at, right now?
I've never had any joy pursuing a 'comedy career' - in the sense of seeking more money and prestige. The most important thing for me is to have creative freedom. And in order to do whatever I want on stage, I don't need the permission or approval of anyone except the audience in front of me.
For the time being, I'm lucky that enough people are willing to take a punt on my stuff, and I'm feeling very positive about the future. I'm already planning next year's show, which will be titled Michael Brunström's Umlaut: A Colon into Another Dimension.