Ed Gamble
Ed Gamble shot to quasi-fame as one half of the hugely popular podcast-and-live duo Peacock & Gamble, then went solo, which was a bit of a, er, calculated risk. Well, actually he'd already gained a good gag-writing reputation, having penned stuff for Ask Rhod Gilbert, Never Mind The Buzzcocks and, more recently, Man Down.
As a stand-up he's performed umpteen successful Edinburgh Fringe shows, the latest of which, Stampede, he'll be doing at the Leicester Square Theatre tomorrow night, if you're reading this on Thursday (it's on Friday 24th, basically).
He's got a bit of a US profile these days too, having starred in BBC America's Almost Royal, and guested on Conan O'Brien's show, which is probably the last thing he expected when he did the gigs below...
First gig?
A heat of the So You Think You're Funny? competition, The Watershed in Wimbledon. I did material about how we should replace bras with live birds, and somehow still made it through. I didn't think to do any gigs in between the heat and the semi-final and flamed out in front of the Edinburgh Fringe crowd. Also, I think I wore a baseball cap. What a chump.
Favourite show, ever?
Any of the opening night galas at Machynlleth Comedy Festival (I think that is spelt right but I can't be bothered to Google it). Ridiculously long, eventful and a real endurance test for everyone involved. But the audience know what to expect, so they are in for the long haul. There are running jokes in the audience that have been running for 5+ years. Utterly glorious/tiring.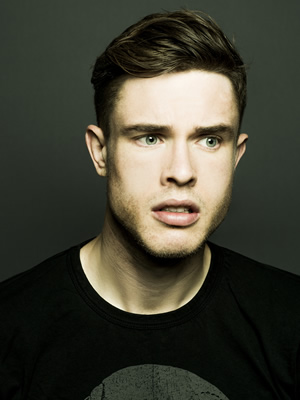 Worst gig?
I did nine days on a cruise ship once. There exist multiple alternate universes where I took the coward's way out and ricocheted off a propeller like that man in Titanic.
Who's the most disagreeable person you've come across in the business?
Comics are mainly decent folk, so I can't really dredge up anyone disagreeable. There's egos of course, and ridiculous fools, but nobody disagreeable. Oh god, what if it's me? I think I am the worst one.
Weirdest gig?
Glasgow SU a few years ago on Fresher's Week. I used to tell a story about interviewing for a job with Tim Westwood (true) and that night he was doing a gig downstairs. He found out about the story, insisted on going onstage to introduce me to a group of bemused students (unorthodox, as I was the MC and we were in the second half).
I then told the story which obviously ends with me not getting the job, and he stuck his head round the curtain and shouted "you're fired!", which didn't make any sense. The audience were confused so I did what any good MC would do - mumbled something and brought on Roisin Conaty.
Is there one routine/gag you loved, that audiences inexplicably didn't?
See aforementioned bra/bird routine. It lasted one gig.
What's your best insider travel tip, for touring comics?
Don't listen to too many podcasts about murder in a row. You will go onstage feeling a lot more violent than normal. I killed a man in Hull.
The most memorable review, heckle or post-gig reaction?
When I was in a student sketch group we received the sweet one-star review that every young lad desires. They complimented us on the title of the show, and heavily insinuated that that is the only thing that stopped us getting zero stars.
How do you feel about where your career is at, right now?
Well, right now I am butt naked in my kitchen answering an email Q & A at 2pm on a Thursday. So, I feel pretty good. The lady who lives opposite, however, is livid.
Ed Gamble's Stampede is at London's Leicester Square Theatre on 25th November. For details visit edgamble.co.uk