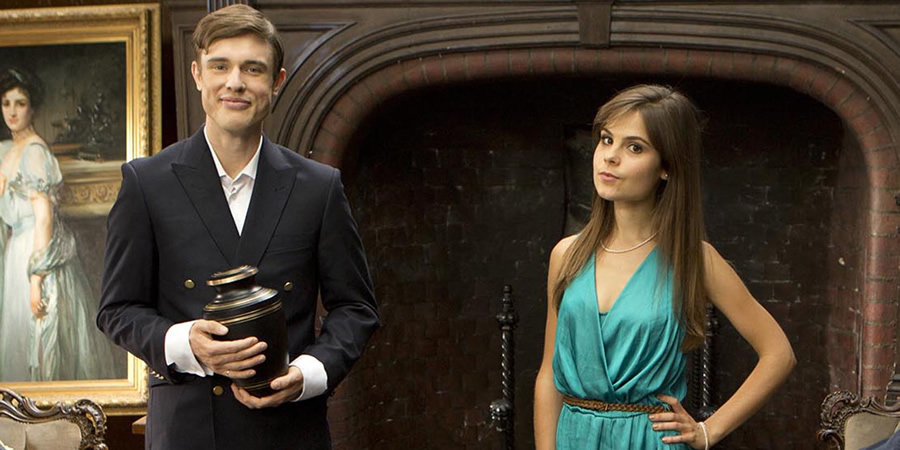 Genre

Sketch Show

Broadcast

Channel

Episodes

Starring

Writers

Ed Gamble, Amy Hoggart, Jason Hazeley, Joel Morris, Samantha Martin, Seamus Murphy-Mitchell, Tom Neenan and Piers Torday

Directors

Producers
Almost Royal, first shown on BBC America in July 2014, is a comedy-reality series in which two young British aristocrats take their first trip around the United States, interacting with real-life Americans. In actual fact, the two aristocrats are actors trying to deliver comical lines and baffle the people they meet.
Georgie (Ed Gamble) and Poppy Carlton (Amy Hoggart) are heirs to Caunty Manor, a large country estate in Norfolk, where they have enjoyed privileged lives as distant descendants of the Royal Family.
Almost Royal follows the two young British aristocrats as they venture outside the palace and across the pond on their first trip to the US, where they interact with real-life, unsuspecting everyday Americans. Crowns and cricket are traded for tobacco and baseball, Buckingham is swapped for Beverly Hills and instead of tea with the duke and duchess, it's a protein pump with Fabio and a ride along a Texan range. Georgie and Poppy are about to have their silver spoons plucked from their mouths and their thrones pulled right out from under them.
It's an eye-opening expedition that brings them face-to-face with every day real-life American citizens in Los Angeles, Boston, Texas, New York, Nashville, Detroit and Washington.
As well as commemorating their late father, Lord Carlton's love for America, the road trip provides the sheltered siblings with an opportunity to spread their wings and see the world. Georgie and Poppy have never worked a day in their lives, driven themselves anywhere or solved any problem more complex than telling their butler to tell their cook what they want for lunch.
Georgie Carlton is the most affable man one could meet. He's using the trip around America as a way to become more "manly" in order to take on the responsibilities of Caunty Manor and live up to his Father's legacy.
Poppy Carlton is looking forward to raising her profile on the trip around America. She has high hopes of finding fame as a pop star / actor / author / lifestyle guru / cookery presenter. Poppy has all of the self-delusion required to find fame without having a scrap of talent.
Almost Royal is technically an American rather than British comedy but is listed here for your interest.
A second series aired in the US but was not bought by any British broadcaster.
Production company

Laugh track

None
Broadcast details
First broadcast

Sunday 10th August 2014 on E4 at 10pm

Last new broadcast

Sunday 21st September 2014 on E4 at 10pm

Length of episodes

30 minutes

Last repeat

Saturday 27th June 2015 at 3:30am
Website links