Alex Kealy
It's Valentine's Day! And what better gift for the loved one(s?) in your life than an evening with a cerebral political gagsmith who's a dab hand onstage with a fine writing résumé, off it? That man is Alex Kealy, contributor to The Now Show, The News Quiz and Mock The Week, and now venturing off on his virgin UK tour. But with what?
"Hi! Rationale is a show about the emotional roots of our rational thoughts," Kealy explains. "The show is trying to say that we're not rational and that the big decisions we make and important views we take are arrived at emotionally; rationality is used as an after-the-fact justification to allow us to defend them. But it's not why we got there."
Really, Kealy. So does he reckon audiences will go with the show?
"Some of it might split the room politically but, honestly, I wrote this show with the intention of (a) not being hostage to current events, so very little of it is 'topical', and (b) making something that says a larger point with which it's difficult to disagree, and unites more than it divides. I think we can all relate to our inner contradictions, to trying to argue something nobly when we know our reasons for thinking that, privately, are more irrational, emotional or self-interested."
Irrational, emotional and self-interested - sounds like the perfect post-Valentine's event. Anything else?
"There are also jokes about stink bombs, brain scanners, horse riding injuries, jaffa cakes, conspiracy theories, chicken burgers and the movies of Christopher Nolan."
Now that's a list you don't see every day. The big question, though: is a career in comedy rational?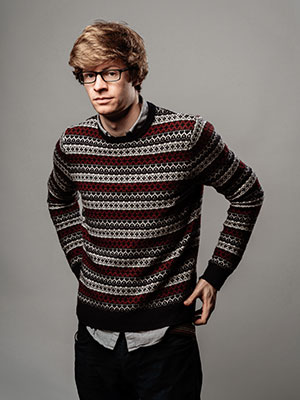 First gig?
February 21st 2010 - had to do some judicious searching of my Gmail (other monopolistic internet corporations are available... just, you know, not many) inbox to work this one out.
It was in Richmond, a heat of the Laughing Horse New Act Competition. Full room. Utterly petrified before walking on stage, absolutely delighted when I got some laughs, then distraught when I didn't qualify for the next round (which I was OBVIOUSLY never going to on my first gig).
Wouldn't recommend doing a competition for your first one as the inevitable rejection will dissipate the high you get from those first laughs.
Favourite show, ever?
Just had a lovely one in Canterbury last Saturday supporting Shappi Khorsandi where she brought her dog on stage with her for the opening, which was a mad delight. Rest of the gig, crazily, lived up to that.
Worst gig?
How long ya got? Every proper death - although a lot rarer now - is a new delicious experience that feels worse than each that went before it. So, whenever I last died?
Which one person influenced your comedy life most significantly?
My friend Ivo Graham starting to do stand-up inspired me to give it a go as well. Good chance I wouldn't be doing it at all if not for him.
And who's the most disagreeable person you've come across in the business?
Wow, didn't realise BCG stood for 'Beef in Comedy Gatherers'.
Somebody once booked me for a gig a long time ago that was tricky - did my best but it was a small, cold crowd. Got a message the next day from this booker asking for my credits, which I thought meant he wanted to rebook me and turned out he wanted... to prove to the venue owner that I was actually a comedian.
A very demoralising experience for me that probably could have been avoided if the booker had done 30 seconds of googling to compile that info themselves!!!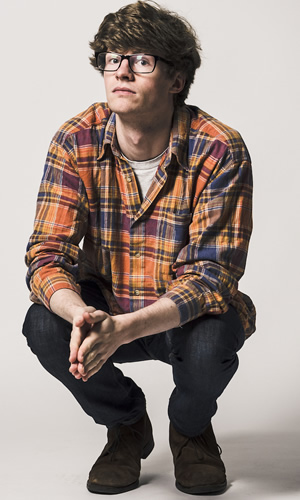 Is there one routine/gag you loved, that audiences inexplicably didn't?
There's a frankly great joke in this show about going on holiday, climate change, death and Lonely Planet travel guides that's great but never got more than 15-20% of the audience laughing because it is Not Fun and Quite Uncomfortable Actually.
Do you have any good tips for getting into TV and radio writing?
I'm bad at writing scripts (as of yet) but for joke writing, keep cranking out those gags for Newsjack and similar. I'm a bit of a weird one in that I've got radio writing work more from my stand-up and getting on Best of the Fringe joke lists. Write with people - do your jokes to each other, help each other.
Are there particular reviews, heckles or post-gig reactions that stick in the mind?
A reviewer who will remain nameless completely misinterpreted the point of one of the best jokes in my show, which is about how flawed and bitter we all are, by saying it was unlikeable, when that was the entire point.
How do you feel about where your career is at, right now?
I'm really happy! I'm near financial self-sufficiency through solely stand-up and comedy writing work, rather than my other day job, and that's allowing me more time to focus on comedy, which is so exciting. Doing my own tour is really cool, and so has been supporting Shappi Khorsandi.
As a comedian, more importantly, I feel in the past 6-12 months I've come along a lot mentally; I'm loads happier on stage and allow the audience to feel that. I used to be a bit my own worst enemy, underselling good material with palpable self-hatred. Now I sell it with unnoticeable internalised self-hatred!! One day I might even be able to upsell mediocre material to rapturous applause!!!