Malcolm Hardee Awards 2016
The 2016 winners of the 'increasingly prestigious' Malcolm Hardee Awards were announced at a ceremony at the Edinburgh Fringe festival last night. The awards, which were set up in 2005 in honour of the late comedian, aim to recognise originality.
The trophies were handed out at the Gillie Dhu venue late last night by critic Kate Copstick, in a ceremony organised by Malcolm Hardee's biographer John Fleming.
Comic Originality
Mr Twonkey, a character played by Paul Vickers, won the prize for Comic Originality for his show Twonkey's Mumbo Jumbo Hotel. Vickers, who lost out on the award last year to Michael Brunström, was picked by judges over Arthur Smith's museum of socks, Foxdog Studios and Come Look at the Baby to win the prize. He collected the trophy accompanied by one his many puppets, Sandy the hooker duck.
Cunning Stunt
Comedian Becky Fury won the Cunning Stunt award. She too beat Arthur Smith's socks, as well as Richard Gadd, who after his successful show last year has decided to move to an even smaller room to make longer queues.
The organisers explain that Fury won the award because she posted her flyer on Tinder to attract suitors to her show, and also "put on her flyer that she was a 'Last Minute Comedy finalist' (she was a finalist at a talent show run by a group of clubs called Last Minute - nothing to do with the Edinburgh Comedy Awards sponsored by lastminute.com). When judge John Fleming saw her show, four Canadians in the row behind him had come to see her because she was being considered for what they believed was 'the big Edinburgh prize'. So it was an effective cunning stunt."
Most Likely To Make A Million Quid
This year the award for potential future success did not go to any of the originally nominated candidates - Arthur Smith, Al Porter or Foxdog Studios - but, in an anarchic decision in keeping with the tone of the awards in general, instead went to the star of Come Look at the Baby, the show in which audiences simply watch a baby for half-an-hour.
The awards explain: "The 7 month-old (sex not being revealed) had been nominated for the Cunning Stunt Award, not for the Million Quid Award. But the judges decided to switch its category in their final meeting. The baby was not allowed to accept the prize because of Scottish drink licensing laws, but its grandmother accepted it on his behalf."
Whilst the infant could not attend in person, he/she did send along a pre-recorded gurgled speech.
FirstMinute Award
A new prize was also presented at this year's ceremony - the FirstMinute Award, which may be titled to act as an opposite to the sponsors of the main Edinburgh Comedy Awards. This award aims to celebrate the show that has the funniest opening minute.
Cat Call - performed by stand-ups Cally Beaton and Catherine Bohart - was named the winner, and the duo were given a prize of a clock decorated with pictures of birds.
---
The chaotic awards ceremony was first hosted by Janey Godley, although she left half-way through due to a migraine, resulting in Copstick taking over.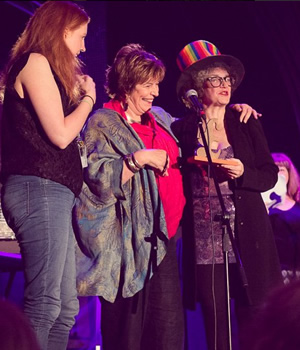 First, Copstick and Lynn Ruth Miller performed a rendition of No Business like Show Business, which was followed by double-act Bob Blackman's Tray who performed their tray dance tribute.
Comedic harp player Ursula Burns then took to the stage to perform the song Dry Your Eyes Jesus, and then delivered another song while lying down on stage with her harp resting on her.
Last year's winner of Act Most Likely to Make a Million Quiz, Laurence Owen, returned to the ceremony to perform his musical tribute which highlights the rather limited roles given to female characters in Disney movies.
This was followed by Brian Damage and Krysstal who performed two songs in tribute to Hardee - a reworked version of The Sun Has Got His Hat On entitled Malcolm's Got His Knob Out, followed by an offering called Bunch of Cunts, a reference to the abusive audience he used to attract.
Lynn Ruth Miller then returned to stage to perform Spandex is a Girl's Best Friend and a song about her inability to find love, Another Saturday Night and the Phone isn't Ringing. Feeling sorry for her, comedian Lewis Schaffer decided to be Miller's guy for the night.
Ariane Sherine then performed a song about having a Brazilian wax - Hitler Moustache - followed by a song about the joys of being single - I Will Never Need to Give Another Blowjob.
The musical acts were followed by the now traditional Scottish National Russian Egg Championship competition, in which eight people from the Fringe take part in the contest that involves smashing eggs on their heads. John Fleming managed to win the tournament, beating Kate Copstick in his opening heat. The other people taking part were Luca Cupani, Romina Puma, Giacinto Palmieri, Gareth Ellis, Tim FitzHigham, and Ian Wolf from BCG.
Following the smashed eggs on stage was Frank Sanazi (aka Pete Cunningham), as Elvis Corpsley - a zombie parody of Elvis Presley.
The awards ended with a performance from Künt and the Gang.
All money raised during the show went to Copstick's charity Mama Biashara, which raises cash for vulnerable people in Kenya.
To find out more about the Malcolm Hardee Awards visit malcolmhardee.co.uk