Si Hawkins' Fringe Diary 2015, Part 1
So, another Fringe, another three-slash-four weeks of joy, tears, ill behaviour (by comics), ill behaviour (by companies), cobble blisters and bitching. Bitching shows, that is, as there were loads! Far too many for one human to see even with a few weeks and a really anal plan - and you haven't lived until you've endured an anal plan. Here's Part One of my frantic trawl up and down Cowgate and beyond.
THE GONG SHOW
Man of the Fringe 2015 is arguably Phil Nichol, who won the then weirdly-named if.comedy award in 2006 and would surely have been a contender this year if still eligible, partly through sheer weight of shows (he was often in five a day) but chiefly for the tremendous conceit at the heart of his emotional solo hour I Don't Want to Talk About It, which goes nuts late on and winds up with the whole audience marching across St Andrew's Square to form the VIP section of his late-night Cray Cray Cabaret. More on him in Part 2.
2013 Edinburgh Award winner Bridget Christie is now so firmly beloved that she could probably wave around some soiled underwear and still get a round of applause... ah. Oddly enough, I saw two comics do lengthy bits about abolishing VAT on sanitary towels the same day, the other one a famous fellah at a usually silly late-night show: and the audience lapped it up. Christie is now in the lovely position of possessing a regular platform - that 11am soapbox at The Stand - but still brings a self-deprecating air to her tales of life as a famous feminist, with a book to sell. Long may she roar.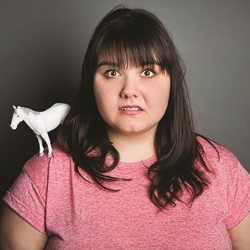 You've probably already read a fair bit about this year's nominees, but it's great to see Sofie Hagen in the Newcomer list. Her Westlife-themed show at the spacious Liquid Room is beautifully put together, also incorporates a useful message, plus some quite extraordinary teenage fan fiction. If only troubled, teenaged Sofie knew that her ramblings might one day earn a hefty cheque.
The inexplicably ignored-before but now Best Show-nominated Joseph Morpurgo has again pushed the envelope, and could well be the name in the Foster's one this year. His admirably ambitious hour of LP-based character business must have taken ages to put together, and his sound man gets a well-deserved ovation at the end too. A rare show that probably couldn't work in a free venue. Speaking of which...
THE RELOCATED
The Phoenix-like folks behind Freestival have had quite a Fringe. Before it even started they belatedly lost one of their major venues, Cowgatehead, to a competitor; then, having secured a new hub at short notice, New Waverly Arches, they suffered a suspected break-in and fire which closed it for a bit. Still, the hardy chaps bounced back, and provided one of the Fringe's most riotous recurring happenings, Card Ninja vs Yoyo Master:
That Cowgatehead farrago did offer a silver lining for several relocated acts. The uniquely-back-storied and impressively savvy Israeli Daphna Baram found herself in a nice Just the Tonic cave, and told one of the most extraordinary true stories of this year's Fringe: her professional dealings with a proper terrorist. Londoners can catch that show, Something to Declare, at The Museum Of Comedy on, um, 9/11. Nicely timed!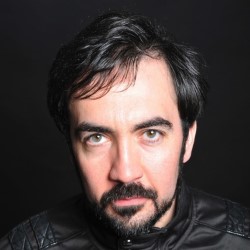 Meanwhile, improv alumni Brendan Murphy ended up on the Pleasance's new midnight free strand, and his splendidly out-there characters probably worked all the better past the witching hour, with the audience nicely lubricated. That M People bit in particular; sounds daft in the cold light of day, brought the house down at 00.30.
Speaking of Free Fringe controversies, I caught Stephen Carlin's fine show at Canon's Gait just before it was axed after the now London-based Scot fell foul of that promoter's now infamous 'no shows for other companies' rule - he's also been performing in a novel stand-up format called Routines, which someone at PBH presumably only noticed over two weeks in. Thankfully Carlin found a new home - Heroes @ the Hive - as it's a masterful hour of stand-up. I wonder if he's also added an acerbic new bit now? That'd be worth seeing.
See also: Si Hawkins' Fringe Diary 2015, Part 2