Daphna Baram
Daphna Baram: Something to Declare
Stand-up
2:30pm (50 mins)
7-9, 11-17, 19-23 & 25-29 Aug 2015
Free
This is a 2015 show that has now finished.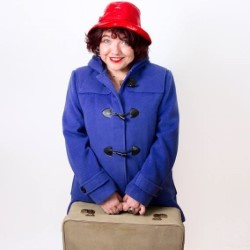 The listing for this show in the printed programme is wrong. The following details are more likely to be correct, but we suggest you independently check.
Show details
Stand-up show starring Daphna Baram performed on the following days in August 2015...
Mon
Tue
Wed
Thu
Fri
Sat
Sun
03
4
5
6
7
8
9
10
11
12
13
14
15
16
17
18
19
20
21
22
23
24
25
26
27
28
29
30
31
1
2
Venue details
Daphna Baram, an Israeli human rights lawyer turned journalist, a bleeding heart and an inadvertent anthropologist of British life gets herself leave to remain in the UK, builds a New Jerusalem in East London and plans to become Nigel Farage's worst nightmare. A laughter-dotted journey about immigration, politics, assimilation and the essence of home, as a Middle Easterner struggles to decipher the peculiarities of her ever British hosts. 'Explosive' (Walthamstow Guardian). 'Wonderful, hilarious, important' **** (BroadwayBaby.com). Directed by Amanda Baker.
Share this show
Reviews
Press coverage
Full press release
How to pass the Englishness test, build a New Jerusalem and become UKIP's worst nightmare. An immigrant speaks out.
Daphna Baram, an Israeli human rights lawyer turned journalist (Ha'aretz, The Guardian, The Independent, New Statesman, AlJazeera, BBC), invaded the UK in 2002. 13 years in, she now finally has an indefinite leave to remain. Her journey took her from suicide-bombing infested Jerusalem of the Second Intifada to the dreaming spires and endless social rules of Oxford fellowships, then on to London's media world of air-kissing and double-talk.
She studiously memorised pub etiquette, East-enders knowledge, dead royal wives, posh ways of causing offence and Christmas do-s and don't-s, as well as passing the ultimate test of Englishness (and the dread of all immigrants): the pub quiz - otherwise known as the Life In The UK Test.
With a little help from friends and foes she learned to tell invitations ("we are having a bit of a gathering") from dismissals ("we must do lunch") and declarations of passionate love ("you're ok") from sneers of hatred ("charmed"), but her stormy past never stopped haunting her, as well as (mis)informing her.
Baram is inspired by the tradition of foreigners like George Mikesh and Tom Stoppard who had cast a baffled yet acutely incisive eye on British peculiarities, traits and trends. Yet, in line with her combatant training, she shoots in all directions: from the political to the flippant via the incredulous and sentimental.
The show was directed by Amanda Baker.
Daphna Baram
Daphna Baram fell into stand-up comedy in 2010 following two weddings (not hers) and a heart attack. Something to Declare is her third solo Fringe show following Killing Miss D (2013) and AKA MissD (2014).
Daphna Baram's other show in Fringe 2015 is the 3-hander Bombs Booze and Haggis Strikes Back.
---
Tweets by MissDcomedy