Roisin Conaty
Roisin Conaty: Destiny's Dickhead
Stand-up
5:45pm (1 hour)
3-14 & 16-28 Aug 2011
9.50
This is a 2011 show that has now finished.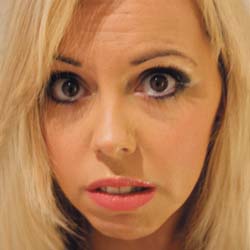 Show details
Stand-up show starring Roisin Conaty performed on the following days in August 2011...
Mon
Tue
Wed
Thu
Fri
Sat
Sun
03
4
5
6
7
8
9
10
11
12
13
14
15
16
17
18
19
20
21
22
23
24
25
26
27
28
29
30
31
1
2
Venue details
Fosters Comedy Award Best Newcomer 2010, star of Russell Howard's Good News and The Angina Monologues, Roisin returns to Edinburgh with her second solo show, Destiny's Dickhead. In this show Roisin looks at the things that shape our lives, the choices we make and the batsh*t events that turn all our plans upside down. 'A seriously talented young lady, divine, a rising star' (Time Out), 'A fast-paced, refreshing and exciting talent with an engaging and original world view' (Sunday Times). Roisin will once again be supported by the cult figure Jackie Hump.
Share this show
Reviews
Press coverage
Full press release
Foster's Edinburgh Comedy Award Best Newcomer Winner 2010 Roisin Conaty - Russell Howard's Good News (BBC Three), Victoria Wood's Angina Monologues (Sky 1) and Dave's One Night Stand (Dave) - returns to Edinburgh, after her triumphant debut sellout run at the Fringe last Year.
This year's show; Destiny's Dickhead sees Roisin questioning her fate and stressing over the many roles each of us are destined to play in life after all, one persons son is another persons 'Pervy Dave'. Roisin is a sister, a comedian and will eat anything with jalapenos on, but to one women in Camden Market she will always be 'long tall Sally'? A nickname that makes NO BLOODY SENSE. With so much choice and so many paths seemingly available to us all, our lives are often spent longing for things and people that are not part of the plan. Or are they? Maybe, if you see a black cat wearing a trilby definitely send the text! Roisin doesn't want any more tedious choices blocking her destiny. When there are 20 different shower gels promising varying levels of Nirvana, is it any wonder Roisin has never finished War and Peace. What affects us more in the end? The carefully chosen degree or, a drunken conversation in a pizza restaurant? Are we all just a product of our environment or, can we truly shape our destiny like a pair of unruly eyebrows? Roisin is still single, dropping h's and has never owned a brolley for longer then 4 hours.
Roisin Conaty is a multi-talented writer and performer and has just returned from the prestigious Melbourne International Comedy Festival, where she performed her full hour show nightly to rave reviews. Roisin'S radio credits include The News Quiz, It's Your Round and Arthur Smith's Balham Bash all for BBC Radio 4 and she will be appearing regularly on Chris Addison's new programme Show and Tell (E4). After winning the prestigious Edinburgh Comedy Award, Roisin went on to win the Laughing Horse New Act Award and been a finalist in the Amused Moose and Funny Women competitions.
---
Tweets by roisinconaty