Jim Jefferies
Jim Jefferies: Alcoholocaust
Stand-up
10:30pm (1 hour)
4-15 & 17-30 Aug 2010
14 - 17.50
This is a 2010 show that has now finished.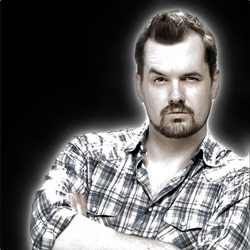 Show details
Stand-up show starring Jim Jefferies performed on the following days in August 2010...
Mon
Tue
Wed
Thu
Fri
Sat
Sun
04
5
6
7
8
9
10
11
12
13
14
15
16
17
18
19
20
21
22
23
24
25
26
27
28
29
30
31
1
2
3
Venue details
Never afraid to court controversy, Jefferies' forthright and opinionated shows have sometimes divided audiences. But no one ever said being a comedian was easy, even if Jefferies makes it look that way. With five Edinburgh Fringe sell-out shows, numerous TV appearances, an HBO hour-long comedy special and phenomenal critical acclaim, Jefferies is now one of the biggest names in comedy around the globe. 'One of the most gratifyingly riotous comedians working today' ***** (List). 'Jefferies will have you roaring in the aisles' ***** (Edinburgh Evening News). 'Better than Jesus' (Kate Copstick, Scotsman).
Share this show
Reviews
Press coverage
Full press release
Alcoholocaust: (Meaning: The aftermath of a drinking party, usually resulting in every available horizontal surface being covered in empty booze containers, spilled beverages, and a general sticky alcoholic residue.)
Jim Jefferies, the globally renowned Australian stand-up, returns to the Edinburgh Festival for the sixth time with his brand new solo show Alcoholocaust. This time he will perform at the mammoth 1031 capacity venue McEwan Hall for the whole month of August.
Alcoholocaust includes some of Jim's favourite wild antics over the past year and as always Jim's material is set in reality, which is what provides him with his trademark brutally frank style. You will hear about a hilarious and often touching true story about his friends severely disabled brother plus Jim's traditional pet hates...
Over the last two years Jim has been making his mark on the USA, where he now resides in Venice Beach. He is currently making his own show for Comedy Central entitled The Jim Jefferies Show and has screen-tested alongside Hollywood stars Drew Barrymore and Justin Long amongst others. His own one-hour HBO special I Swear To God has given him huge success (following in the footsteps of comic legends Eddie Izzard and Billy Connolly who were also awarded one-hour specials) cementing his place as now one of the biggest names in comedy around the globe. Just last year Jim was the only international comic to perform his own show at the new 'Just For Laughs Festival' in Chicago alongside comic luminaries that include Ellen DeGeneres and Jimmy Fallon. This year Jim is returning to Montreal to perform at one of the prestigious Galas and also record another HBO tv show. Also Jim will be returning to the UK later in the Autumn for his 45 date tour.
Jim can currently be seen as the face of Comedy Central's Grouchy Young Men and has appeared on the BBC1's Have I Got News For You (where he flirted outrageously with, and was turned down by, host Moira Stewart!), BBC 2's Never Mind The Buzzcocks, Ch4's 8 Out of 10 Cats, E4's Big Brother's Celebrity Hijack, Sky 1's Premier League All-Stars(playing for Fulham) and Paramount's Class of '97 alongside Simon Pegg, Matt Lucas, David Walliams and The Mighty Boosh. Stateside Jim has hosted HBO's Live at Gotham and the American NME Awards' amongst other things.