Vic & Bob film cast
Top cast for Vic & Bob film The Glove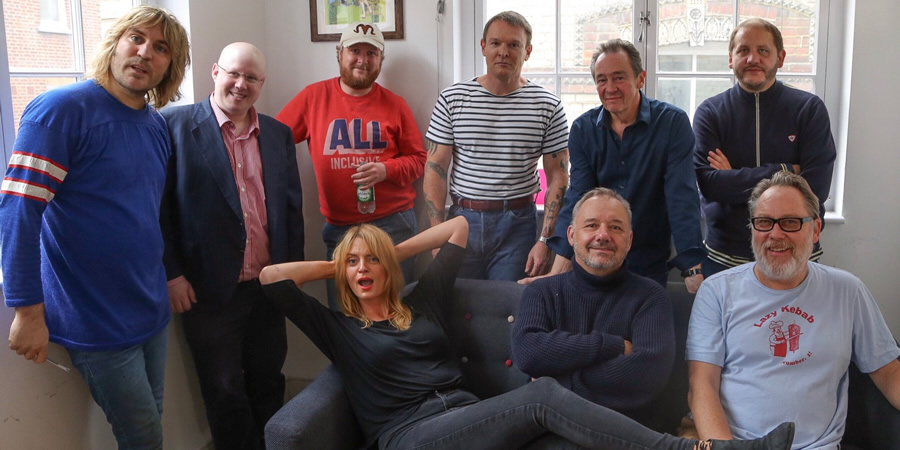 A top cast is being lined up for The Glove, the new 2019 comedy film written by and starring Vic & Bob.
Johnny Depp is amongst international A-listers currently "in talks" about appearing in the film.
Meanwhile, Matt Lucas, Noel Fielding, Tim Key, Paul Whitehouse, Morgana Robinson, Tony Pitts and Tony Way are the British talent likely to co-star. They recently met with Vic Reeves and Bob Mortimer at the offices of production company StudioPOW.
The Glove is described as a comedy road movie about two best friends in search of Michael Jackson's mythical training glove.
Producers explain: "Vic and Bob are childhood friends who own a junk shop together where they both work and live. Profits are down and with their futures in jeopardy, they approach their obnoxious landlord to explain their 'rent' problems. Rather than helping them, the unsavoury character gives them a choice: eviction, or locate for him a rare and unusual item... Michael Jackson's training glove.
"What follows is a madcap road movie across Britain as they enter the world of strange collectables and celebrity memorabilia in search of the elusive glove."
Vic & Bob wrote the screenplay for The Glove a decade ago. It is set to be filmed in March, for release later in 2019.
Altitude Film Entertainment, the film company behind projects like the forthcoming Horrible Histories: The Movie and the Oscar-winning Moonlight, will handle distribution of the finished film.
In an email to potential investors, producers state: "Over the next few weeks, we will be announcing a host of talent from UK household names to American A-listers and some jaw-dropping celebrity cameos who will all be involved in this hilarious comedy that set to begin shooting in March next year."
Coldplay front man Chris Martin is amongst the other celebrities touted to be in discussions to appear in the film.
Of the stars pictured, Matt Lucas worked regularly with the comedy duo on Shooting Stars, and Morgana Robinson was a regular in their BBC sitcom House Of Fools. Vic & Bob have also worked previously with Noel Fielding, Tim Key, Paul Whitehouse, Tony Pitts and Tony Way.
Vic Reeves and Bob Mortimer are busy on a number of comedy projects at the moment, including making four more episodes of Vic & Bob's Big Night Out for BBC Four. A sold-out screening and Q&A is due to be held at the BFI later this month ahead of the TV broadcasts.
The final cast list for The Glove is expected to be formally announced soon.
---
For updates, click the button below.
Share this page