Vic & Bob film The Glove
Vic & Bob to make a film about Michael Jackson's glove
Vic Reeves and Bob Mortimer have written and will star in a new film called The Glove
The plot focuses around two friends who are trying to track down singer Michael Jackson's iconic white glove
Filming on the project will take place in 2019. Reeves is also making another film called Disco Pier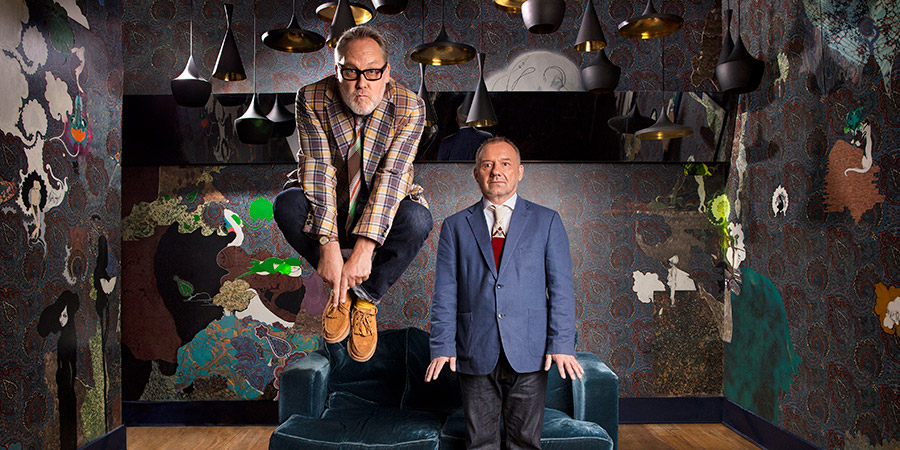 Vic Reeves and Bob Mortimer are working on a new film project together.
The movie will be focused around the iconic white glove worn by singer Michael Jackson, and will follow the adventure of two childhood friends - played by the comedy duo - as they go in search of it in order to try and settle a debt.
Vic & Bob wrote the screenplay for The Glove a decade ago. They have now received financial backing from StudioPOW, the production company out of which Funny Cow producer Kevin Proctor is working.
The company posted a blog saying: "We had a fantastic meeting in our Soho offices with the legends that are Vic Reeves and Bob Mortimer yesterday. There wasn't a dry eye in the house but we weren't crying. Time was spent reading aspects of the script and discussing cast. What should have taken 2 hours took 4 due to the ongoing laughter breaks! We are hugely excited at the potential of this laugh out loud comedy. We already know that it will be packed full of legendary comics and actors."
Speaking to The Mirror, Vic Reeves confirmed: "We wrote it, we're in it and we're filming it next year."
Reeves described the plot as being about "a new Hold Grail, but the Holy Grail is Michael Jackson's glove."
StudioPOW has revealed the plot as follows: "Vic and Bob are childhood friends who own a junk shop together where they both work and live. Profits are down and with their futures in jeopardy, they approach their obnoxious landlord to explain their 'rent' problems. Rather than helping them, the unsavoury character gives them a choice: eviction, or locate for him a rare and unusual item... Michael Jackson's training glove."
The comedy duo are busy on a number of comedy projects at the moment. They're making four more episodes of Vic & Bob's Big Night Out for BBC Four. A sold-out screening and Q&A is due to be held at the BFI in November ahead of the TV broadcasts.
Mortimer is also due to star in a second series of Mortimer & Whitehouse: Gone Fishing for BBC Two, whilst Reeves has been preparing 200 sketches for an art exhibition
Reeves has also written another film being made by StudioPOW. The comic will star as "a flare-wearing mover and shaker" in Disco Pier. The upcoming film, which chronicles the 1979 finals of the Disco Dancin' Championships, will be filmed next year too, and will feature his wife Nancy Sorrell as a rival dance team member.
Further casting details for The Glove will be announced at a later date.
---
For updates, click the buttons below.
Share this page