Radio 7's Best 7 Comedies
BBC Radio 7 is no more. It's morphed into BBC Radio 4 Extra. Whilst there is clearly many exciting things coming up on the new digital station, for many comedy fans the end of Radio 7 is a sad thing. Ian Wolf looks back at the best original output to come out of the eight years Radio 7 was on air...
BBC Radio 7, which started life in December 2002, was best known for broadcasting repeats, but it should be noted that the digital station also created some of its own radio comedies. Annoyingly this never got as much coverage as it deserved, and hardly any of the station's original output has ever been released commercially.
As a tribute to the digital network, here are seven of the best and biggest comedies produced by BBC Radio 7...
Serious About Comedy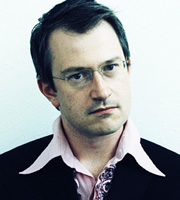 Serious About Comedy, hosted by Robin Ince, was Radio 7's comedy review show that discussed and dissected current programming. Five series were made, totalling 60 episodes, between 2005 and 2007.
Serious About Comedy was also one of the only comedy-related shows to give the audience a voice. Listeners were able to send in their own comedy recommendations for the week.
A similar show, What's So Funny?, hosted by Rufus Hound, will be broadcast on Radio 4 Extra starting on 8th April 2011.


Newsjack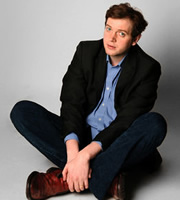 Radio 7's main satirical comedy series, Newsjack with Miles Jupp is notable for being one of the few modern comedy shows to feature an open-door submissions policy - in theory, anyone can write for the programme. Many aspiring comedy writers have submitted material to the show - some successfully, others not so.
Newsjack was not the first Radio 7 comedy to feature open contributions, so an honourable mention here for Tilt, which ran for six episodes a year before Newsjack started. However, it is Newsjack that has been the more successful series, with its sharp satirical take on the week making it a popular podcast download.
Fans of the programme, and writers looking for an outlet for their sketches, will be pleased to know that the format will return on Radio 4 Extra.
The Penny Dreadfuls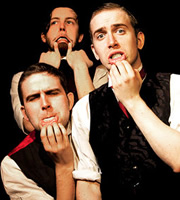 Starring the comedy troupe The Penny Dreadfuls, consisting of David Reed, Thom Tuck and Humphrey Ker, the two series of 'The Penny Dreadfuls Present... The Brothers Faversham' covered the lives of a family dubbed 'Victorian Britain's greatest siblings'.
The series was certainly fun and helped bring The Penny Dreadfuls to a wider audience. Perhaps the highlight of the show was the anachronistic adverts in middle of the programme ("Nothing says 'It's a road!' like new Tarmacadam.").
The Penny Dreadfuls proved popular enough to be repeated on Radio 4, and the cast were also asked to make a special Bonfire Night themed Afternoon Play recounting the life of Guy Fawkes.
The Correspondent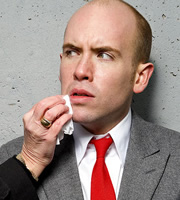 This series of comic monologues from an uptight character called Tom is notable for being the first Radio 7 series to transfer to Radio 4. It revolves around Tom's mundane life working in the complaints department of a large furniture retail outlet. Entirely in monologue, the script features Tom reading out just about everything he comes into contact with, from emails, to letters, to PostIt notes.
The series was created by and performed with pitch-perfect perfection by Tom Allen, before he became well known for playing young Pip Bin in the award-winning Radio 4 sitcom Bleak Expectations.
A Series of Psychotic Episodes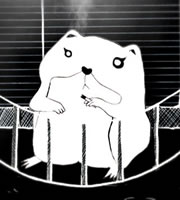 Another Radio 7 show which transferred to Radio 4, A Series of Psychotic Episodes is Miriam Elia's surreal sketch show. It has the honour of being possibly the most unlikely nominee for the Sony Award.
The show was originally one of ten pilots made for Radio 7's Witty and Twisted strand, the network's competition which also helped to boost the profiles of comics and writers such as Stephen Carlin and James Kettle. The pilot featured weird sketches, like a fast-talking MC hosting a cattle auction, and a daughter appealing for her father to be released from the Aztec Zone of The Crystal Maze.

This pilot, from a digital radio station, by an unknown comedian, was nominated for the biggest award in radio comedy. Quite a feat. The subsequent series have entertained not only Radio 7 audiences, but Radio 4 too.
The Leicester Comedy Festival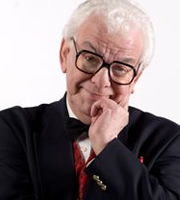 The Leicester Comedy Festival is Radio 7's longest-running comedy series in terms of time, having been broadcast since 2006. Every year Radio 7 reliably broadcasts this hour-long programme featuring the best established and up-and-coming acts performing at the Leicester Comedy Festival's preview show. Hosts have included Barry Cryer (pictured) and Jason Byrne.
Over the six years, the show has featured early performances from comedians who have gone on to become big circuit stars, and also allowed the audience to hear from some comedians that are not normally on radio or TV, such as Hans Teeuwen.
Undone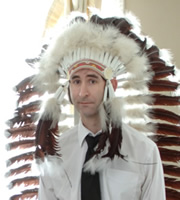 One of several sci-fi comedies made by the station, Undone was a surreal comedy drama starring and written by Ben Moor (pictured) about a journalist called Edna Turner (played by Sarah Solemani, then later Alex Tregear). We hear Edna move to London, only to discover that there is a parallel version of the city called Undone - the place where all the weirdness comes from.
Not surprisingly the series had some very surreal ideas, such as the National Indecisiveness Society or Association, public information porn films, and an ice cream van playing such tunes as Love Will Tear Us Apart and Heaven Knows I'm Miserable Now. It also featured a range of top comics in many roles, such as Kevin Eldon, Tim Key, and Moor's former double-act partner Al Murray.
Honourable Mentions
- Colin And Fergus' Digi Radio: The sketch series featuring Colin Holt and Fergus Craig. Notable sketches include their Sherlock Holmes parody, Rutherford Lodge.
- The Mitch Benn Music Show: BBC Radio 7's only music show, hosted by The Now Show regular. It was a show lovingly devoted to comedy songs.
- Play And Record: Another Radio 7 sketch show devoted to finding new writing talent; although this one was more general in its remit, rather than topical and satirical.
- We Are Klang: The first radio outing of the comedy trio. The semi-improvised mockumentaries gave listeners their first taste of the surreal world created by Greg Davies, Marek Larwood and Steve Hall.
For a complete list of all Radio 7's original comedy programming see our Radio 7 Guide