Tony Hancock in the charts
The 1960s should have been a prosperous, productive, and golden era for Tony Hancock. In 1959, he was by far the UK's most popular radio and TV comedy star. He was the first entertainer to earn £1,000 for a single half hour episode of television, a figure that could easily double after overseas rights had been accounted for.
Tony Hancock's BBC TV show was regularly watched by a staggering 27 per cent of the country's adult population. The 1960s really were entirely Tony Hancock's for the taking. He was ambitious, adept, talented, beloved and celebrated, yet from that lofty peak at the beginning of the decade, he faced a steady and inglorious decline. Far from enjoying a deserved period of acclaim and fortune, Hancock would not even make it to the end of the decade. By 1968, aged just 44, he would be dead.
Hancock's rise to stardom had been a slow but steady one. After performing with Ralph Reader's Gang Show during the Second World War, he had pursued a stage career as a comic, graduating to occasional radio roles via stints as resident comedian at the notorious Windmill Theatre. Early appearances in shows such as Variety Bandbox, Happy-Go-Lucky and Kaleidoscope, saw Hancock land a starring part in the 1951-2 series of popular radio comedy Educating Archie, appearing as the tutor of the titular ventriloquist's dummy.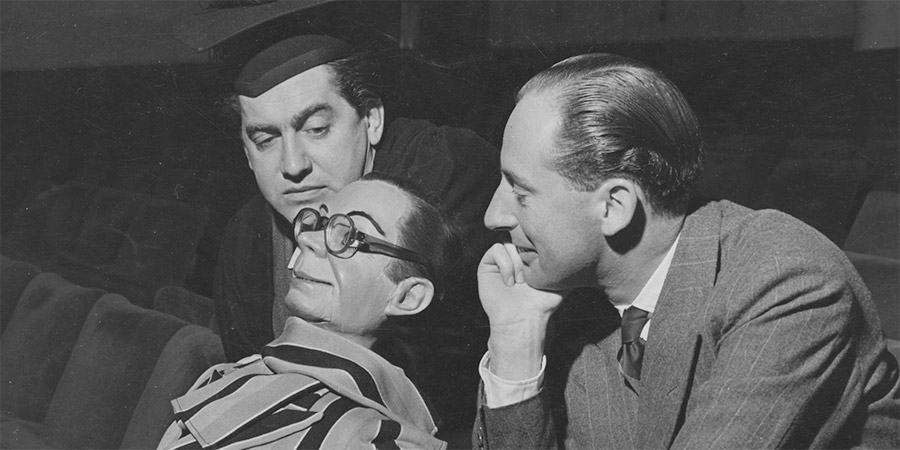 His scholarly, professorial character - developed with scriptwriter Eric Sykes - brought him public acclaim, a new catchphrase ('flippin' kids') and an impression built on Peter Brough's limited vent skills that would feature in Hancock's stage act for the rest of his career. It also brought Hancock a regular role in the radio show Star Bill. Produced by Dennis Main Wilson and initially intended as a light variety show aimed at a forces audience, it was the first time that Hancock would work regularly with the talented young writers Ray Galton and Alan Simpson. Together they would shape and mould all of Tony Hancock's various quirks, vanities, skills, foibles and faults into one of British comedy's most wonderful and enduring creations.
It was the success of Star Bill that allowed Dennis Main Wilson to persuade the BBC to give Galton, Simpson and Hancock the chance to produce their own radio series. Beginning in 1954 and running through to December 1959, Hancock's Half Hour was at the time a radical enterprise. With a cast of regular supporting characters and an ordinary domestic setting, it was one of the very first half hours of British comedy that would today be termed a 'sitcom'. Audiences used to radio shows built round comic turns, variety bills, music hall acts and sketch shows, took to the new format and the show soon became the most popular radio show of its day.
Over those five years it was broadcast, Hancock's Half Hour would develop into an almost perfect thirty minutes of comedy. The supporting cast, already blessed with the talents of Sid James, grew ever more skilled with the addition of Hattie Jacques and Kenneth Williams. The comedy also became ever more grotesque and outlandish as Bill Kerr's character gradually became more oafish and indolent with each passing year. Each weekly visit to Hancock's semi-fictional East Cheam residence was a joyous delight, shared and enjoyed by the nation.
With six radio series already arranged neatly into succinct and brilliant half hours of comedy, the transition into comedy records would seem a natural and logical move for a show with such a loyal and eager fanbase, but as with many of Tony Hancock's projects, the star's obstinacy, truculence and stubbornness meant it was a faltering journey.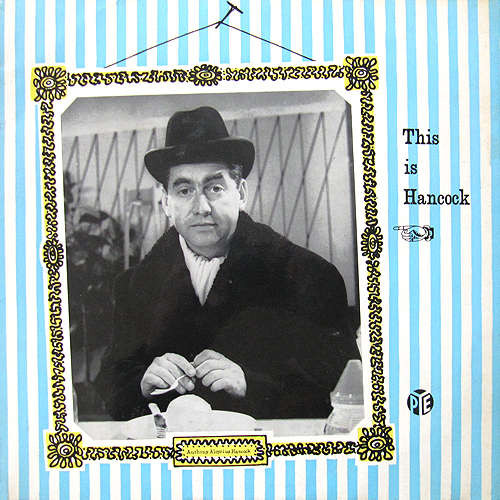 Tony Hancock's first forays into vinyl were simple enough affairs. Released by Pye Records in April 1960, This Is Hancock consisted of two radio episodes: The Wild Man Of The Woods (first broadcast in January 1957) and A Sunday Afternoon At Home (from April 1958). Edited with a few minor cuts from the broadcast episode, mainly to the incidental music, there was minimal input from Hancock himself while writers Galton & Simpson were limited to providing some humorous album sleeve notes.
The episodes were well chosen. They were already firm fan favourites, and their inclusion on a vinyl release cemented their reputation. Despite the familiarity with audiences and the lack of any additional work on Hancock's part (maybe even because of it), the record proved to be a great success.
With Tony Hancock now at the very peak of his popularity with the television version of Hancock's Half Hour, the album enjoyed four weeks at number two, kept off the number one spot only by the million-selling South Pacific Original Soundtrack.
In total, This Is Hancock spent a total of 26 weeks in the British charts. It also enjoyed considerable popularity overseas with versions of the album being released in Commonwealth countries where Hancock was also a popular star, such as South Africa, Canada, New Zealand and Australia, and the global success of This Is Hancock prompted Pye to hastily follow up the hit release with Pieces Of Hancock later the same year.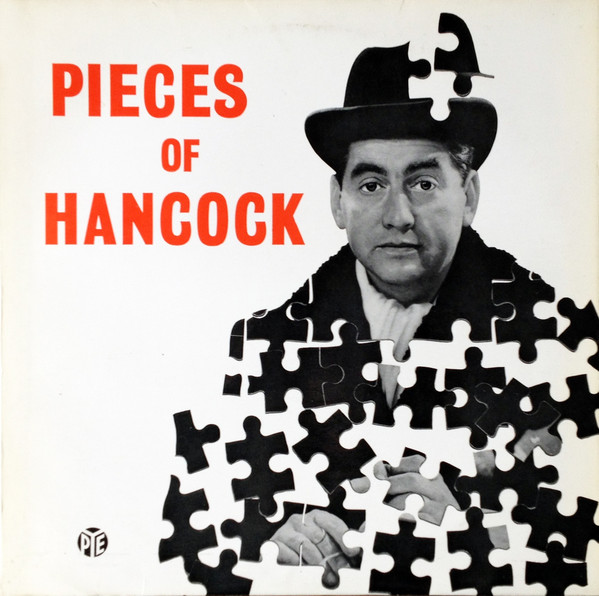 Released in November 1960, just in time for Christmas, Pieces Of Hancock was, as the name suggests, edited highlights containing excerpts from four separate radio episodes. While not as satisfying as the experience of enjoying two full half hours in the company of Hancock and his friends, the record still managed a top twenty place and another round of global releases. Such success meant that a third record was almost inevitable.
However, 1961 would prove to be the high point of Hancock's career. The last episodes of his much celebrated BBC TV series were broadcast in the summer: in his quest for perfection Tony Hancock had been ruthless, even brutal, with a winning popular formula. Shorn of all his usual collaborators, the fictional East Cheam setting, and even the 'Half Hour' from the title, the show was simply titled Hancock and the resultant six episodes of television remain among Hancock's most revered and acclaimed work. It was also the year of his first major starring role in a motion picture with The Rebel, again written by Galton & Simpson. The pair were at their brilliant and productive best and had risen admirably to the challenges Hancock had set them.
It was the success of that final TV series, and in particular the fifth episode, The Blood Donor, which prompted a call from Pye executive Les Cox to record producer Alan Freeman. Both were agreed that the episode was an instant classic and were determined to release a version of it through the label.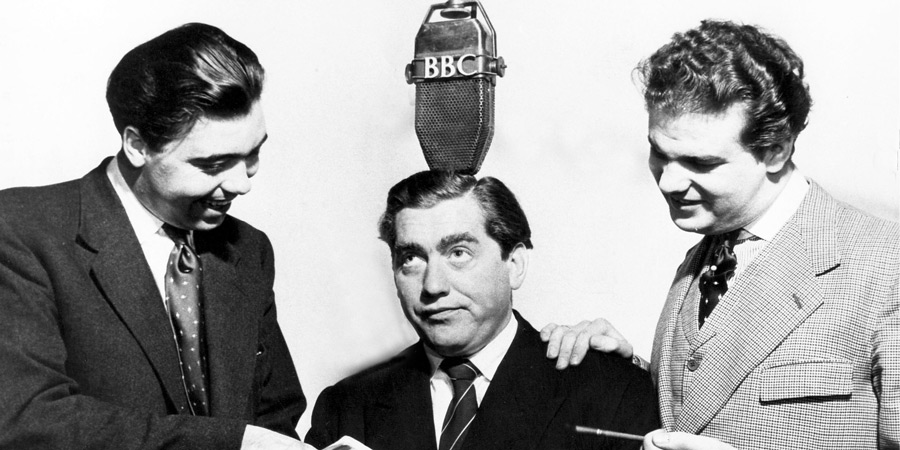 With substantial edits needed to transfer the episode from the visual medium of television to the sonic world of vinyl, Freeman decided that he would cajole Hancock to re-record the episode in its entirety. The star proved initially reluctant to give his time to the project. With little need for money, and, as ever, striving to pursue new projects, he was not motivated to revisit his previous work. But Freeman tenaciously persisted, and with the help of Galton & Simpson managed to persuade Hancock to re-enter the hospital ward with his armfuls of precious AB negative blood.
Alan Freeman had taken great care with the session. At Hancock's suggestion veteran BBC producer Leslie Bridgmont was hired to oversee the recording, and the crew were recruited from BBC sound engineers and technicians who had all worked with Hancock before and were used to his methods. London's spacious Star Sound Studio was booked, the actors of the TV episode assembled, and an audience invited to provide reactions.
On October 1st 1961, two former Hancock TV episodes, The Radio Ham and The Blood Donor were recorded, and they are, despite all of Tony Hancock's reluctance, an absolute triumph.
The original TV recording of The Blood Donor was made after Hancock had suffered serious head injuries in a car crash with his wife Cicely. Producer Duncan Wood hastily rearranged the recording schedule to allow Hancock time to recuperate and made the decision to bring in script boards for all five studio cameras so that his star would not have to rely on memorising his lines.
While the TV episode is a classic, Hancock's performance is therefore not his usual brilliance. Still slightly groggy from his accident, the effort of reading from the cue cards also robbed Hancock of a lot of spontaneity and his usual natural physical rapport with the cameras. The later recording for Pye did not suffer from these problems and is, if such a thing is even possible, a notable improvement on the TV originals. The record once again reached the top twenty and spent twenty weeks on the chart. A follow up release would, however, take some time.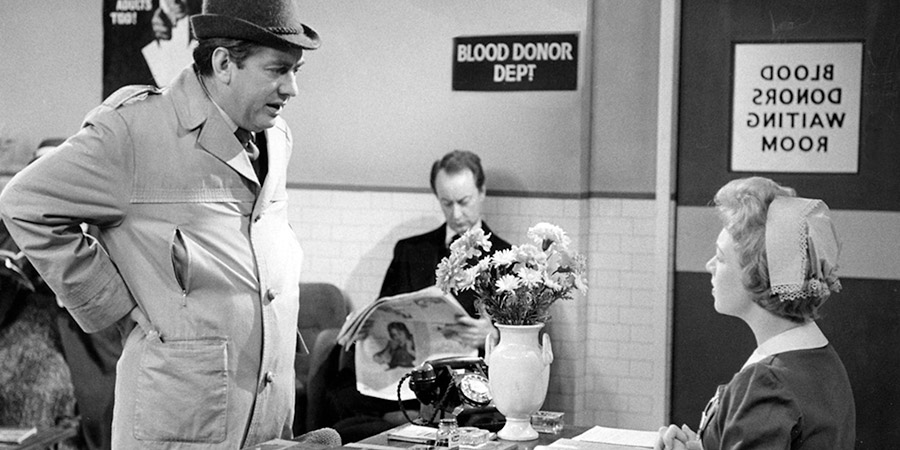 By 1965, all was not well with Tony Hancock. Having deemed Galton & Simpson surplus to his requirements, they had by then moved on to write the much celebrated Steptoe And Son. Hancock himself had struggled through a lacklustre and uninspiring series for commercial broadcaster ATV, and a possibly career-changing chance to appear in the Disney film Bullwhip Griffin had ended in ignominy after he collapsed on set in Hollywood and was duly fired from the picture.
Work for the once-greatest star of the age was now limited to a series of commercials for the Egg Marketing Board, and he was in the midst of divorce proceedings from his first wife, Cicely. Despite all that, Hancock remained popular with the British public and a repeat showing of the last three TV series of Hancock's Half Hour prompted Alan Freeman, now working with Decca, to once again contact the comic with a view to making another record. After many years spent backing out of collaborations and reunions, Freeman also intended for Hancock to reunite with his former co-star Sid James to re-record two BBC radio episodes, The Missing Page and The Reunion Party. What could possibly go wrong?
Sadly, this time round, the chemistry did not return. Since his 1961 recordings, Tony Hancock had grown ever more dependent on alcohol. That once magic spark of genius had been dulled. The physicality, timing, exuberance and sheer joy had gone, and Hancock's performance was shambolic from the start.
Both scripts had been trimmed down by Galton & Simpson to a neat 28 minutes in order to fit on the record, but Hancock managed to stumble drunkenly through the proceedings. His grimaces and reactions to the audience prompted laughter where none was intended while badly delivered lines went unnoticed and unremarked.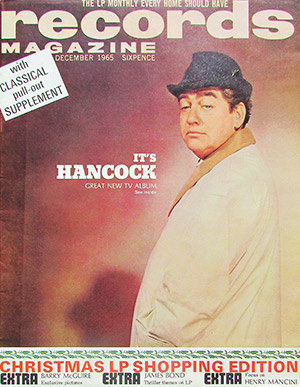 The recordings ran to over forty minutes apiece. It was a painful experience for all concerned. Alan Freeman had had high hopes for the much anticipated Sid James and Tony Hancock reunion, and it was only through careful editing alongside an equally disappointed Galton & Simpson that the session was saved. For the ever professional and hard-working Sid James it proved the end of his already fractious relationship with Tony Hancock, and he swore that the two would never work together again.
That sorry debacle proved to be the end of Tony Hancock's career on vinyl. The next release to feature his talents was 1968's A Tribute To Tony Hancock. It is, as the name suggests, a posthumous paean to a once great talent lost far too early. Released by The World Record Club, a mail order service specialising in shipping around the Commonwealth, it is yet another compilation of excerpts snipped and cut from radio episodes.
Tony Hancock received far better service with the BBC's series of vinyl releases in the early 1980s and their later systematic publishing of all his surviving radio episodes on CD from 2000 onwards. Those collected episodes of Hancock's Half Hour stand as Tony Hancock's lasting monument, an enduring testimony to his genius.
It has taken time for him to be remembered for his life and his achievements, rather than his decline and death. Long may he continue to be celebrated.