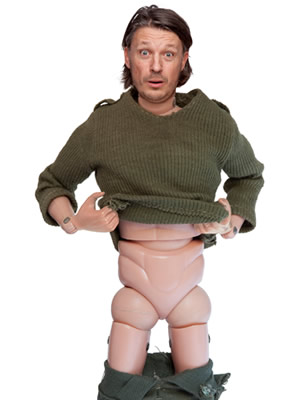 Talking Cock with Richard Herring

Everything you ever wanted to know about the penis but were afraid to ask. And a couple of things you didn't want to know about. Richard Herring presents this supplement to his acclaimed stand-up show (currently on tour in the UK - Details) all about the spam javelin, the purple-headed womb broom, the honourable member for Fuckinghamshire. It's packed with routines and facts that there's no time for in the stage show plus unheard answers and stats from his impressive online cock questionnaire. There may also be some surprise guests, videos and stories from the tour. Fill in the questionnaire: Male / Female - or email him your questions or cock tales to herring1967@gmail.com.

Episode 11 - Lovely Lovely Cress - in possibly (but possibly not) the last epenisode of this rodmast, Richard tells the story of an indecent proposal made to him in a gig in Bristol, reveals a controversial 'cure' for lesbianism, details what women would do if they had a penis for 24 hours (it'd make a great episode of 24, that's for sure) and gives some other slightly grotesque stories from men on the questionnaire and provides you with a few cock facts. Just a handful of gigs to go now, including a late addition in London at the Regent's Park Open Air Theatre - buy tickets here - www.openairtheatre.com. The book Talking Cock is available from www.gofasterstripe.com and the DVD of the show will be released by the same website in July. Thanks for listening. That's probably enough cock to be getting on with.
To download this podcast to your computer, click on the link above.
Date: 17th May Length: 27 mins Size: 24.33mb Page
You can subscribe to this podcast series via iTunes software.
This is the geeky option. You can subscribe via the RSS feed:
http://feeds.feedburner.com/RichardHerringTalkingCock
Follow @Herring1967 on Twitter for updates.
Previous Episodes
Date: 8th May Length: 28 mins Size: 26.15mb

Epenisode (trouser) 10(t) - Three's A Crowd! - The Talking Cock tour is nearly over, with just a dozen or so opportunities to see the show live (though the DVD will be out on Listen
Date: 30th April Length: 35 mins Size: 32.48mb

Episode 9 - The History of Mr Jolly. Richard reads another chapter from his book, this time all about the cultural history of the penis and the way attitudes have altered over time...... Listen
Date: 17th April Length: 29 mins Size: 26.49mb

Epenisode 8 - 0898 chat line - The Talking Cock tour is over halfway through now so only a few more rod-masts to cum. And this week Richard turns his Herring's Eye to chokin...... Listen
Date: 3rd April Length: 35 mins Size: 32.52mb

Episode 7 - I Am An Anatomist. An Antipodean Anatomist! - It's a bit of a free-for-all cock catch up on our bulging mail sac today, with some general penis stories (some more slig...... Listen
Date: 22nd March Length: 38 mins Size: 35.55mb

Hermione's Hand Twin - Richard is in a broom cupboard in Worcester waiting to go on stage and he uses the time to bring you a podcast all about the thorny edged subject of size. Do...... Listen
Date: 15th March Length: 40 mins Size: 36.51mb

The Penis Fly Trap - This week's rodmast might not be suitable for those with a weak stomach or people driving or using heavy machinery - it's a subject that has made two grown men...... Listen
Date: 8th March Length: 32 mins Size: 30.19mb

Episode 4 - Talking Sock. Richard is on tour and he's got Ben Elton-like tales of a lost sock to entertain you with, but he's not forgotten about the sergeant with the one blue str...... Listen
Date: 1st March Length: 38 mins Size: 35.49mb

Wee Wee, Poo Poo, Bottom - It's back to childhood and time to remember the confusion and pride that we got from our little fellas, plus the psychological damage risked by embarrass...... Listen
Date: 22nd February Length: 31 mins Size: 28.96mb

Tal*ing *o*k, e*is*de 2 - Display it, with Honour - The much delayed release of this penis-based podcast has come about partly due to questions of the suitability of the title for ...... Listen
Date: 4th February Length: 40 mins Size: 36.93mb

You Fuck One Goat - Richard tells the story of why he decided to create this show, reveals what percentage of men would rather lose their two eyes than their one-eyed trouser snake...... Listen