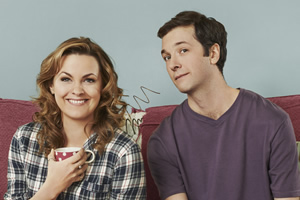 Chris Addison and award-winning writer Simon Blackwell have joined forces to create Trying Again, this comedy series for Sky Living.
The show focuses on Meg and Matt, a just-about-functioning couple giving love a second chance. Following an 'indiscretion' with her boss Iain, Meg and Matt are trying to make up and move on, but it's not easy in a small Lake District town where there's no such thing as secrets and your friends share a knack for saying the wrong thing at the wrong time.
Matt's straight-shooting sister Gail, his workmate Sam and Meg's colleague Martin rally around to give their support, albeit in their own unique and often unhelpful ways.
As limited job opportunities, uncertain living arrangements and possibly the world's most disorganised relationship counsellor take their toll, it might seem like the odds are stacked against Meg and Matt. Nevertheless, they're determined to get back on track and prove they're meant to be together.
Background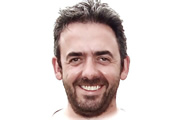 Simon Blackwell explains more about how the show came about...
Trying Again was born out of my and Chris Addison's desire to come up with a relationship comedy. Our initial thoughts were about exploring that pivot point many couples reach in their 30s, the stick-or-twist moment where you decide, "Is this it? Is he or she the one?". When we threw in the idea of that question being asked after an unexpected and explosive affair, we knew we had a show.
The tone we wanted to hit was one of emotional reality and genuine warmth, while still allowing ourselves room for jokes. We didn't want any character to have a joke response to anything, but rather to have a real response that was just as funny. When jokes come from a recognisable human response, the laugh is always more satisfying.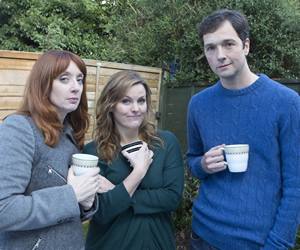 This is what I've tried to do in my previous work - The Thick Of It, In The Loop, Veep and Peep Show - and I asked Tony Roche and Jesse Armstrong, with whom I've worked on those shows, to be involved to make sure we got that same vibe but in a new setting. Tony calls it our acoustic album.
A lot of the stories in the political comedies I've written needed to be played out in public, under scrutiny. The stories in Trying Again are more private. But in both cases the fundamentals are the same: people under pressure trying to get back on an even keel.
It was vital when we started this show that our female characters were, in character and story terms, properly funny. Too often the role of women in sitcoms is to say, "Come on boys, stop being hilarious and interesting, we've got more important mundane and/or emotional things to worry about." I enjoy writing comedy for women and have been lucky enough to write for some of the best female comic actors around, people like Rebecca Front and Julia Louis-Dreyfus. My good fortune continues with this show: Jo Joyner as Meg and Elizabeth Berrington as Gail are phenomenally good and I only hope my writing does their brilliance justice.
With Trying Again we've made the show we wanted to make - an unashamedly romantic comedy drama but one with an edge and realism, lots of jokes, and all played out against a backdrop of the glorious Lake District. We hope people like watching it as much as we loved creating it.
Podcast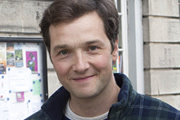 For the April 2014 episode of What Are You Laughing At?, British Comedy Guide's podcast focusing on comedy production, Chris Addision talks in-depth to Dave Cohen about his comedy career and what it was like to make Trying Again.
He explains more about the early development on the project and what it was like to film the scenes on location.
---