See Also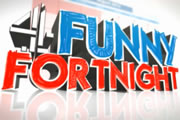 Channel 4's Funny Fortnight was an 'extravaganza' of comedies on Channel 4 in the summer of 2012.
Matt Berry reprises his Toast Of London character in this US-set sequel.
Sitcom about police fighting crime in the 1880s.
Robert Wilson is a young actor who dreams of stardom.
Robert Neilson has ambitions to play Hamlet but will do most acting work. His fiancée, Sue, and agent, Desmond, gently encourage his aspirations.
Sitcom about two ambitious actors.