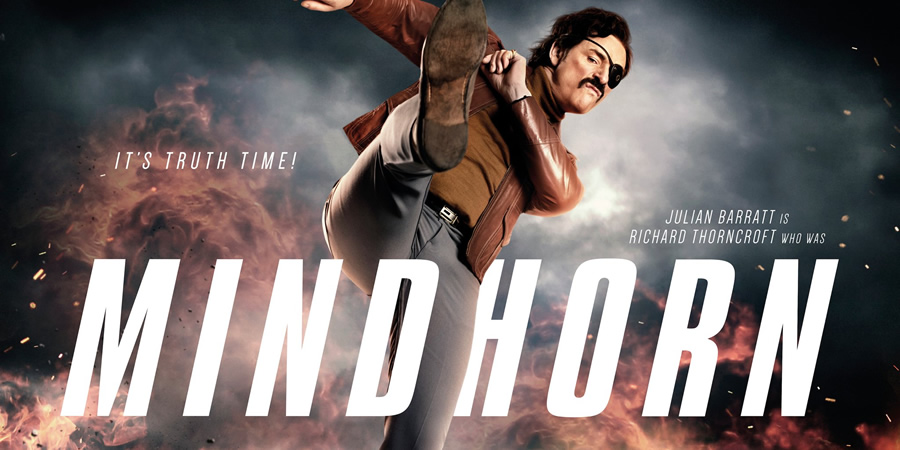 Genre

Film

Released

Creator

Starring

Julian Barratt, Andrea Riseborough, Essie Davis, Simon Farnaby, Russell Tovey, Steve Coogan, Richard McCabe, Robin Morrissey and others

Writers

Director

Producers
Washed-up actor Richard Thorncroft peaked with hit 1980s detective show Mindhorn, playing the titular Isle of Man sleuth with a rather unique ability.
As a captured MI5 Special Operative, Bruce Mindhorn's eye was replaced by a super-advanced optical lie detector, which meant he could literally "see the truth". Mindhorn escaped and fled to the Isle of Man, to recuperate in the island's temperate micro-climate, and became the best plain-clothes detective the island had ever seen...
Decades later, when a deranged Manx criminal demands Mindhorn as his nemesis, Thorncroft returns to the scene of his greatest triumphs for one last chance to reignite his glory days, professional credibility and even romance with former co-star/paramour Patricia Deville.
Tagline

It's truth time!

UK certificate

15

Duration

89 minutes

Release date

Friday 5th May 2017

Produced

2015

Premiere

Sunday 9th October 2016, BFI London Film Festival

Distributor

Production companies

Laugh track

None
Broadcast details
Last repeat

Saturday 6th March 2021 at 11:30pm on BBC2
Website links