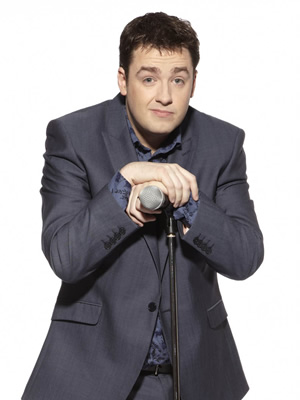 Stand-up comedy is one of the toughest jobs in showbiz and ITV1's seven-part reality series, Show Me The Funny, is on the hunt for the next stand-up superstar in comedy.
Hosted by award-winning comedian Jason Manford (pictured), Show Me The Funny features 10 comedians with varying levels of experience as they battle it out to win the ultimate prize in British comedy; £100,000, a nationwide multi-date UK tour throughout September and their very own DVD at Christmas.
Over six grueling weeks, the comedians will be sent to all corners of the country and tasked with various challenges, with the winners deciding the running order of that week's gig. The series will culminate in a live final where the remaining comedians will play to the biggest audience of their careers at London's world-famous Hammersmith Apollo, in front of a 3,000 strong audience and millions of voting viewers at home.
Each week, the comedians aim is to find inspiration for five minutes of material to be performed at a gig in an unusual venue and to potentially raucous crowds, before facing the scrutiny of the judges. From a hospital and an army base to a secondary school and rugby club, the group will be followed as they complete their tasks and deal with the pressures of writing and performing fresh material.
The climax of each show will see the contestants come face-to-face with the judges; the much-loved comedian Alan Davies and the much-feared comedy critic Kate Copstick. They will decide who has made the cut for the next gig and who will find themselves on their way home. Each week, Alan and Kate will be joined by a revolving roster of some of the best known names in UK comedy including Jo Brand, Johnny Vegas, Bob Mortimer, Ross Noble, Cannon & Ball and Jimmy Tarbuck, to assist in their decision.
The 10 comedians, who all love making people laugh, but have yet to find their big break, feature fresh-faced newcomers to seasoned professionals, including a serving police officer, a former undertaker and an ex-professional model. One of the comedians has never been paid for a gig, another recently quit their job to do stand-up full time, and one is using annual leave from their regular job to compete in the show, whilst others have been making a full-time living out of the profession for years.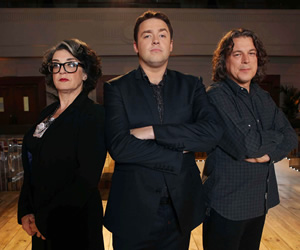 Executive Producer and CEO of Big Talk Productions, Kenton Allen, explains: "Stand-up comedy is the toughest job in show-business and the only job in the world where you are judged every 10 seconds by a paying audience expecting big laughs. Show Me The Funny is the real deal. There is no safety net. Expect to laugh your socks off, cry your eyes out, and some parts are best watched through your fingers."
Jason Manford said: "Stand-up comedy has never been bigger and there has never been a better time to make this show. I'm excited to be involved in the series - it's very rare to have the ability to make pretty much anyone laugh, and I hope Show Me The Funny will find that comic."
Alan Davies commented: "After years on the circuit, I know exactly what it's like to deal with the pressures of making an audience laugh and this is an extremely tough challenge."
Kate Copstick added: "People are calling it The X Factor for comics. But I think it's more like Masterchef for comics. Which I suppose makes Alan John Torode, and me the irritating shouty one."
The Show Me The Funny website will feature clips from each episode, web chats with the judges, and more. Fans can also follow the series and join in the conversation on Facebook and Twitter - @showmethefunny (#SMTF).