See Also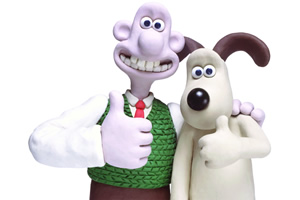 A list of comedies starring characters from the Wallace & Gromit claymation programmes and films, including the sheep-based spin-offs.
Wallace's whirlwind romance with the proprietor of the local wool shop puts his head in a spin; but not all is well for Gromit.
When Shaun's mischief inadvertently leads to the Farmer being taken away, Shaun, Bitzer and the flock have to go into the big city to rescue him.
A second film starring Shaun The Sheep. An adorable alien comes to Mossy Bottom Farm.
Spin-off from Shaun The Sheep for the CBeebies channel, featuring Timmy the baby lamb and his friends.
Oscar-nominated claymation by Nick Park which introduced the world to Wallace and his canine companion. The pair blast off in a home-made rocket.
Oscar-winning claymation from Nick Park. It is Gromit's birthday, and Wallace gives him a pair of mechanical techno trousers that cause a stir.
Wallace and Gromit discover that their new pest control business is in high demand when a monstrous rabbit strikes.
A spoof of murder mysteries is in store as Wallace and Gromit start running their own bakery: Top Bun. However, there's a Cereal Killer on the loose.
A collection of shorts featuring some of Wallace and Gromit's unusual and chaotic machines.
Claymation sitcom from Aardman Animations. The ten minute episodes revolve around the lives of four dogs - Rex, Bad Bob, Wendy and Vince.
Documentary about Aardman Animations and their celebrated comedy characters, including Morph, Wallace & Gromit and Shaun The Sheep.