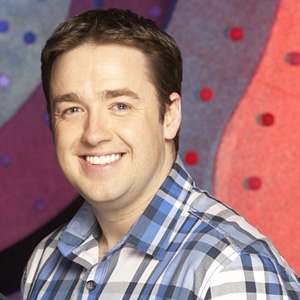 Jason Manford is one of the regular panellists of Odd One In. He talks to us about the second series, and his other ITV projects...
Hi Jason. Thanks for chatting to us. You're back for a second series of Odd One In - it's a great concept, and looks like a lot of fun to play too?
Yeah, it's just a bit of harmless daftness. I think even if you thought you were going to hate it and it was in the background at your Nana's, half way through the episode you'd lean over and say to her "I think the real Mexican is Number 4."
It's definitely a good game to play along with at home. Do you ever worry about guessing the wrong person and offending them?

Yeah it's weird actually, I did a joke on a "Who's the real tapdancer" round and there was a huge fat guy. So I said, "the only thing you've been tapping are the closed shutters at Greggs". As soon as I said it I thought, 'why would I say that, I'm no oil painting myself'. He laughed but I felt rotten for about two weeks.
What has been the hardest line-up to get the correct Odd One In?

They've gotten really tough in this series because we're now trying to second guess the producers. In Series 1 it was easier because it just seemed to be the least likely person was the right one, but on this series they've thrown the occasional line-up where the most obvious is the right one. It's like a double red herring.
Devious. If you were to appear on the other side of the show, what do you think the line-up would be named?
Maybe "Which one of these adults never got their length swimming certificate".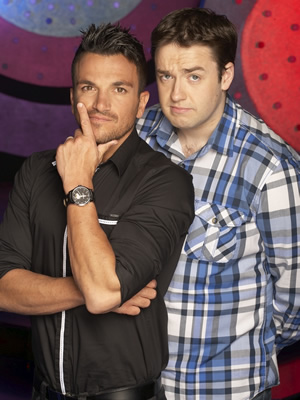 What's it like working with Peter Andre? It seems like an odd pairing?
He's lovely actually. I think people watch his show in the hope that his mask will slip and we'll see the real Peter Andre, but there is no mask, he's just genuinely nice. It is an odd pairing I suppose but before this show I didn't really know a lot about him, I don't watch his show and I didn't have Mysterious Girl on vinyl! But it works because he trusts me to take the mickey without insulting him and he makes me laugh because he's just dead daft, there's a child-like innocence about him which is quite endearing.

We thought Comedy Rocks With Jason Manford was really entertaining. Any news on another series of that?

Hopefully. It got some really nice feedback and it was good for ITV to do some comedy. We're still in talks at the moment about what worked and what didn't, whether the slot was right or wrong etc but generally I had a lovely time doing it and would love to do some more.
Great stuff. Did you get much of a say in which guests appeared in the first series?
I did actually. We sat down just after the pilot and I had a long list of comics who I loved and they got most of them. There were some names that ITV wanted and some names that I wanted and gradually we just bashed it together till we came up with the perfect line-up. They even flew Gamarjobat in from Japan and Jimeoin in from Australia, so I couldn't have asked for any more really.
If 'Comedy Rocks' does come back who would like you like to see?
I'd like some more variety comics on the bill, or some old school comics like Tom O'Connor, Tarby and Cannon and Ball. It's cool to mix the old guys with some of the younger comics too, I think it gives everybody something to watch. I'd love to get Tommy Tiernan on the show and put him on with Bill Cosby, then have Sarah Millican and finish with Louis CK.
Good choices! You've quit 8 Out Of 10 Cats to concentrate on the new ITV stand-up talent search, Show Me The Funny... it must have been a tough decision to leave the panel show?
Yeah it was really, but at the same time now the decision is made I feel okay about it. I'll miss Jimmy and Sean and the production team but it's actually really hard work! Well, not compared to a proper job. I loved working on the show and met some great folks and learned a lot of comedy lessons, it really improved my writing technique and timing but if I had to write another joke about Wimbledon week I think i'd have topped myself!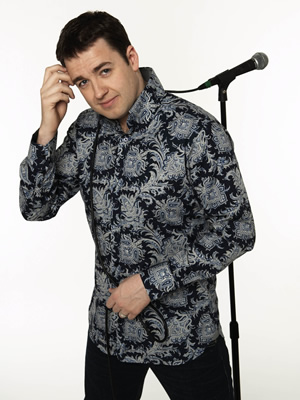 Ha ha. Show Me The Funny is filming now. How's the talent looking?
It's looking good I reckon, I wish there'd been a show like it when I was trying to break through, would've been a lot easier. I think people will be surprised that it's not a talent show really, more a way of showcasing acts you've not seen before in a different environment. We are so used to the Live At The Apollo type shows where you see a comic do his or her very slick very funny 15 minutes, but what's the process? How did the comic feel before coming on stage? How did they write the gag and was it always funny? I think anyone who's interested in comedy will find it interesting as well as fun.
Sounds great. You're writing your autobiography at the moment, focusing on growing up in Manchester and your early days doing stand-up. Is it an easy process, or are you currently looking at a blank page?
It's a really weird process actually. At first you write everything down trying to get to this mythical 80,000 words mark, you flesh out every story and leave no stone un-turned. Then when you do a count, you've done 140,000 words and you've got to go back through the book, cutting huge chunks out.

Your tour also continues, with the ticket sales looking strong, to the extent only arenas are really fit for size now. Did you ever think when you were starting out that you would be filling such huge venues?
Not at all. To be honest until I've done them I won't feel it's the case either. It's a different beast in arenas because although they're these huge airplane hangers and you feel like there's no intimacy there can be more intimacy with the audience than in a 2000 seater theatre. Because of the screens people can see every facial expression and movement, where as in a theatre if you're sat at the back you can see naff all really. Or maybe that's just the way I've justified it in my own head, ha ha!
Is there anything you miss about the smaller gigs, like the damp, cramped back rooms of Edinburgh etc?
Actually a few of us were talking about it at Channel 4's Comedy Gala - we miss the camaraderie of the dressing room. I was chatting with Rhod Gilbert afterwards and we both said it can be quite lonely on tour and you can go days without actually talking to anybody other than being on stage. We thought we might try and organise a comedians' Christmas party round at McIntyre's house.
You've starred on panel shows, stand-up shows, topical satire shows, and chat shows but not yet done a sitcom (aside from a couple of episodes of Ideal). Does the idea of writing or starring in a sitcom appeal at all?
Yeah, I think once my tour's finished I'll get on with finishing it. I've had a couple with the BBC for a while but have had to put them on the back burner whilst I racked on with work and had kids. I really love Curb Your Enthusiasm and - although it might be beyond my talent - I really think there's a good British one out there somewhere. I know there's Lead Balloon, but that's very different.
Cheers Jason. We're looking forward to playing along to Odd One In at home, and all the best with the rest of the tour and these other TV projects!
'Odd One In' is on ITV1 on Saturday nights from this weekend (18th June).