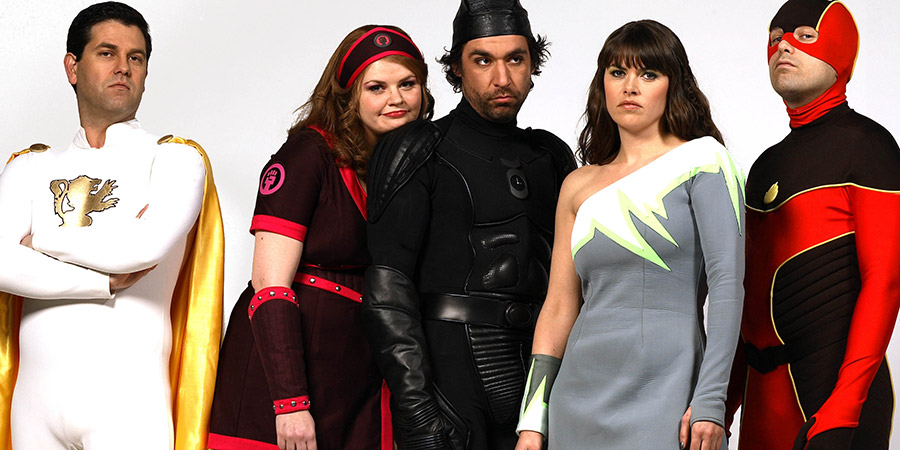 Genre

Sitcom

Broadcast

Channel

Episodes

Creator

Starring

Patrick Baladi, Nicholas Burns, Claire Keelan, James Lance, Rebekah Staton, Jim Howick, Steve Speirs and Joe Cornish

Writers

Director

Producer
A single-camera sitcom about four old friends who just happen to be off-duty superheroes. Based in a Soho pub, the comedy focuses on their relationships, their sex lives, and their constant desperation for success and fame.
The Hotness has the power to heat up like a giant car cigarette lighter. Electroclash can control electricity and talk to machines. Timebomb can see up to sixty seconds into the future. Whilst She-Force is the third strongest person in the world.
The superheroes must content with their nemesis, Excelsor, the most powerful superhero of his generation.
Production company

Soundtrack

Closing credits are Can't Touch This by MC Hammer

Laugh track

None
Broadcast details
First broadcast

Thursday 18th September 2008 on ITV2 at 10:30pm

Last new broadcast

Thursday 23rd October 2008 on ITV2 at 10:30pm

Length of episodes

30 minutes

Last repeat

Tuesday 10th February 2009 at 11:35pm on ITV
Website links
Official Website
The official website from ITV. Features, amongst other things, interviews with the cast members.