Rufus Hound confirms Celebrity Juice exit
Rufus Hound confirms Celebrity Juice exit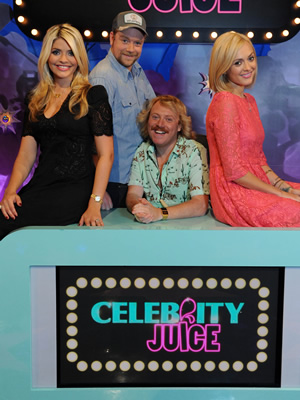 Rufus Hound has indicated that he has left Celebrity Juice. Although the reason for his departure has not been confirmed, there is speculation he may have fallen out with the show's producers.
The stand-up comic has been a regular panellist on the hit ITV2 panel show since 2009, and has appeared alongside Keith Lemon, Fearne Cotton and Holly Willoughby in over 60 episodes. With neither of the show's team captains being comedians, Hound was left to deliver many of the jokes.
However, the comedian has now confirmed that he is no longer part of the format. Fans have been questioning Hound's mysterious disappearance from the show for some weeks now, as he hasn't appeared on Celebrity Juice since the short special filmed for Sport Relief in March. He has since been missing from the entire second half of Series 7, without any explanation given to viewers.
Fans of the show have been questioning Hound via Twitter today. Responding to messages like "how come ur not on celeb juice anymore??" and "Why were you missing on many of the @CelebJuice shows?", the comedian has simply responded: "Ask them."
One tweet in particular reveals the comedian's exit from the show may have been due to behind-the-scenes tensions. One user of the micro-blogging website posted the message: "read somewhere that @RufusHound isn't on celeb juice cos he spat his dummy out that he wasn't invited on Jonathan Ross show!", to which the comedian has responded with the message "You're close, but not quite right."
The only public statement the comedian has made so far is when speaking to reporters at the 10th anniversary performance of We Will Rock You last night. When asked what the situation was, he said "I'm done. I'm not on that show anymore."
He added it was 'frankly unlikely' he would ever return to the show, and said: "Celebrity Juice is The Keith Lemon Show isn't it? So as long as Keith's there most people are getting everything they want from it... So onwards and upwards for them."
The most recent series of Celebrity Juice has just ended, with the episodes now being repeated on ITV1 on Tuesday nights. The latest run has brought huge ratings to ITV2, with many episodes attracting more than 2 million viewers. The show has also been nominated for the Audience Award at this year's BAFTAs. As a result the format has already been confirmed to return later this year for a multi-month run, albeit without Hound.
Series 8 will begin in September, with Keith Lemon - The Film due in cinemas in August.
Hound told reporters he is now "very busy with other projects". Indeed, next month he will appear at London's Soho Theatre in Utopia, a play about six characters who are on a 'collaborative quest for paradise'.
Here is a clip of Hound talking to reporters about Celebrity Juice at the We Will Rock You night:
Share this page