HIGNFY documentary
Have I Got News For You documentary to celebrate 30 years
BBC One is to broadcast a documentary to celebrate 30 years of Have I Got News For You
Have I Got 30 Years For You will be broadcast on TV over the festive period
The hour-long special will see Paul Merton and Ian Hislop looking back at the highlights from 500+ episodes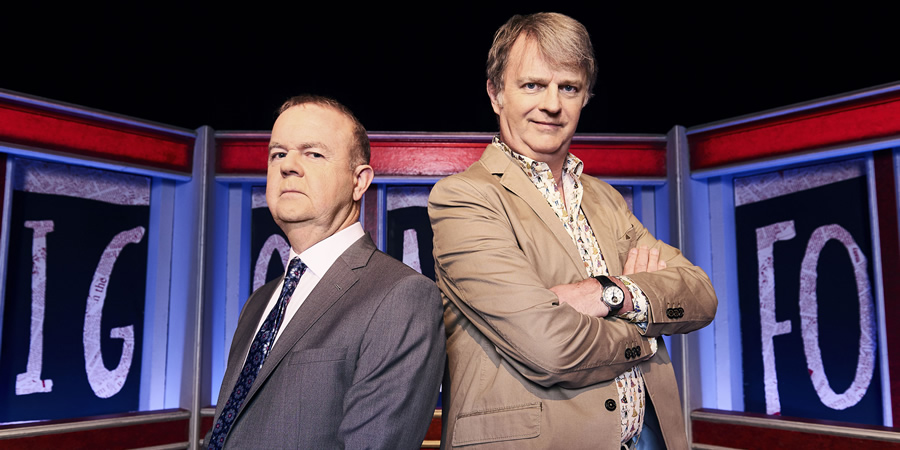 Have I Got News For You is to mark its 30th anniversary with a commemorative documentary.
The hour-long special, titled Have I Got 30 Years For You, will feature team captains Paul Merton and Ian Hislop looking back on three decades of battles, bust ups, guest hosts, seven prime ministers, five presidents and a tub of lard.
Airing on BBC One over the festive period, the documentary will also include interviews with Germaine Greer, Gary Lineker, Victoria Coren Mitchell, Ken Livingstone and Alexander Armstrong, who has made a record 34 appearances on the satirical mainstay as guest host.
Loosely based on Radio 4's The News Quiz, the long-running, seminal panel show originally began on BBC Two on 28th September 1990 and switched to BBC One in 2000, with comedian Merton and Private Eye editor Hislop as team captains and Angus Deayton as host.
The regulars remained in situ until Deayton was sacked in 2002 following revelations about his private life in the press. Since then, the programme has been presented by guest hosts.
The tub of lard infamously featured in a 1993 episode when it replaced former deputy leader of the Labour Party Roy Hattersley, who had failed to appear - the third time he had cancelled at the last minute.
Credited as "The Rt. Hon. Tub of Lard MP", as it was "liable to give much the same performance and imbued with many of the same qualities", the tub appeared on Merton's team, which went on to win.
The BAFTA-winning show has been the subject of several court cases and controversies in its history, with regular panellist Will Self refusing to return over the cutting of one of his jokes and Stephen Fry boycotting it because of the BBC's treatment of Deayton, describing his sacking as "greasy, miserable, British and pathetic".
As recently as last Friday's episode, the 525th, comedian Fin Taylor confidently predicated that he would attract complaints for a joke that he made about bombing the Glastonbury Festival.
In the episode, which also featured Labour's Joan Bakewell, Taylor said that he only hates "Corbyn so much because of his fans".
He continued: "People who like Corbyn - what, it's 200,000 people in the Labour Party that are fanatics? So, all you've gotta do is, next year, bomb Glastonbury."
Some commentators, such as journalist Dawn Foster, accused Taylor of deliberately courting controversy.
There have been suggestions in some quarters of the press in recent months that HIGNFY could be facing the axe from new BBC director-general Tim Davie for perceived left-wing bias, but this has so far proved unfounded.
---
For updates, click the buttons below.
Share this page