Taskmaster Series 8
Taskmaster Series 8 contestants revealed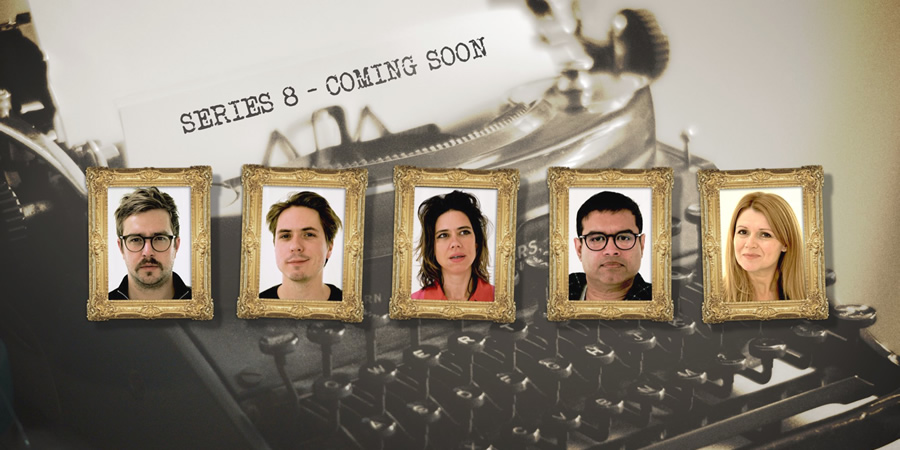 Iain Stirling, Joe Thomas, Lou Sanders, Paul Sinha and Sian Gibson will take part in Series 8 of Taskmaster.
Filming is already underway on the tasks, with the studio sessions to follow.
The channel says: "The double BAFTA nominated and Broadcast Award winning UKTV Original series Taskmaster returns to Dave and welcomes a new group of candidates placing themselves at the mercy of Taskmaster tyrant Greg Davies, and the scrutiny of stats keeper and skivvy Little Alex Horne. Dave's eighth series of the most competitive and fierce comedy game show on television will air in May."
Stand-up comedian Iain Stirling is known for voicing Love Island and hosting CBBC's comedy panel show The Dog Ate My Homework. Actor and writer Joe Thomas is best known for his roles in The Inbetweeners and Fresh Meat.
Lou Sanders is a stand-up comedian who won a Comedians' Choice Award at last year's Edinburgh Festival. Stand-up comedian Paul Sinha is also known to TV viewers for his role on quiz show The Chase. Sian Gibson rose to fame starring alongside Peter Kay in Car Share.
UKTV says: "Unaware of what awaits them in each wax sealed envelope, only one competitor can become the victorious owner of His Royal Task-ness's golden head and be crowned the next Taskmaster Champion."
See tweet
A ninth series of the hit show, which is now channel Dave's most successful original format, has already been ordered.
Taskmaster was created and is written by Alex Horne, who serves as administrative dogsbody to Greg Davies's titular 'Taskmaster' role in the TV show. It originated as a live format performed at the Edinburgh Festival Fringe.
From production company Avalon Television, the first series was broadcast in 2015, after which its popularity has continued to grow.
The seventh series - starring James Acaster, Jessica Knappett, Kerry Godliman, Phil Wang, and Rhod Gilbert was the most successful to date with an average of 1.5 million viewers per episode; increasing by 7% compared to the last series. It remains the most watched show on UKTV Play with over 7.4 million views.
Alex Horne recently said: "I recently watched an episode from the first series of Taskmaster and was amazed at how fresh-faced and cheerful I looked. I had no idea then that I'd still be serving such a powerful Taskmaster now or that I would have been demeaned in so many different ways in the intervening 50 episodes. I am a very lucky little man".
Luke Hales, Channel Director of Dave, commented: "If there is one show on Dave that really sums up the heart, soul and ambition of the channel, it is Taskmaster. The show was brilliant from the off and continues to go from strength to strength - it feels as fresh, funny and distinct as it did back in 2015. It's great to see that we can continue to grow the show even after seven series and I don't think we have reached the ceiling yet, especially now we can more accurately measure its consumption across all platforms."
The domestic success of the series has proven an international draw, with local versions of the show airing in America, Denmark, Belgium, Spain and Sweden, with more on the way. Meanwhile the UK version has been sold to over 10 countries.
In September Horne published his debut book, Taskmaster: 200 Extraordinary Tasks For Ordinary People, selling over 57,000 copies following publication.
Series 8 of Taskmaster will be shown on Dave from May.
---
For updates, click the button below.
Share this page