Benidorm star Geoffrey Hutchings dies
Benidorm star Geoffrey Hutchings dies
---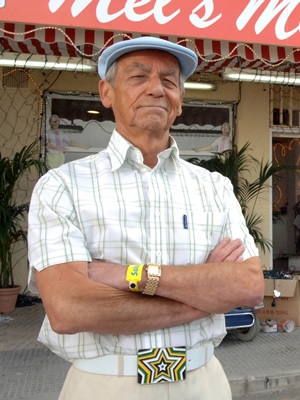 Award-winning TV and stage actor Geoffrey Hutchings, most recently seen in ITV1's hit sitcom Benidorm, has died.
According to his agent, the actor passed away suddenly in hospital from a suspected viral infection. He was 71.
Geoffrey Hutchings is perhaps best known to modern TV audiences for his role in the ITV comedy series Benidorm. Since 2008 he has played the role of Mel in the sitcom, a successful, dour businessman character who viewers saw become the loving husband of chain-smoking granny Madge.
Hutchings has also just finished filming on another major comedy project called Grandma's House - a sitcom written by former Never Mind The Buzzcocks host Simon Amstell. The comedy, which is based on Amstell's childhood, is due to be shown this summer on BBC Two.
Production is just about to begin on a new special episode of Benidorm for this autumn - in which Hutchings was due to play a major role. It is now believed this episode, and parts of the planned fourth series, will have to be majorly re-written before the show can continue.
Benidorm's writer Derren Litten, reacting to the news, said: "He was the most talented actor I have ever worked with and a hugely popular member of the Benidorm cast. I saw Geoff and his wife Andi only a couple of weeks ago at the screening of his latest TV series Grandma's House, he was on top form and we all shared a lovely evening. It still hasn't quite sunk in that we won't see him again."
Dorchester-born Geoffrey Hutchings studied at Birmingham University, before training at Rada and then becoming a member of the Royal Shakespeare Company (RSC) in 1968.
In 1982 he won an Olivier Award for best comedy performance for his role in stage comedy Poppy and in 1998 he portrayed Sid James in a National Theatre production called Cleo, Camping, Emmanuelle And Dick, a fictionalised version of James' off-screen affair with fellow Carry On star Barbara Windsor. Hutchings reprised the role in 2002 when it was adapted for ITV as the drama Cor, Blimey!.
Meanwhile his long list of TV and film credits also include roles in John Cleese's comedy film Clockwise and Steve Coogan's comedy drama Sunshine.
Hutching's agent Roger Charteris told the BBC: "He never stopped working. Geoffrey was a delight to work with and he was absolutely one of a kind."
Meanwhile a spokesman for Tiger Aspect Productions, which makes both Benidorm and Grandma's House, said: "We are all incredibly sad to hear of Geoffrey's passing. He has been a major part of Tiger Aspect's comedy in recent years, and his unique talents will be hugely missed by everyone who knew and worked with him. Our thoughts are with his family at this sad time."
Share this page