Back Series 2
Channel 4 orders more of Mitchell & Webb's Back
Back, the new sitcom starring David Mitchell and Robert Webb, will return to screens
Creator Simon Blackwell is penning six new episodes for Series 2
Due to be filmed over the summer, the new episodes are likely to be on air toward the end of 2018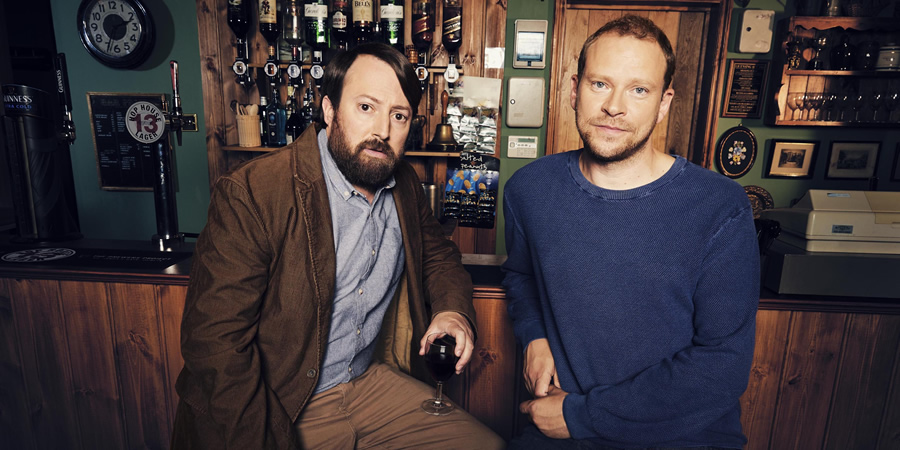 Back will return to screens for a second series.
The Channel 4 sitcom, starring David Mitchell and Robert Webb, aired its 6-part first series during September and October, and the broadcaster has now confirmed it has commissioned another six episodes for Series 2.
Written by Simon Blackwell, the comedy follows Stephen (Mitchell) as he tries to follow in his recently deceased father's footsteps and take over the family business, a pub named The John Barleycorn, but his plans are foiled by the unexpected return of his estranged foster brother, Andrew (Webb).
The pair quickly become embroiled in a series of quiet rivalries as Stephen's attempts to do right by the business are thwarted with apparent ease by the been-everywhere, done-everything know-all Andrew, and Stephen fears the man whom he only vaguely remembers is a criminal, an impostor, or both. A run of long-kept family secrets coming to light only added to the confusion and to Stephen's increasing worries.
Series 1 ended on a cliffhanger, with viewers unsure whether Stephen had simply suffered a nervous breakdown, or whether Andrew had manipulated his way into taking over his one-time brother's life.
Series 2 will be filmed on location next Summer, and is expected to broadcast later in 2018.
The sitcom's supporting cast includes Penny Downie, Louise Brealey, Olivia Poulet, Geoffrey McGivern, Jessica Gunning, John MacMillan, Oliver Maltman and Matthew Holness.
David Mitchell says: "I'm so pleased Channel 4 have given their backing to bringing Back back for a second series. I look back on Back Series 1 with tremendous pride and can't wait to be back working with the whole Back pack when we're all back together making Back."
Robert Webb added: "We're all delighted that Back is where it belongs: back."
Blackwell comments: "I'm enormously happy that Channel 4 have asked us to hang around for a lock-in at the John Barleycorn."
Fiona McDermott, Head of Comedy at Channel 4, said: "Writers of Simon's calibre don't just turn up unannounced, at a graveside, claiming to be your foster brother, so it was easy to seize the opportunity to work with him, David, Robert and Big Talk again on this brilliantly funny show."
Kenton Allen, CEO Big Talk Productions added: "We're thrilled that C4 have moved so swiftly to recommission a second series. They have been fantastic supporters of Big Talk, Simon, David and Robert over the years so we're delighted to be working with the C4 Comedy Connoisseurs on another instalment of the twisted lives of the regulars at The John Barleycorn Public House."
Series 1 is now available on DVD.
---
For updates, click the buttons below.
Stephen is finally taking over his father's pub, and he has a tough act to follow. His dad, Laurie, is a local hero. At least he was, until he died.
There's only one problem: Stephen is a loser. And when the charismatic Andrew turns up at Laurie's funeral, Stephen's anxiety strikes. Andrew claims the short time he spent fostered by Stephen's family was the happiest of his life. But to Stephen, Andrew is just one of 30-odd foster kids he resented during childhood. A slick sociopath who's trying to replace him.
As Stephen teeters on the brink of paranoid mania, he investigates Andrew's past - but his most surprising discoveries will be about himself.
Written by Emmy winner Simon Blackwell.
First released: Monday 6th November 2017
Distributor: 2 Entertain
Region: 2 & 4
Discs: 1
Minutes: 140
Subtitles: English
Buy and sell old and new items
Search for this product on eBay
It looks like you're in the US? Fear not! Almost everything can still be ordered.
Amazon UK
deliver internationally,
Amazon.com
carries many items separately, or you can look out for US/Canadian flags on our product listings for direct links.
If ordering from a UK store, please note that you are in Region 1 (DVD)/Region A (Blu-ray), whilst the UK is in Region 2/B, respectively. This means that many - but by no means all - may fail to play. Look for products marked "Region free", "All regions", "Region 0" or "Multi-region". Blu-rays may also be marked "Region A/B/C", or variations thereof. You may also check whether your DVD/Blu-ray player supports multi-region playback (also referred to as "region free"), or whether it can be set to do so. There should, of course, be no problems with books, CDs, or other physical items.
More advice & help on importing
Share this page