David Jason suggests Only Fools and Horses could return
David Jason suggests Only Fools and Horses could return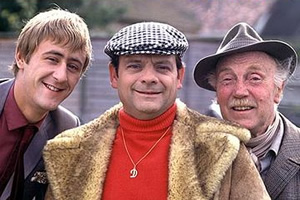 David Jason has said that he thinks classic hit sitcom Only Fools And Horses could make a comeback... again.
The actor, who played wheeler-dealer Del Boy Trotter in the sitcom from 1981 till the last special in 2003, told The Mirror newspaper: "I wouldn't rule it out - it depends on John Sullivan, the writer. If he feels he can come up with new storylines then it could happen."
Only Fools And Horses, voted Britain's best sitcom in a BBC poll, bowed out in 1996 with a special episode in which Del and Rodney finally became millionaires. However, the comedy was revived in 2001 for three more Christmas specials, which saw the brothers lose everything in a stock market crash. These new episodes received some negative reviews from fans, who thought the sitcom should have been left to end on a high. However, despite this, the 2001 special still became the most-watched British television broadcast of the decade, with over a third of the population tuning in on Christmas Day to see Del and Rodney return.
The Green, Green Grass, a spin-off sitcom for the character of Boycie, followed in 2005 but was axed last year after four series. However, interest in the Only Fools And Horses franchise was revived again earlier this year when BBC One broadcast Rock & Chips, a comedy drama telling the story of the childhood years of Del Boy and his mates Trigger, Boycie and Denzil. The drama also revealed the truth behind the rumours that Rodney was fathered by criminal Freddie "The Frog" Robdal.
Sir David, who visited the Rock & Chips set during filming to see Nicholas Lyndhurst, said of the show: "I thought it was very good. The only disappointment was that young Del Boy didn't look like me! Perhaps they should have considered giving the actor who played him [James Buckley] a nose job!"
Share this page