Plebs and Revolution win at Broadcast Awards
Plebs and Revolution win at Broadcast Awards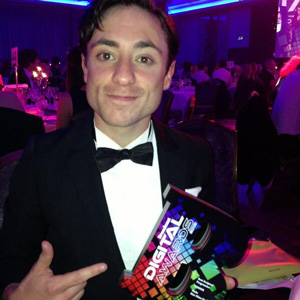 The winners of 2013's Broadcast Digital Awards have been announced at a ceremony in Central London.
Organised by television trade magazine Broadcast, the awards honour the best in programming on non-terrestrial channels, and digital and technological innovation across the industry.
The Best Scripted Programme award went to ITV2's Plebs (co-star Ryan Sampson, pictured right), the channel's first scripted sitcom for a number of years.
Set in Ancient Rome, it was transmitted during March and April to a positive reception. A second series has already been commissioned and is expected to be shown early in 2014.
The win helped host channel ITV2 scoop the top prize and be named Channel of the Year 2013.
Meanwhile, political prank show The Revolution Will Be Televised picked up the award for Best Entertainment Programme.
The BBC Three series was broadcast between August and September 2012, and saw lead men Jolyon Rubinstein and Heydon Prowse pulling politically-motivated pranks and stunts, including ambushing top politicians and making mischief for the police.
A second series of the comedy has already been filmed and is expected to begin within the next month.
Elsewhere, E4 was named Best Entertainment Channel.
The full results from the ceremony, including wins unrelated to comedy, will be published on the Broadcast website shortly (subscription required).
Here is the original trailer for Plebs:
Here's a sketch from The Revolution Will Be Televised Series 1:
Share this page