ITV developing Tommy Cooper drama
ITV developing Tommy Cooper drama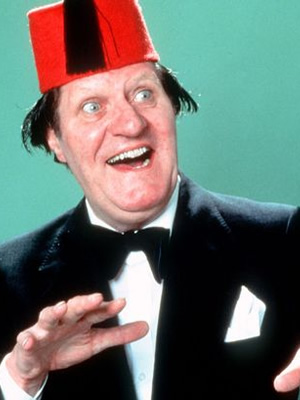 Shameless star David Threlfall is to take on the role of Tommy Cooper (pictured) in a new TV drama.
It was revealed today that ITV are making Tommy, a feature-length biopic about the legendary entertainer, focusing on how Cooper transformed himself into one of Britain's best-loved comedians.
Cooper became one of TV's biggest stars in the 1970s with his ITV shows. He made his TV debut on a new talent show in 1948 and died on stage in 1984 during a live-broadcast of LWT show Live From Her Majesty's.
The script for the currently untitled two hour drama focuses on the dilemma the comedian faced when he fell in love with his assistant Mary Kay. Cooper was married to wife Gwen, whom he affectionately nicknamed 'Dove', however his affair with Kay lasted 17 years, up to his death.
The drama will also portray Cooper's acrimonious working relationship with his manager, Miff Ferrie, and portray his problems with alcohol.
New Tricks star Amanda Redman will play Gwen, but casting for the roles of Mary and Miff have yet to be announced. Jason Manford has confirmed he will play Ken Brooke, the magician who taught Tommy his tricks.
The script has been written by Men Behaving Badly writer Simon Nye and John Fisher, a comedy historian, Cooper's biographer, and an award-winning magician in his own right. Fisher also wrote and produced the popular factual series Heroes Of Comedy.
Programme development is being overseen by Left Bank Pictures, the production company behind sketch show Cardinal Burns and previous ITV comedy drama Married Single Other.
Executive Producer Andy Harries says: "Few comics have had such a lasting influence on British culture as Tommy Cooper. The man was a comedy giant who spent his final years juggling his hugely successful public persona with a private passion for two women."
Harries has wanted to make a drama about Cooper for many years. Speaking at a university event in 2007 he said: "I have long had a desire to make a film about the last week of Tommy Cooper's life. It was extraordinary because he died live on TV. The story behind his death is staggering, because not only did he drop dead in this show, but the audience thought it was part of the show. Then they decided it was quite serious and moved his body to the side of the stage and carried on."
Filming on the ITV drama will begin in London next month, and the programme is expected be screened on ITV later in the year, or early in 2014. Next April will see the 30th anniversary of Cooper's death.
ITV's director of drama commissioning, Steve November, says: "Tommy Cooper was an ITV legend and so it feels very fitting to be telling his story on ITV. Left Bank have brought together wonderful talent in Simon Nye, David Threlfall and Amanda Redman to tell the story."
David Threlfall, who has the challenging task of portraying Cooper, has just finished playing Frank Gallagher in Shameless, the comedy drama which has run on Channel 4 since 2004. The final episode of Shameless will be broadcast next week.
Below is a clip of Cooper working his magic on TV:
Share this page