Hugh Dennis to host 'Blow A Billion' pilot for channel Dave
Hugh Dennis to host 'Blow A Billion' pilot for channel Dave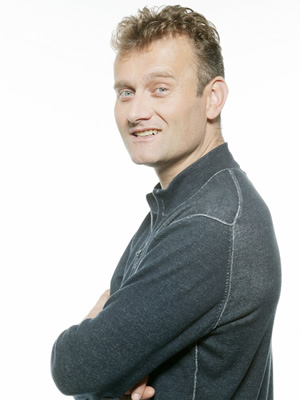 British Comedy Guide has learnt that Hugh Dennis will front the pilot episode of Blow A Billion, a comedy entertainment show for digital channel Dave.
The format, which is currently being trialled and might or might not become a TV series depending on how well the pilot episode is received by channel bosses, sees the host ask a special guest to outline how he or she would spend a billion pounds.
The guest must try to convince Dennis plus a panel of two comics of the wisdom of their plans.
The production notes for Blow A Billion, which is currently a working title, say: "How would you spend a billion pounds as quickly as you could? Would you buy a football team? Maybe buy everyone in Islington a drink? Or send all the teachers in Kingston, Surrey on holiday to Kingston, Jamaica?"
A not-for-broadcast pilot episode will be recorded at the RADA Studios in London later in the month. The guest taking part will be Janet Street-Porter, but it is not yet known which comedians will help Dennis judge her suggestions.
UKTV is currently investing in various new formats for its Dave and GOLD channel brands. A second series of Alexander Armstrong's Big Ask, a panel show in which the guests must ask each other questions, has just finished on Dave.
Hugh Dennis found fame via The Mary Whitehouse Experience at the start of the 1990s alongside double-act partner Steve Punt. He has since hosted various TV studio formats, the most recent being the short-lived BBC Two improv show Fast & Loose.
Dennis still co-hosts Radio 4's The Now Show with Punt, and other regular roles include playing dad Pete in hit BBC One family sitcom Outnumbered (due to return for a fifth series later this year), and as a regular panellist on BBC Two's topical comedy show Mock The Week, which is due for another series later this season.
A one-off documentary, My Hero: Hugh Dennis On Ronnie Barker, is also expected to be broadcast on BBC One within the next few months.
The Blow A Billion pilot will be recorded on Wednesday 24th April 2013. Comedy fans wishing to be in the audience should apply via our free tickets page
Below is a video of Hugh Dennis appearing on Would I Lie To You? and claiming that, for superstitious reasons, he must touch his nose every time he says the word 'France':
Share this page