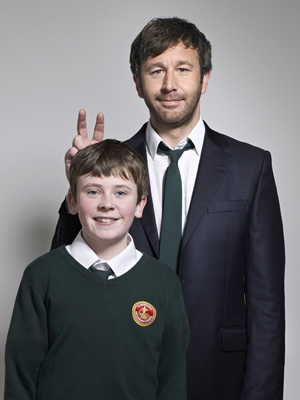 Back in 2012, Chris O'Dowd and Nick Vincent Murphy charmed audiences with their semi-autobiographical coming-of-age comedy set in the small Irish town of Boyle in 1989.
Following the adventures of 12-year-old Martin Moone (David Rawle), the twinkly-eyed series celebrated family life as he set about growing up amid his chaotic clan, ably assisted by imaginary friend Sean Murphy (O'Dowd), who was always on hand with some not-so-wise words of advice.
After a long wait, Series 2 of Moone Boy finally starts on Sky1 on Monday 17th February 2014. Plus, in a new move to attract more people to Sky, everyone (even non-Sky subscribers) will be able to watch the first episode from Saturday 1st February 2014 on Sky's YouTube channel
Series 2 starts in 1990, with Martin about to start secondary school. He and Sean carefully navigate life's big hurdles, from falling in love to the awkward school disco, as well as entering the world of work for the first time. As football fever sweeps Ireland, the Moones get caught up in the euphoria of Italia 90, while chaos reigns when new neighbours move in, and Fidelma prepares for motherhood.
All the main cast members are back, and Johnny Vegas will reprise his role as Crunchie Haystacks, the imaginary pal of Martin's best friend Padraic.
To find out more about what's coming up, see our Series 2 Guide
What are the characters up to now?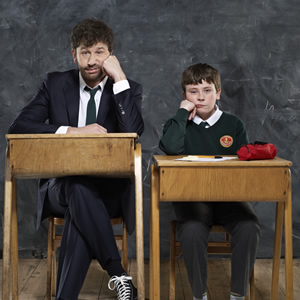 Martin & Sean: Times are a-changing for the youngest Moone. With puberty on the horizon, high school and first loves present many a challenge but, fortunately, imaginary pal Sean is always on hand to help him out.
Padraic & Crunchie Haystacks: Martin's best bud is thrilled to start secondary school. With an abundance of confidence in any situation, Padraic, and his imaginary friend Crunchie, are always up for an adventure with Martin and Sean.
Debra Moone: Life's as hectic as ever for Ma Moone with three teenage daughters, son Martin and husband Liam to look after, all while running Boyle's local Weight Wishers class.
Liam Moone: Dad Liam works hard providing for his family, but it isn't always easy. Not best pleased about Fidelma's forthcoming nuptials, he relies on Debra to remind him of the positive things in life.
Fidelma Moone: Pregnant Fidelma isn't thrilled about going to back to school. Planning a big day and having to eat extra food to feed the baby soon provides a distraction, though.
Trisha Moone: Alternative Trish is devastated when Talking Heads split up. Often despairing of her madcap family, she can always be relied on to deliver a sarcastic or cutting comment.
Sinead Moone: Teenage years aren't always kind and Sinead starts to have confidence issues when she's teased at school about her size. Cornettos might be off the menu for a while.
Dessie: Church band leader Dessie is more than willing to step to his responsibilities and marry the love of his life, Fidelma. Winning Liam over is going to be no easy task, however.
Published: Wednesday 29th January 2014