Press releases tend to be quite dry and boring (even for new comedy shows) - an endless list of executives and quotes from 'suits' - but we always enjoy the return of Mock The Week as the producers demonstrate a good sense of humour. Here's their latest...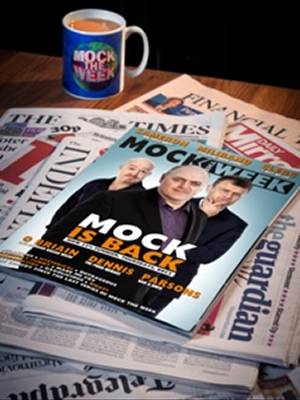 In a world of uncertainty and a time of change, BBC Two is delighted to announce the return of hit series Mock The Week this summer.
Although its enigmatic producers are remaining tight lipped about what the cult show's obsessive fans can expect, leaked pictures and online teasers suggest (SPOILER ALERT!) the World Cup, Commonwealth Games and the Scottish referendum could all play their part in this hotly anticipated thirteenth season.
Set in the competitive world of early 21st century topical panel formats, Mock will continue to centre around charismatic Irishman Dara O Briain and his compelling colleagues: cultured voicesmith Hugh Dennis and outraged everyman Andy Parsons.
Internet rumours predict the customary introduction of a number of exciting new characters, though so far there is no confirmation that viewers will see another outing for Andy Murray - who in one of last season's more improbable storylines - won the Men's Singles Championship at Wimbledon.
Perennial favourites Milton Jones, Ed Byrne and Katherine Ryan are already slated to join the regular cast for the show opener along with the familiar mix of rib tickling games, running jokes and topical banter that make Mock The Week as reliable as a UKIP expenses claim and as much a part of summer as English sporting failure, mutant animal tabloid scare stories and low poll ratings for Nick Clegg.
An insider at Angst Productions, the independent production company responsible for the programme, is confident series thirteen will be the best yet and surely reflected the feelings of many when he said: "INSERT UPBEAT FUNNY QUOTE HERE, OR MAYBE JUST USE WHATEVER WE PUT IN LAST YEAR'S RELEASE, NO ONE WILL REMEMBER."

---
Mock The Week returns on Thursday 12th June 2014.
In the meantime, you can re-laugh at previous shows via our video page
Published: Wednesday 14th May 2014