Shaun Williamson says viewers can expect "some good, old-fashioned, laugh-out-loud comedy" from Mister Winner.
Why did you want to get involved with Mister Winner?
I genuinely found the show funny - a lot of sitcoms don't have real belly laughs in them these days, but this one does.
I hadn't properly done a sitcom since Extras, which was a fairly long time ago. It was a great chance for me to get back on the BBC at primetime, so I jumped at the chance. The scripts were great. I think Matt Morgan's a terrific writer. I was really impressed with his writing.
I thoroughly enjoyed playing the role of Chris. I'm so grateful for the opportunity to be a part of this show and it was such a pleasure to work on. I had a wonderful time.
Tell us about Chris - who is he and where do we find him in this series?
Chris is a painter-decorator, all-round very capable workman. He's a salt-of-the-earth, normal bloke. Unfortunately for Chris, Leslie Winner is with his daughter. Chris feels a duty to help Leslie out, as he's going to be Chris's son-in-law. Chris gives Leslie work and Leslie always totally - not on purpose - but he totally messes it up. Chris does tolerate Leslie though. He likes him, but he'd like him better if Leslie wasn't with his daughter. But once it becomes obvious that she loves him, Chris tries to be supportive.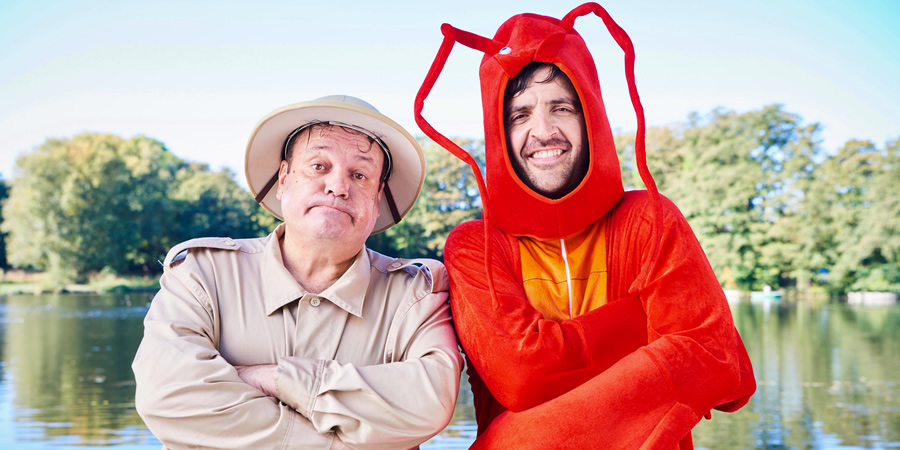 What was your favourite scene to film?
The stag night - that whole episode. We go canoeing and there's a race to the hotel - but Chris and Leslie get hopelessly lost.
I won't say much more, but I think that day is when me and Spencer really clicked - we were together all day, dressed as idiots and freezing wet. Every night we were in the same hotel, having meals together - it was a really fun week.
Leslie tries his hand at any job he can to get by... have you had any similar experiences?
That's it. Leslie is up for it. He's not a lazy man, he desperately wants to be successful. He wants to be a good boyfriend, a good husband and a good son-in-law, but it goes Pete Tong every time.
As for me, I've done all sorts of things. I was a postman, I was in the navy... I was an 18-30 club rep! I've taught children in American summer camps, I've worked in warehouses, I was a foreman at a supermarket, I've been a barman, a singer... the list goes on.
I think if I wasn't an actor I'd probably still be a postman. That was when I was the happiest! I was young and the early starts meant that we'd have early finishes - so I'd spend my afternoons with my friends at the pub. It was great.
Were there any real life Leslie Winner-style calamities on set?
A couple of times Spencer got a bit of a knock, because he was doing some very physical stuff - but nothing that ever held up filming. He put himself through the ringer for this show, it's very physical. That's the lovely thing about it - you don't really see that physical comedy anymore.
My very last scene involved a scene in a restaurant - but the fire alarm of the restaurant went off! Everyone had to evacuate, two fire engines turned up... they had to check out the whole building. We only just filmed the shot in time!
Why should people tune in? What can they expect from the show?
People can expect some good, old-fashioned, laugh-out-loud comedy. I think Spencer Jones gives a superb physical performance in it. It's a very strong cast, including people like Harriet Thorpe. I really think there's something for everyone in it. It's a real mix of modern and classic comedy.
It was a thrill making it, I hope people enjoy it.