We chat to Sir Tony Robinson about his period sitcom Maid Marian And Her Merry Men, the association with history that has defined his career, Blackadder, his new autobiography, and more.
How did Maid Marian And Her Merry Men come about?
I'd made a couple of semi-improvised stories for the childrens' series Play Away that had done pretty well; they'd won awards and got great ratings, and so the BBC were pressing me to do a story based on a British myth. The one that was most familiar from my childhood was Robin Hood And His Merry Men so I had that in the back of my mind, but at the time I was working on the first series of Blackadder and had two small children.
I knew how excited they were, both by the Adder and the other mid-evening comedies that were going out at the time - like The Young Ones and French & Saunders' first series, Lenny Henry, etc - I knew their friends had the same reaction, so I thought that if I could create a childrens' series that had the same anarchic spirit as those series and was as solidly written as those series - with really good jokes in, without the willy and botty jokes - I thought it would be really successful on British television.
My daughter was about 10 at the time. She was tiny and at primary school, but by sheer force of her personality she'd become one of the twin strikers in the school football team. She was rubbish at football but somehow she'd inveigled herself in, so I'd watch her in the playground with the rest of the team following after her like a swarm of bees; berating them for their incompetence, yet every time she tried to pass the ball it went sideways - but she didn't seem to notice that! Any time any of the others got the ball she was yelling at them, and I remember thinking very clearly "Gosh, if Robin Hood was around it wouldn't have been him running the gang if my Laura had anything to do with it!"
That was the starting point. The director I'd been working with on all my previous myths series, David Bell, he and I had a very good working relationship and a very strong friendship, and he and I created the series together. Unlike nowadays, we were just allowed by the BBC to get on with it. Really, there was no pressure on us, no commissioning editors telling us what to do or what not to do, we just got on on our own. We were given a fantastically good budget for those days - enough to make a really visually strong series - so we went away and did it.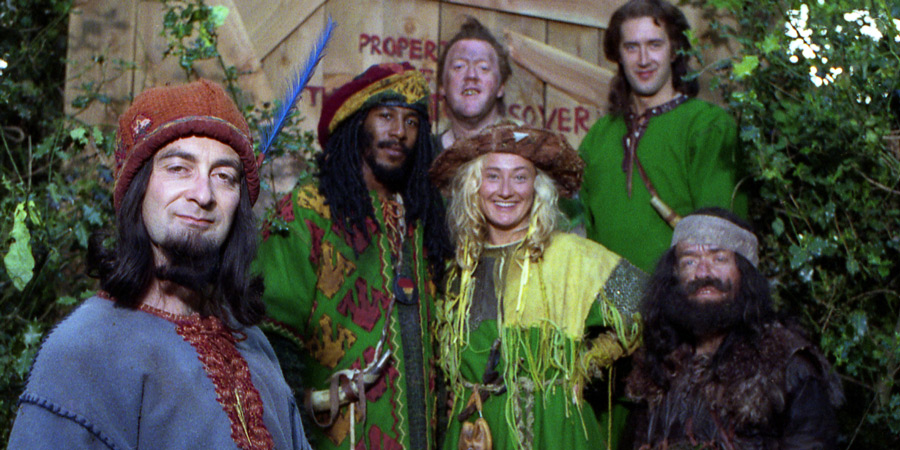 Were you conscious to make it adult-friendly for the parents watching alongside their kids, or were you simply not talking down to the children?
I don't think I was deliberately writing for adults any more than Roald Dahl did, or Lewis Carroll. You write into a space that's inside yourself, is the best way I can put it. I was constantly addressing children but I wanted satisfaction from what I was writing. So, without in any sense betraying the children, I wanted to write something that I found amusing. I knew that it had to consistently in the language that children would know, appreciate and understand rather than in an adult language, but certainly I wanted it to be of a quality that, if an adult watched it, they'd know it was a good piece of work.
It must be very satisfying to have it still so very warmly remembered and celebrated, almost 30 years since it began?
Yeah. I've always had a conviction that if you write for children, but that it's very multi-layered, the way you write, like a nursery rhyme is, it'll stay with them for the rest of their lives. When you first hear Humpty Dumpty all you pick up is a rhythm, you just hear your mother's voice and it's an act of love. Then later you understand it's about a big egg, the egg falls, and a sense of hazard. Then maybe in your teens you begin to understand it's actually a satire on the Georgians; then later still you find out those explanations probably aren't true either, but late 19th/early 20th Century gloss - but nevertheless by now you're a parent and reciting them to your own children. So there are different ways of receiving the same thing over the course of your lifetime as your sensibility changes.
Hopefully, to some extent, that's what happens with Maid Marian. I certainly think it's why it was so successful first-time round on television. It went to the top of the charts, and I think that's because so many students were watching it. Not that I was writing specifically for them - there was no 'nudge, nudge, wink, wink' - I was writing for children, but I had that alternative, young, anarchic sensibility as part of how I wrote.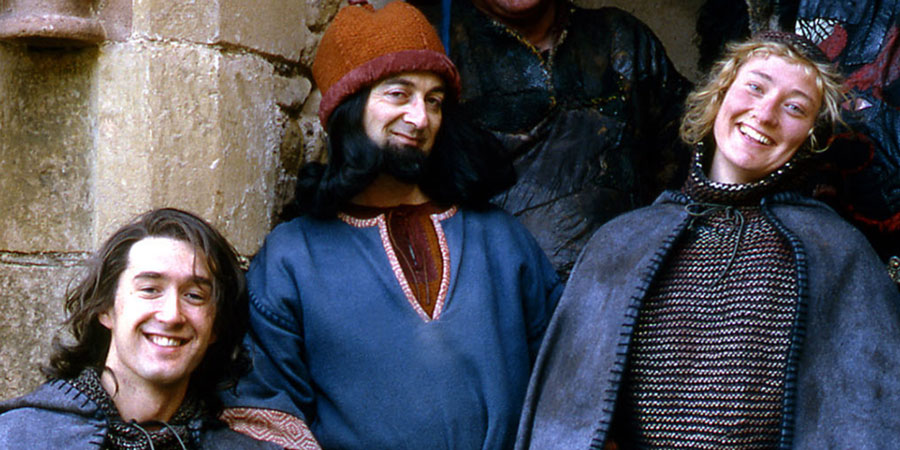 At what point did you realise it was becoming a big hit? Did you have any inkling of the endurance it still has?
I don't think you really could in those days. I never knew what the ratings were; nobody ever told you. And I was living in Bristol so was quite immured from the paranoias of London media life. I just got on with it and when people talked about it, it was really exciting. Of course it also happened at the time of Blackadder, so it was more likely that people talking to me would be talking about Blackadder. So it was years before I fully appreciated the enduring value of it.
I always knew I was proud of it; even when it won the RTS and the BAFTA and the international Prix Jeunesse [awards], I knew that my peers thought it was pretty good, but that's as far as it got as far as reception.
I do have to say, I've been on Twitter now for about three months, and both there and when I'm doing my live stuff, people are still really interested in Maid Marian. A lot of people don't know it has been released in the past, so hopefully they'll enjoy this new box set.
You had a fantastic cast. What're your memories of making the show? It looks like it must have been a lot of fun.
I think my strongest memory of it is that we shot it in a forest near Minehead, on the slopes of Porlock Hill, and we were completely cut off from the rest of the world. It was just us and loads of trees, and we all lived in holiday cottages in little villages. So, apart from going to the occasional pub, it was as though there was just us in the world, so it had an enormous team spirit about it.
Everyone, I think, knew that it was funny, everyone was working to the top of their game; if you have a look at the set design by Chris Robilliard, the costumes by Maggie Chappelhow - they're of feature film quality. It was rather like Blackadder, we were lucky we pulled together a lot of very capable artists. But there was also a financial factor, that we were given the budget to make it.
People often ask me why we don't do another series, but, if you did, you'd have to entirely rethink it because you'd never get that budget. Not unless you made it an international co-production, but if you make it an international co-production then you have to bend to the will of the international players who're investing in it - so I don't think you could make it just as it was.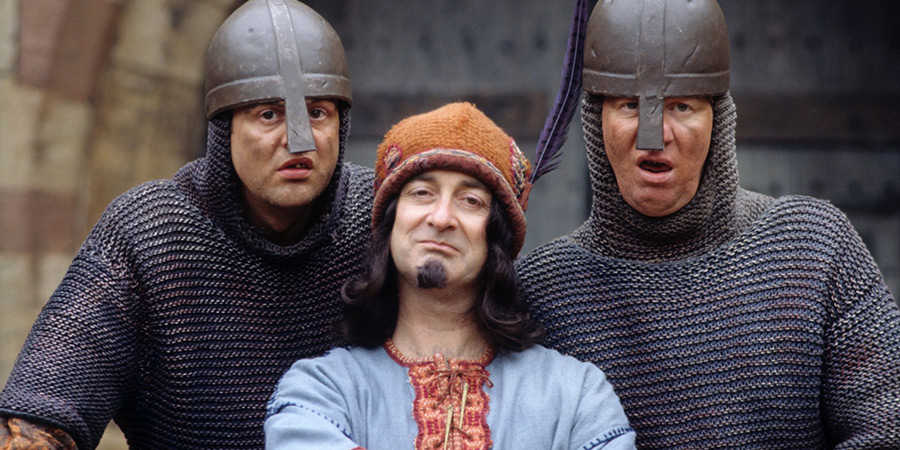 Mark Billingham and David Lloyd (pictured, left and right) have spoken on Twitter about having discussed a potential spin-off at various points. Do you think that would be possible?
Yes I think you could do a spin-off, but I don't think you could do the same thing. You wouldn't be able to do a full series of Maid Marian And Her Merry Men. The three of us had an idea at one time of doing Maid Marian And The Romans, and it might be possible to find a way of doing that. The other idea we once discussed was a much more studio-based show, and making many, many more episodes so it's more cost-effective. That might be a possibility.
Your career has pretty much been defined by history: from the first cast of Lionel Bart's Oliver! to Blackadder, Maid Marian, and of course Time Team and Britain's Ancient Tracks most recently. Is history a subject you were always attracted to or is it all a bit coincidental?
It seems to be a happy coincidence, but I suspect there is something in my sensibility that attracts me to the past. When I was a little boy - as early as I can remember - my dad used to tell me stories about his times in the RAF. They were so vivid and so funny, and listening to those stories it made me understand that there was a time when he was young and had had adventures; that the time I was living in wasn't the only time there had ever been, and by extension presumably his mum and dad had had such a time - and on and on, backwards through history.
So - a poncey way of saying it now - but I had a very vivid sense that I was part of the continuum of history. If you understand that as a child, I think it's an enormous weapon in your toolbox, in your understanding of the world. I didn't know it was called 'history' until my last year of primary school. It was just stories. But it was as natural to me as breathing or walking or eating. It was just part of who I was, and I've always thought of history as just part of who I was. In a sense the most important part of history is what it tells you about now and what it tells you about the possibility of the future. The stories are great, but it's you understanding who you are now from what happened before.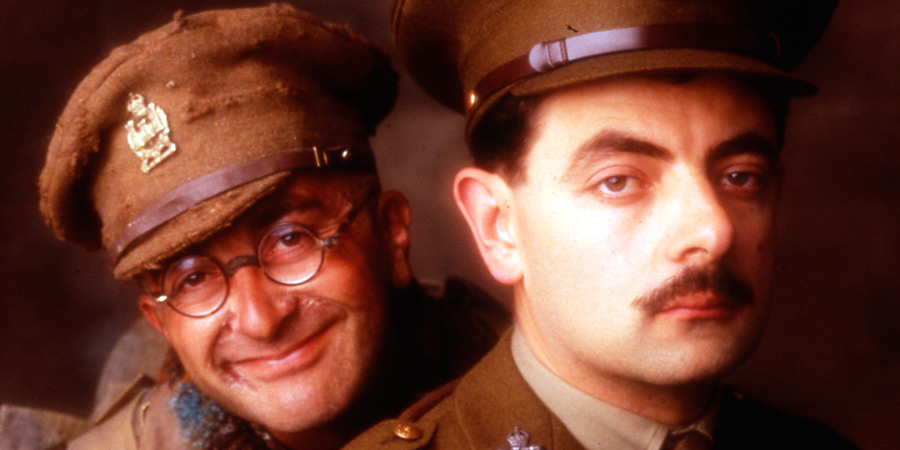 Do you think your prominent role in Blackadder and Maid Marian helped you to fit into Time Team, or even to be cast in it in the first place?
I think the reason I was asked to do Time Team was two-fold. Firstly the commissioning editor knew that I was interested in history and in archaeology, and second because she liked the idea of someone from the alternative comedy circuit fronting an archaeology series. The archetypal Channel 4 idea: until then an archaeology series would have been fronted by an academic and presented in a very particular way. She wanted something entirely different, and I think there was a deliberate sense of outrage in the first series: "What's this comedian doing fronting something serious?" That's what our critics were upset by, and I don't think Channel 4 thought that was a bad thing!
A lot of people were very upset when Time Team came to an end a few years ago.
As a freelance, I can't complain that I got 20 years doing the same job! It would be very mean-spirited of me. I knew that at some time the show would end, and it probably wouldn't end at the time I wanted it to end, nor for the reasons I wanted to end, but it would end and I was philosophical about that and have been ever since.
Channel 4 had been getting worried about the viewing figures. The truth is that there were so many episodes being repeated, and on all the digital channels, that people got lackadaisical about watching them when they were first broadcast because they knew they'd be on again - and sometimes they didn't even realise they were new programmes. In retrospect I think they should have been billed 'All New Time Team', and I suspect the viewing figures would've stayed higher.
Then it was a vicious spiral. As the viewing figures started to drop off it wasn't so attractive to put them on in the evening as they couldn't offer such good figures for the advertisers, so they would pull them back earlier in the day - when there were fewer people at home to watch, so even smaller figures. That went on and on.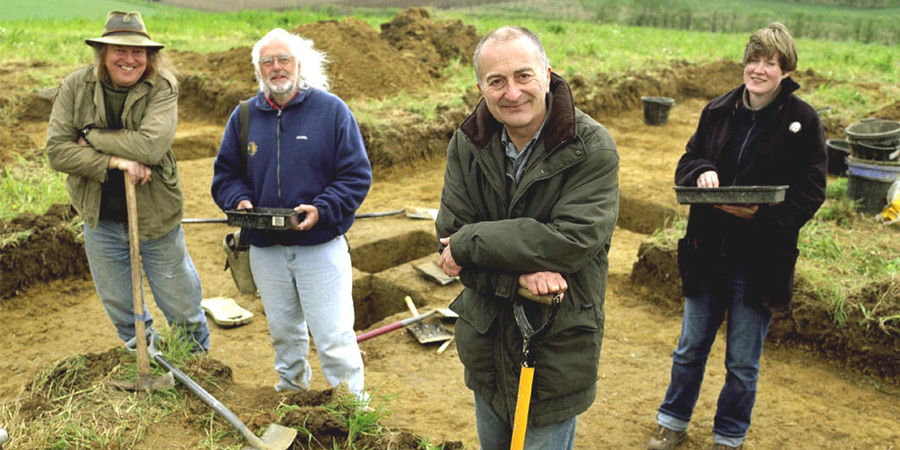 There was also a problem, in that a number of people in Channel 4 had great affection for the programme and thought it could and should remain. They thought one way of doing that was to make it a regional programme, which they were short of; they were happy to subsidise a lot of regional productions - so they moved it out to Cardiff. At a stroke, we lost two thirds of our professionals. People who, for one reason or another, couldn't or didn't want to move out to Cardiff, people with young families and so on. So the new people who came in, very talented, but they weren't part of the culture of Time Team, so the whole atmosphere and culture of making the show was blown open.
Finally, we wanted to make some changes ourselves simply as it'd been going on so long, to roughen it up a bit so it'd have a modern edge as well as keeping its old values. Some of the changes worked, some didn't. But we ended up with this sort of Greek drama of a thing tumbling through the air to its death! [Laughter]
There are calls for a memorial dig for the late Professor Mick Aston (pictured above, second from left). Is there any news on that?
What I've said is that I love the idea of a memorial for Mick. I very much doubt they'd get the money from a major broadcaster. I think if it was done it'd have to be crowdfunded. Not impossible, but it requires people to be there to organise the crowdfunding in the first place. And you'd have to get permission from [series creator] Tim Taylor, unless you did it in a different enough format for Tim not to want to sue!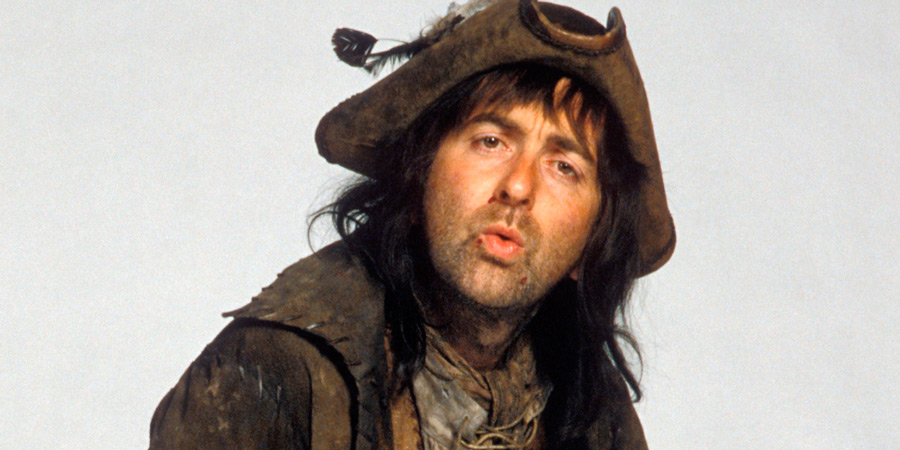 There are of course persistent rumours about Blackadder returning. Do you think it will?
I would have thought it more unlikely than likely. It would only happen if Richard Curtis and Ben Elton actually wanted to sit down and do it. They've got so many of their own projects on that it doesn't seem very likely that they would; particularly when a number of people from Blackadder feel that we went out on such a high, that even if we produced a series that was better than Blackadder Goes Forth, nobody would think it was better because they wouldn't be in the place they were in in the Blackadder days. It's not just the show itself, it's how you were at that time.
I think if we did do something, like in Marian and Time Team, it would have to be a different format. A movie or a one-off, something set in the present day, or a live event. Something that was completely different to the memories people have of the television series - but still honouring that experience and those characters.
'Blackadder Live on Stage' has been talked about. Particularly in Australia there are a lot of people who would love us to do that. I suspect there's an algebraic equation, on one side there's the number of divorces in the company, and on the other the amount of money we need!
You were knighted just a couple of years ago. Was that a complete surprise, a bolt out of the blue?
Complete surprise, yeah. Wonderful. What an extraordinary thing to happen to someone. When Prince William brought that sword down it did feel like he was doing it in slow-mo. Outside of car crashes I've never had that experience, where time seems to slow down for a few moments, but that was one of them!
Has it changed how people treat or talk to you at all?
No! To be honest I don't think a lot of people know, and those who do, don't give a fuck! When it first happened, I thought it was the hugest thing that had ever happened to me. My wife and I, we couldn't stop thinking about it for about two weeks. Then, like the flu, it gradually disappears - now it doesn't impinge. Maybe once a week a fan will say "Shall I call you Sir?", or someone will call me Sir in a restaurant, something like that. But no, it's like getting an honorary doctorate. You don't have to do anything for it: it's a pat on the back from your follow citizens. It's really very nice, but if you worry about it too much, you'd be a bit of a cunt!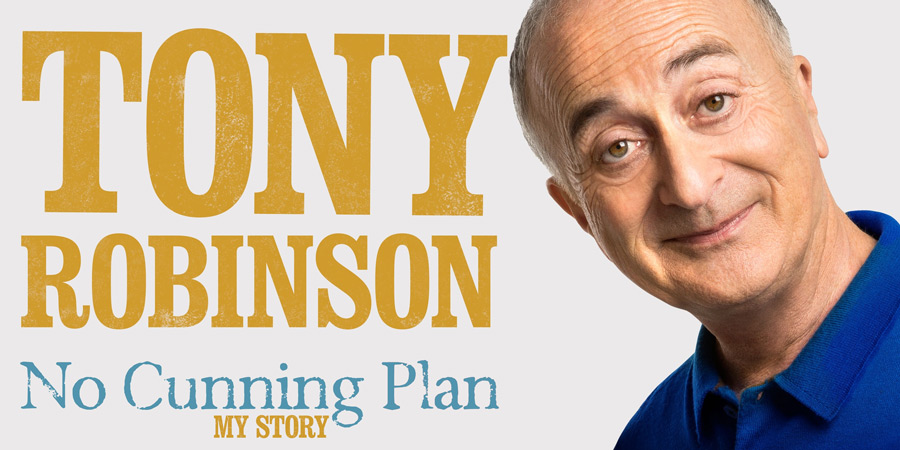 You've just published your autobiography, No Cunning Plan, too.
Yes! I've taken about three months out to promote it. I worked very hard on my autobiography: there's lots about Marian, about the Adder, and Time Team of course. I've also gone to some length on the first part of my career, which sort of makes some sense as to why I was in the position I was, to be able to exploit the jobs I was offered in the second part of my career.
What was the writing process like?
It was absolutely fascinating. All-embracing. I still had other television things to do during that year, but I think every moment of the day I was in some way possessed by the job of writing the autobiography. Some of it I found quite easy, particularly my teens. I think looking back on your teens, you can see and remember the person you were but it isn't really you now. You're looking at it through the wrong end of a telescope.
And now you're on a book tour, meeting fans, signing - how are you finding that?
I love it. Absolutely love it. One of the things I'm most flattered about is that there are people now who say not that "I like Blackadder" or "I like Time Team", but "I like your work". Knowing that there are people out there who invest sufficiently in me to recognise that I have a body of work is a fantastic buzz.
You've made a bit of a comeback to television comedy recently, notably with Man Down, playing an horrendous character. What was it like playing someone like that?
Oh, wonderfully liberating! Just as Baldrick appealed to a particular side of me, so Daddy (pictured, above) appealed to a much darker side of me that doesn't often get an airing. From the moment I read the script I knew I wanted to do it. Greg Davies was a bit nervous about offering it to me: there weren't that many lines when you think about it, it wasn't a series about my character, but about him and his friends and sometimes he'd go home and there'd be these other comedy figures. But from the beginning I just thought the writing was sublime. There wasn't a dud line in it as far as I was concerned. Every line I had, I a) relished, but b) wanted to throw away; didn't want people to realise just how much I was enjoying saying it! It was my comedy Brando moment.
Would you be tempted back for the next series?
Yeah, I see Greg and we've talked about it, but it's going to be down to him and Channel 4 whether it happens or not. But if the call comes, I'll be there like a shot.
Have you any other comedy projects coming up?
I actually thought that, having done that, I would be offered more comedy as it was so successful. But there hasn't been a squeak. I have plenty of other things to occupy myself so it hasn't bothered me, but it did puzzle me slightly, I thought some offers might come in.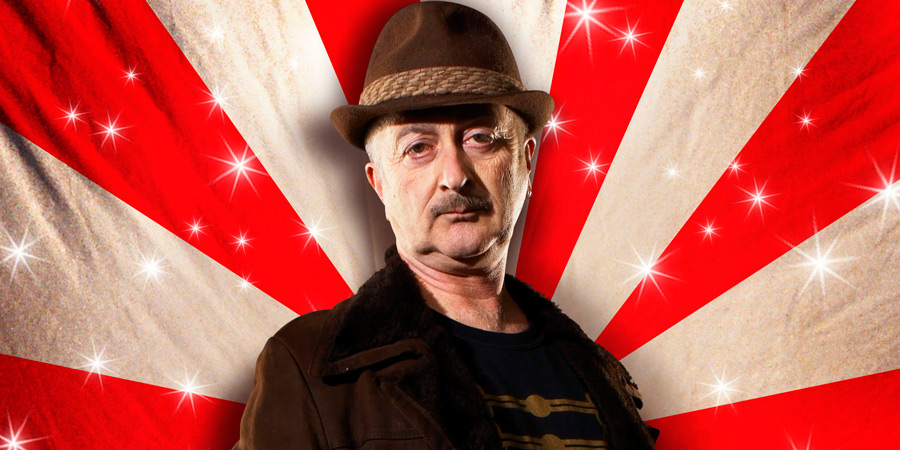 Did you receive any offers after Big Top...?
No! [Laughter] But that puzzled me less! Even with Big Top, we knew it wasn't funny enough, of course we did, but it was great to be back, using those kind of comedy disciplines over six half hours. And Amanda Holden - she's a much maligned actress, actually. She is red hot at that kind of performance. A real, good, actor's discipline. She oozes experience, she's always on top of the words, the motivations, the pace - but because of the other type of work she often does, she gets written off. But I always defend her vigorously. A real pro.
We haven't yet mentioned Who Dares Wins..., the 1980s Channel 4 sketch show. It would be great to see that again.
It would! I think there are some problems though. There's suggestion that some of it has been destroyed; I certainly have some episodes. It was also made by different production companies at different times, and thinking about the people who were in it... But if you could sort the licences, I would have thought it not impossible. I know Andy Hamilton was very keen to see it back on at one time. He came up against a brick wall, although I can't remember what it was.
Julia Hills - she was bloody good in it. I've written somewhere, I think in the autobiography, that she's like a dirty Julie Andrews. I knew her very well prior to that. I didn't know any of the others apart from Jimmy Mulville. She'd gone to university in Bristol and her bloke was a lecturer who was also a friend of mine. I knew Jimmy because he was the script editor on Alas Smith & Jones when I was doing that, and it was him who suggested I should be in Who Dares Wins....
To be honest, given the amount we were writing every week, there's a lot that's so un-PC ... well, I certainly think you could produce a 'best of' at very least. Late night on Dave might be the perfect place.
---
The Maid Marian And Her Merry Men Special Edition box set contains the complete show and a wealth of special features. It is out on Monday 28th November 2016 from Eureka. No Cunning Plan is out now in hardback, audiobook and e-book formats.[/i]