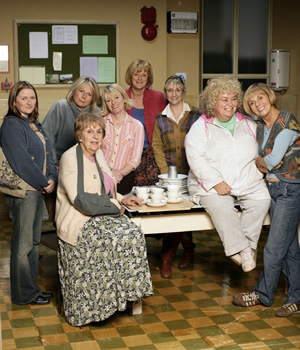 Set in a small west country town, Jam & Jerusalem (or Clatterford as it is known abroad) stars Sue Johnston as Sal Vine, the local practice nurse who lives at the centre of the community.
Written by Jennifer Saunders and starring some of the best-loved British comedy actresses, Jam & Jerusalem is a comedy that takes an affectionate look at village life and the empathy and togetherness found in a local community where everyone knows everyone's business.
With her husband being the grumpy doctor of the town, Sal is the voice of common sense and font of all knowledge when it comes to the townspeople and their needs. She never has a moment to herself - but that is just the way she likes it, as long as she has her best friend Tip to keep her sane and go for a quick half with in the pub.
Despite her knowledge and love of her fellow townsfolk, Sal cannot bring herself to join the local church's Women's Guild - she thinks the knitting and cake-baking is not really her scene - and so avoids being recruited by the Guild's leader, Eileen, at every step.
When her husband dies suddenly of a heart attack, Sal finds herself surrounded by the community - all offering tea and sympathy. When her son James announces at the funeral that, as he is taking over the practice, his wife will be the new village nurse, Sal finds herself not only widowed but out of a job!
As the community sympathy falls off, Sal feels neglected and alone. In a bid to stop rattling around her empty house and dodge more visits from local Grieving Group counsellor Kate, Sal decides it's time to take her own advice - stop sleeping in the dog basket, get a hair cut and a new top and take stock of her new life. The Women's Guild is a good place to start.
The second series saw Sal struggling to cope with the first anniversary of her husband's death. The only person that seemed to care was Kate from the local grieving group, and even then the mention of death just re-opened her own, barely healed wounds. Meanwhile the Guild were tasked with setting up a website. The big question was whether the ladies would master the required technology to get their photos from the 'stick' up onto the computer, or whether it would all end in disaster.
It was all change for the residents of Clatterford as Series 3 started in 2009. The villagers had to face new challenges and try to deal with the credit crunch.
Sal's daughter, Tash, who married Spike at the end of Series 2, has moved out... but only to the converted mobile library which Sal gave her to go travelling in, and which is now parked in Sal's back garden.
Meanwhile, a builder is planning on developing a barn in Sal's back garden, much to Sal's dismay. Sue Johnston, who plays her, says: "Sal is rather feistier this series and also is swearing a lot, which is down to the fact that she is a lot angrier this time around, as someone is starting to renovate a barn on the piece of land she looks out on."
However, it's not all bad news for Sal: she could possibly find love in Clatterford in the new series. Sal has a small teenage crush on Jock, the builder working on the land behind her house.
Also finding love in the new series is Kate. Rosie Cavaliero explains: "Kate is a little bit more daring and adventurous in this series. She gets some romance with the vicar this time. They find themselves in this spontaneous setting where she has to help him through a crisis. They share a kiss and build up a relationship towards the end of the series."
And an appearance from Charles Dance excites members of the Women's Guild. Maggie Steed, who plays Eileen, says: "Well, Eileen has lots of things to organise; she has the busiest job in the town, being chair of the guild. She becomes obsessed when she hears this rumour that perhaps Charles Dance is going to move to the village. From that, Eileen begins to act like it is the second coming, and makes every effort to get Mr Dance to be a guest speaker for the guild."
Jennifer Saunders adds: "I think he is just every middle-aged woman's fantasy. I did a talk at a WI meeting and as soon as I mentioned Charles Dance it sent them completely into flutters!"