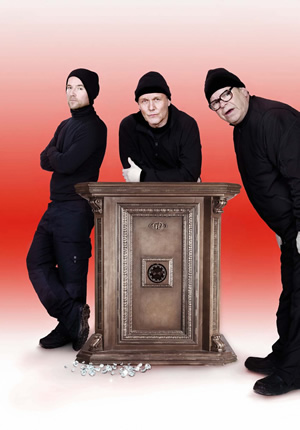 The Invisibles is a BBC One comedy drama starring Warren Clarke, Anthony Head, Dean Lennox Kelly and Jenny Agutter. It was written by William Ivory (A Thing Called Love, The Sins) and produced by Company Pictures, the production house behind Shameless.
The Invisibles is about old friends Maurice Riley (Anthony Head) and Syd Woolsey (Warren Clarke). The return from the good life on the Costa del Sol, where they have been spending their ill-gotten gains, to a quiet Devon fishing village, where they plan to eke out their retirement fishing and availing themselves of the NHS.
However, the quiet life is not for them and, with money running short, they quickly find themselves drawn back into a life of crime, only to find that crime has moved on and they have got new things to learn.
Executive producer George Faber adds: William Ivory began his illustrious writing career on Minder, and has long wanted to create his own show set in a world of crime, with larger than life characters, for whom robbery is an addictive pastime. This action-packed comedy drama delivers top stars in a warm, funny show that also takes a wry look at the late 50-something generation who still feel they have much to offer the world!
William Ivory explains: It's a dream of a cast. And what's especially brilliant is the breadth of the talent on board. The Invisibles is an ensemble piece which means every character relies on the one next to them to give full value in terms of what the script is trying to achieve. And that means, in an ideal world, you're looking to fill every role with a heavy hitter - but in truth you seldom achieve that. This time, I think we have...
Warren Clarke (Dalziel And Pascoe) plays Syd - a man who, with four wives and three divorces under his belt, is finding single life hard. Anthony Head (Little Britain, Buffy) plays Maurice, Syd's rock.
Dean Lennox Kelly (Shameless) plays Hedley, the 30-something-year-old son of the late Vernon Huthwaite, Syd and Maurice's former partner in crime. When Hedley hears Syd and Maurice are planning to put down roots locally, he wants in on the action.
Meanwhile Jenny Agutter (Spooks, The Alan Clark Diaries) plays Maurice's wife Barbara who is aware and comfortable with her husband's penchant for cracking open the odd safe or two.
Maurice and Barbara's daughter Grace is played by Emily Head (the real-life daughter of Anthony Head). Grace thinks her dad can do no wrong, and that's because she has no idea how he's made his money.
Paul Barber (Only Fools And Horses, The Full Monty) is Young Nick who, together with Maurice, Syd and Vernon, pulled off some of the most notorious robberies in the country's colourful history.
And last, but not least, Mina Anwar (Coronation Street, The Thin Blue Line) plays Hedley's wife Helen. Like Barbara, she knows what her husband does.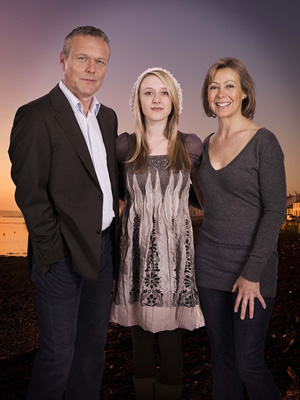 Anthony Head describes the show as being 'very cool'. He explains: It's got a weird mix of real high emotion, high drama and high comedy action. It's not like anything I have ever done before and it's certainly not like anything I have ever seen before.
What is interesting is that Head wasn't aware that his daughter Emily was auditioning for a role in the series. It was a big surprise when the production cast my daughter to play my daughter Grace in the series. I was in Canada when our agents called and said they were putting Emily up for the part. At that point I had in my head that Emily was 17, for some reason, and would be too young to play the role - it was our agent who pointed out she's nineteen! Apparently the casting director - I don't know whether it was by design or by accident, didn't put any names on the casting tapes. The director and producers cast Em, and then didn't discover she was my daughter till sometime down the line.
So what was it like starring alongside his daughter? Right from the outset it was a real bonus. It makes playing father and daughter really exciting because you don't have to create that bond - there's an unseen bond between father and daughter. Our relationship in the story is affected by the fact that I haven't told her what I do - I've kept it hidden - so I've been lying to her all her life and she finds out.
Meanwhile Warren Clarke was trying to copy with all the action which takes place in the series. He explains: The funny thing with doing the show is there's a lot of things in the script which says: Syd and Maurice jump off this building. Syd and Maurice run up this street being chased by dogs; Syd and Maurice escape on a boat; Syd jumps from the deck. And I go, yeah, right! So I decided to have a talk with the producer, Richard Burrell, and I said: 'Excuse me, we have got really good stunt doubles haven't we? Because I can't do this any more'. I don't care whether Syd does it, but I can't do it any more so that brings another set of idiotic situations!
I'm not sure the series has given me a new lease of life, but I have worked harder on this than I've worked for a long time - running, jumping, falling over and falling down. I haven't done all my own stunts, it's impossible and I wouldn't be allowed to anyway.