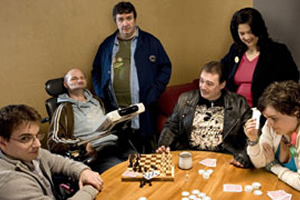 Mark Benton heads the cast in this sitcom series which aims to "explore disability in a funny and truthful way."
He plays Sheldon, a homeless man who strikes up an unlikely relationship with Paul, a wheelchair user, played by Paul Henshall.
Paul and Sheldon are both feeling rejected by society and each has something that the other wants - Sheldon offers friendship to Paul who is lonely and despondent while Paul provides Sheldon with a bed for the night, taking him away from the streets where he has been sleeping rough.
Sheldon enters the weird and wonderful world of Bramble Lodge, the sheltered accommodation where Paul lives and discovers that the community is rife with gambling, scheming and unrequited love.
I'm With Stupid is written by Danny Peak, whose career took off when he won the BBC Talent new sitcom writers award in 2002. Danny went on to write episodes of Two Pints Of Lager And A Packet Of Crisps and My Hero before working on this series.
Danny says: "I was writing all through my teens and twenties and I'd send unsolicited scripts to the BBC. It was always sitcom scripts, it was never stories or films or sketches, always half-hour BBC sitcoms."
Danny's inspiration comes from classic sitcoms like Only Fools And Horses and Sergeant Bilko. "Sergeant Bilko would be a different scam every week: people stealing money off each other, people keeping secrets from each other. I think stories like that work quite well in very small environments. I like characters who never learn from their mistakes, like Sheldon. Things go wrong for him every week, he finds out that he can't trust people and yet he's still willing to do it again.
"I like the fact that Sheldon has come from a very tough background. There are still things that we don't know about his background, but he's obviously had a very hard life, he's lived on the streets, he's seen the worst that people have to offer and yet he's still kind of very emotionally naïve, trusting and friendly."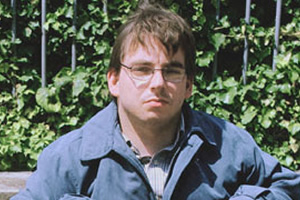 Danny's favourite character is Paul: "I like the way that Paul Henshall plays him. I think he manages to make a very scheming, unlikeable character kind of charming!"
When the residents of Bramble Lodge plan a poker game against the rules, Paul suspects that Sheldon is a gambling addict. "I like the fact that Paul, who is someone who has suffered all his life from people making assumptions about him, is the first one to jump to conclusions about other people," says Danny.
"For example, Paul assumes that Sheldon is a tramp, that he earns thirty grand a year from begging, that he's on drugs and he's a criminal. It's interesting to give some of the prejudices to Paul, rather than have other people make judgements about him."
The idea for I'm With Stupid originally came from 23-year-old writer Peter Keeley, who drew on his own experiences when he became the story consultant on the series. Peter has Cerebral Palsy and has used a wheelchair from an early age. Having won competitions as a teenager for his scriptwriting at Manchester's Contact Theatre, Peter went on to study Creative Writing at Manchester University.
Peter doesn't agree that the character Paul comes across as charming. "He's not a very nice person!" laughs Peter, "I'm With Stupid shows disabled people as real people, rather than putting them on a pedestal."