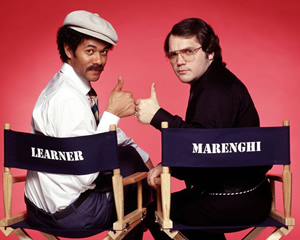 Garth Marenghi's Darkplace is a quite unique sitcom which has become a true cult classic. Created and filmed by Matthew Holness and Richard Ayoade for Channel 4 in 2004, Darkplace is a parody of horror novels and the dodgy production values on 1980s TV drama series.
The show is presented as if it were a real series which is finally getting its first screening on C4 after a 20 year wait (in effect making this comedy a fictional show about another fictional show). The 'action' is interspersed with present day interviews with the writer of the series and also main star Garth Marenghi (in reality played by Holness), the producer and actor Dean Learner (Richard Ayoade) and actor Todd Rivers (Matt Berry). Within these segments the stars reminisce about the show and provide behind-the-scenes insight into the series.
To add to the pretense this was a real show, during 2004 Holness and his co-stars stayed entirely in character when doing the publicity circuit setup by Channel 4 to promote the programme. To further add to the illusion, the official website made no mention of the 'real' actors and the opening titles use the names of Marenghi and Learner rather than Holness and Ayoade.
The above allowed the creators to pull of the desired effect of fooling some of the viewing public, and even some respected media outlets, into initially thinking they were watching a real series. In fact, several years have now passed but this ruse is still catching some people out (Example)
Even the press release we were sent at the time contained realistic looking fake back stories for Marenghi and the other characters. We have copied this amusing description in below...
Channel 4's Fictional Back Story:
Garth Marenghi's Darkplace was originally filmed in the 1980s and has since earned a cult reputation as one of the most terrifying and radical television programmes ever made. Despite this, none of the episodes have ever been seen before now (although the show enjoyed a brief run in Peru).
Darkplace was scripted and directed by the best-selling horror writer Garth Marenghi, known to thousands as the author of such classic chillers as The Ooze (can water die?), Afterbirth (a mutated placenta attacks Bristol) and Black Fang (rats learn to drive). In addition, Marenghi starred as the show's lead character, Dr. Rick Dagless M.D., a maverick doctor battling against the evil forces lurking beneath a hospital in Romford.
Darkplace was funded by Marenghi's publisher, business associate and co-star, Dean Learner, who plays hospital boss Thornton Reed. The programme also features cult horror star Todd Rivers as Dr. Lucien Sanchez, and Madeleine Wool as Dr. Liz Asher (who vanished during the production and remains missing, presumed dead).
Controversy has surrounded the show since its creation, leading to rumours that the production was cursed. When Darkplace was originally cancelled, it had already claimed six lives, caused three nervous breakdowns and been subject to at least one visitation. Marenghi, however, blames the government for the show's troubled genesis: MI8, which is actually three levels above MI6, pulled the plug. And they did it because I knew the truth. They had files on everyone. But mainly on me. Dean Learner, however, blames its creator: Not since Orson Welles had one man so many fingers in so many pies, and been the chef as well. And then looked like he went and ate them all. The guy was out of control.
Finally, almost 20 years later, Garth Marenghi's Darkplace appears for its first UK screening. Channel 4 will show six of the 50 or so half-hour episodes, repackaged by Avalon Television and carefully restored and re-mastered by Marenghi himself, along with technical help from Learner and his one-time brother-in-law. Included within the new versions are recent interviews with its key players, and an appeal for any information which might lead to Madeleine Wool's discovery.
At last, those who made Darkplace give you the facts behind the fiction...
Even now, Garth warns that the show, an effort to radicalise men's minds, may prove too subversive, too dangerous, too damn scary. The wait for the most famous 'lost' project in horror goes on, but not for much longer...
It is this carefully woven story, combined with clever wordplay and lovingly created spoof film which set this comedy apart from the other 2004 sitcoms. The deliberately poor continuity, cheesy lines, wooden acting and cheap special effects are delivered by Holness, Ayoade and the rest of the cast in such a pitch perfect way you can't help but laugh. What really gives this comedy bite though is that the characters are shown to be blind to all these flaws, in fact it is clear from their interviews that Marenghi and Learner regard their series as a masterpiece.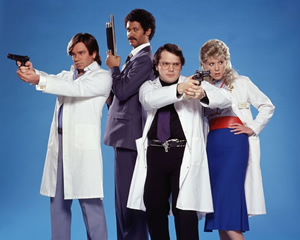 Darkplace is also notable for its excellent music, which parodied 80s TV just as effectively as the visuals (Todd Rivers singing One Track Lover is a particularly memorable example). The soundtrack gained composer Andrew Hewitt a BAFTA Nomination as Best New Composer for Film and TV.
Sadly and rather ironically Garth Marenghi's Darkplace only survived one season. Many suspect the second series was not commissioned because the very high production costs incurred by Avalon were not justified by the average viewing figures the series eventually achieved (however, many level that blame at Channel 4 for scheduling the show badly).
Darkplace is far from forgotten though - it has a strong cult following on the internet and has been steadily growing an audience in America thanks to repeats on the Sci-Fi channel in 2007, and the Cartoon Network in 2008. Although a project to make a Darkplace film never got off the ground, the creators did bring their characters back in 2006 for a spoof chat-show called Man to Man with Dean Learner.