Seb Cardinal and Dustin Demri-Burns are back for a second series of their award-winning sketch show. The new series, which is going out on Wednesday nights, sees the duo move from E4 to the more high profile Channel 4 and introduces some new characters alongside returning favourites like The Office Flirts.
BCG met up with Seb and Dustin in a café in London to find out more about how they started out in comedy, how the TV show developed, and what can be expected from the new series.
The duo met at film school, but it seems comedy wasn't always at the front of their minds. "I personally didn't set out thinking I'd be a comedian, that I'd be doing live comedy shows and a sketch show on telly," says Dustin. "When I met Seb at film school we were doing short films and we were trying to make many of them funny, so there was always a view on comedy a bit... but it wasn't an out and out 'right, let's be a comedian' thing."
Seb backs that up, laughing as he reveals: "I wanted to be a director. So, actually, as a teenager I fancied myself as a sort of serious art house force."
However, in retrospect, it would appear somewhat unlikely either of them would make it whilst being serious. Seb admits he gravitated towards hanging around with people who were funny, and Dustin says "it's a bit of a cliché, but in school I was the class clown. I got a reputation for doing silly things and pissing off the teacher - the class would wait for the next day to see what I'd do. So, looking back, I guess it was obvious I'd end up in comedy."
Both admit that going to film school was perhaps, in hindsight, not the best choice to have made. "It sounds so pretentious saying 'film school'. In retrospect it was good that we met, but it's kind of useless, because we didn't learn much. We got put off a little bit by earnest, pretentious short films and also the short film world seemed quite distant."
However, as they touch upon, it is unlikely Cardinal Burns would exist if they hadn't both opted to go to the 'pretentious' school. They soon started working together there, as Seb elaborates: "Dustin and I hit it off. We sort of thought we could write something together... I think probably in the beginning it was a film, or a sitcom possibly, and then we started doing characters together."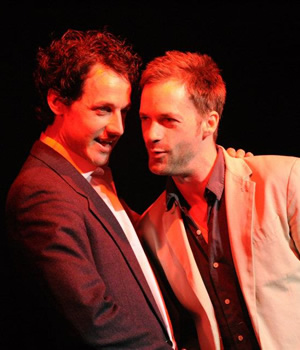 Getting into performing live "kind of happened by accident" for the pair. "We never did any acting training or anything like that, but it soon came out that actually we were actually quite gifted performers and then we thought we should maybe put the characters we were mucking around with on a stage. We used to sit around a dictaphone all afternoon and do characters, and then we'd go and do them on the stage."
The pair settled on the name Cardinal Burns to write and perform under, although it could have been so different. Other potential names they got close to using included Big In Japan and Zazi Don Le Metro.
"When we first used to meet up and write we didn't really know what the end goal was, but then we started doing the stage stuff and we realised that was working." It was still hard to commit to comedy fully though. "We were working in various jobs. We did start to think 'we've either got to find a way to commit to it fully or it'll keep being an evening and weekends thing'. We'd meet, be tired and have work the next day.
"It takes quite a long time to get enough [comedy-related] work that you can commit to doing it fully." In the meantime they had to do all sorts, from van driving to coffee shop work. Dustin reveals he was working "odds and sods right up until the first series. You'd have little acting jobs on a show, but then you'd go back to your cafe job... I was doing that right up until three or four years ago."
Seb explains: "We always said 'one day this will hopefully be full time' and there was a decision at one point saying 'we've really got to make a go of it', but it wasn't practical until you could actually make that jump and quit the part time job."
In a live circuit dominated by stand-up, they soon found it surprisingly easily to perform their character comedy: "There were loads of sketch nights, which we didn't know about at first. There was all these cabaret and sketch nights, really rock 'n' roll nights... like underground at the King's Head.
"As soon as we did the first one we realised there were loads, so we started doing sketches a couple of nights a week. Our first few sketches went down well, so we were asked quite a lot to go back to nights, so we didn't have a problem knocking on doors really. Maybe there are comedians who have to keep knocking. That said, we did have to do auditions where you'd sit in a pub and they'd go 'can you just do your sketch for me now'... and we'd have to sort of go 'er, alight mate...' "
At this point of our conversation the duo launch into a sketch to demonstrate the absurdity of trying to do it just sitting around the table without a live audience. They conclude, "It was weird, but we got the gigs!"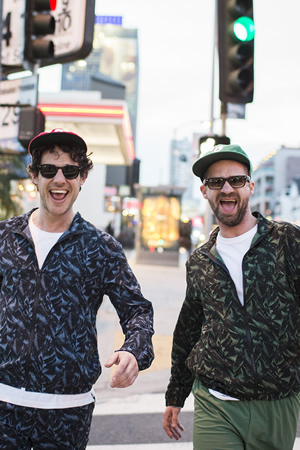 How do Cardinal Burns fare at a more traditional comedy night? "Up the Creek [in Greenwich] is probably an example of more of a stand-up night that we've played. We've made sure we've got stuff that will work, otherwise it's presenting a mini play that no one will get.
"When we really ventured out and made that decision to really push [our comedy career], the 10 minutes we forged was a 'live friendly' 10 minutes that could fit in those nights. We also realised they were the gigs that were paid well and you could earn more from... so we sort of made it less 'fourth wall' and much more live, and it sort of worked out."
Interestingly, unlike most acts who will tell you that live comedy is their primary motivation (even when it clearly isn't), Cardinal Burns are happy to reveal that they have always had a focus on working in television. "The first ambition was to do TV really, because that's what we were writing. To get to that, we thought we should do stage stuff.
"We always had an eye on TV, but it wasn't so much a sketch show we had in mind at first, more a kind of sitcom or something like that. The League Of Gentlemen was something at the time which was the more prevalent sketch type format, more of a hybrid. We were playing lots of characters so a world inhabited by lots of characters was something we were working towards."
But that's not to imply the Cardinal Burns live shows were simply a TV pitch. "That was a conscious thing not to. We soon realised we really enjoyed doing live stuff and sometimes you can go and see shows that are kind of tailored for producers to see them, almost like 'this is what we can do on TV' and we definitely didn't want to do that because, actually, that doesn't always work live. But as soon as we went to Edinburgh you would hear that producers and directors were coming to see the show, so it kind of naturally happened."
The TV show didn't spring up overnight though. "It was a gradual process. We had to do a 10 minute taster tape... then that got us the pilot, then the pilot got us a series. There were quite a few steps to get there."
Much of the TV series had to be written from scratch. "Nearly all of it was new for the TV. Apart from the Fiery Hawk - which is the audition sketch [see below] - and Young Dreams, which we'd done on the stage, it was pretty much all new.
"We knew we had to come up with lots of new material because there's six episodes to film. Actually we learnt quite a lot in the taster tape and pilot. Our first port of call was that two hours of live stuff, and already by the series we knew that some of it was going to fall by the wayside.
"We've noticed a lot of people take their live show and they don't know how to adapt it for telly, so it becomes a bit slim and a bit flat... we were quite aware just doing a transfer would not work. Plus, writing for TV we've got a new freedom because, for example, we can introduce a shot over there to set the scene. Obviously that's a different mode of working."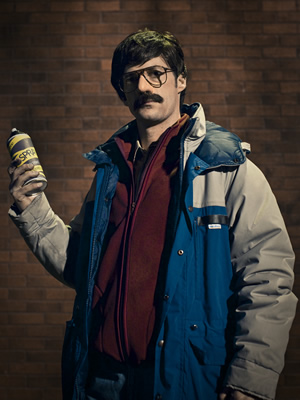 Given their background in helming short films, was it hard to let Spy and Cuckoo director Ben Taylor run the TV shoot? They'd like to direct TV in the future, but for now Dustin's actually quite relieved: "We're quite involved in the whole world around us from the production design, the make-up and costumes... but it's such a pressure [to direct]. Ben has to deal with so much pressure and, in fact, we're so lucky we don't have to deal with that. He can take that on his shoulders... he does it really well. He's a cool customer!"
Seb expands on the point further: "To direct a sketch show that you're writing and performing in... I don't know who would do that. I think if you had one character, more of a sitcom or a film, more of a constant tone or theme, that might be easier to direct yourself in. But to direct a sketch show there's too much to do. Ben and Jenna the producer, and everyone, are pretty resilient."
One of the big hits from the first series was the character of Banksy [pictured], who is portrayed as a boring suburban father. He will be seen again in the new series. The real Bansky embedded one of the Series 1 clips into his website, suggesting he liked it. "It was good to know that he got it, and he liked the humour of it. He only put that one sketch up though... we don't know how he feels now there's been a whole series of them."
The comedians then slip seamlessly into character, imagining Banksy reacting to seeing himself on screen again: "Leave me alone guys, I'm trying to earn a living here, chaps!" They swiftly begin improvising him writing to them: "I've actually had a few ideas for some sketches... what about waiting for a bus and then two come along at once?... Because it always happens guys! You've got to write what's true - that's my only tip!"
Turning back into Seb and Dustin, they then add: "We hope he sees the funny side and doesn't think it's just a relentless bashing. It was such a fun thing to do - he's almost given it to us on a plate: he's anonymous, he's got a cool image and you can make him what you will. And he can't really be offended because nobody knows who he is... although we'd argue he probably is closer to that family man image than the media make out."
Series 2 sees Banksy and some other favourites return, but there are new characters too, and clearly a lot of money has been spent on some of the sets. "It's certainly bigger in scale and ambition and, yeah, we're really happy with it. We take our time with the stories a bit more, so there's less one offs than the first series.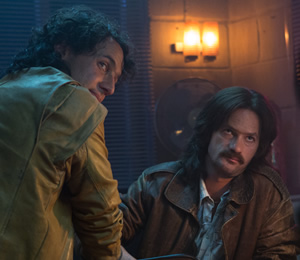 "Hashtag and Bukake, two Turkish minicab drivers who are straight out of the 80s, is probably the main new strand that runs throughout. We've created them this quite elaborate world which they treat like a crime scene. We've painted them a world where there are a lot of parallels with 70s and 80s buddy cop shows."
Series 2 looks set to be a hit, so have they had any thoughts about making any more, if asked by Channel 4? "Yeah, we've been talking about this a lot recently because it's close to coming out and we guess this is the time when they work out whether they want to give you another series. We sort of naturally come up with new characters all the time. Some characters we've created have perhaps got legs to do more with."
We wonder if they might mean a sitcom too? "Yeah, maybe... we are scribbling away."
They may currently be hanging out on TV, but Cardinal Burns will soon be returning to performing live too, with various dates over the summer and a full tour kicking off in September. Unlike when they crossed to TV and took no characters with them, this time the cross back to live looks set to see some of their creations transfer across the mediums. "For the tour we want to have some characters that people have seen on telly - it's nice to bring them out and, if it works live, that's good and fun!
"But it's all about whatever works live - if they don't, we're not going to crowbar them in. But it'd be safe to say there will be a few.
"Before the tour we're doing a few gigs, Edinburgh for a week, and a run at the Soho Theatre [in London]... but they're a bit different - they're 50 minutes, so we don't want to do too much stuff we've done before. We've got to introduce new characters again!"
Cardinal Burns is on Channel 4 on Wednesdays at 10:30pm. To find out more about the duo and the tour visit their website: www.cardinalburns.com