Series 1, Episode 4
Will Danny and Veronica get their old lives back, and if they do, will it ever be the same?
Further details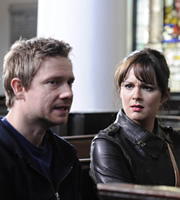 Warning: This Section Contains Spoilers
Danny realises that saying yes to Jay's marriage proposal has put an obstacle between him and Fiona, and Siobhan is horrified when she catches her best friend in bed with a woman who works in a DIY store! Meanwhile, Pete, who now finally believes that Danny is actually trapped inside the body of this woman, is furious when he realises Danny's deceiving Fiona and demands he ends his relationship with her.
Veronica traces Danny to the DIY shop, but some local villains are lying wait for him and when Danny spots Veronica (in his body) she is being forced to commit a robbery to repay a debt. Danny helps her to escape and the two properly meet for the first time. Veronica has convinced herself via spurious internet research that recreating the electrical shock they received may reverse the gender-swap. She's desperate to stop being Danny and assumes Danny feels the same way. However, Danny doesn't want to swap back, he like being Veronica, and doesn't want to lose Fiona. He leaves a shocked Veronica stuck in his body and with no option but to live his depressing life.
Danny keeps his word to Pete and despite how hard it is for him, he breaks up with Fiona, who doesn't understand why it has to end. They're both heartbroken and reality hits home when he arrives back at the flat to find to find a surprise engagement party and Jay in full wedding mode. As Siobhan and Ali confront him about the affair with Fiona, Jay enters and demands to know the truth but is baffled when Pete turns up and calls his fiancee Danny!
Meanwhile, Veronica has been watching from the car and orders Danny to get in the car, she's not spending another day in his shoes. She starts driving back to the scene of the explosion to recreate it by force if necessary. Will they get their old lives back, and if they do, will it ever be the same?
Broadcast details
Date

Friday 22nd May 2009

Time

9pm

Channel

Length

30 minutes
Cast & crew