Poor Stephen, when we last left the Mitchell & Webb sitcom, Back, David Mitchell's character had been driven to the point of madness. Stephen's life had been on something of a downward spiral for years, but after the death of his father, Laurie Nichols, he finally felt that he had a decent chance of making it as a publican - he could turn his life around by stepping dutifully into his father's shoes and running his beloved pub, The John Barleycorn. That dream came crashing down with the arrival of one man, Robert Webb's Andrew, a foster child of the Nichols family, who strode back into Stephen's life to claim it for his own, or so Stephen believes...
Back is a sitcom with a difference. It's a dark comic thriller of sorts, all hinging on one simple but vital question: 'Is Andrew evil?'
At the start of the first series the answer seemed obvious, he's evil. Or, if he isn't actually evil, then he is utterly determined to destroy Stephen's life and take everything he holds dear. As Andrew arrives, he effortlessly charms Stephen's entire family: his hippy mother, Ellen (Penny Downie); his airy-fairy sister, Cass (Louise Brealey); and his frankly bonkers Uncle Geoff (Geoffrey McGivern). Even his ex-wife, Alison (Olivia Poulet), is taken in to a certain degree.
Andrew presents as everything Stephen isn't: self-assured, successful and charismatic. Stephen first meets Andrew as he confidently stands at Laurie's graveside, declaring himself Laurie's son. Simon Blackwell, the creator and main writer of Back, recalls this scene as the genesis of the series:
"It all grew out of the scene in the first episode, where Stephen is saying goodbye to his dad at his funeral, and then Andrew steps into frame and says 'Goodbye Dad'... and I thought that you would then want to know what happened next?"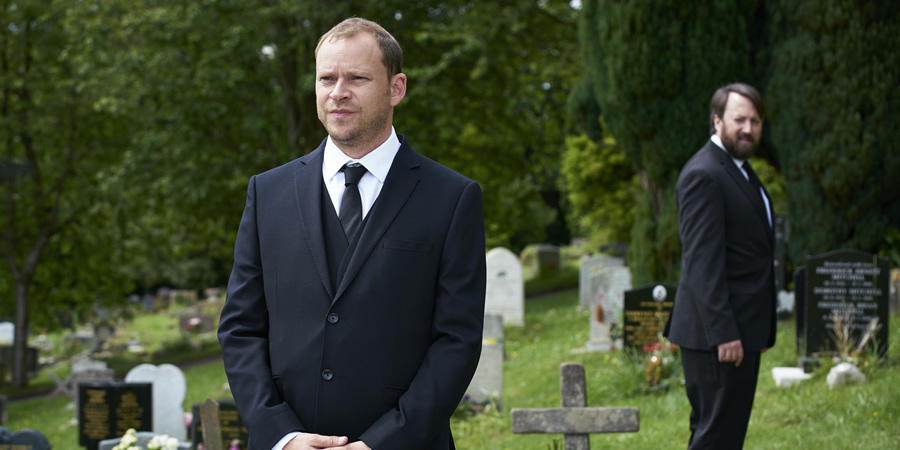 And you do want to know what happens next. Back is as much a drama as it is a comedy. Every episode ends on something of a tantalising cliff-hanger, as Andrew slowly takes over the pub, thanks to a gift in Laurie's will - the mystery element and the tension between Mitchell & Webb's characters drives the show in a way that's unique from other sitcoms. David Mitchell observes:
"They are caught in the same unpleasant embrace, and I think that's the key to a good sitcom, that people are stuck together in some way, but that way is not harmonious, and the comedy comes out of the fact that they can't escape."
This tension is balanced perfectly against a tight script that manages to be dark and edgy, but at the same time is bursting with humour and warmth. Simon Blackwell explains the important balance between the comedy and the drama:
"First and foremost, it needs to be funny, but it also needs to be emotionally true, I think. I always try and write stuff where if you lifted all of the jokes out, it would work as a drama, the story would be satisfying and you would believe all the emotional beats of the story."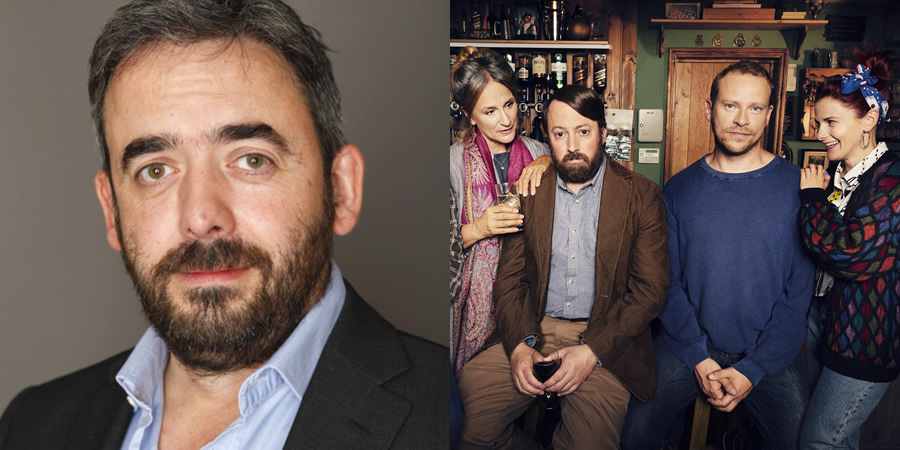 Back is a new spin on Mitchell & Webb's enduring double act. Simon Blackwell has both written for Peep Show and known David Mitchell and Robert Webb for over twenty years. Although comparisons are inevitable, Back is a very different to the now iconic flatshare sitcom, although at their heart the characters share the same basic motivations - a desire to at least maintain a sense of pseudo contentedness, particularly Stephen, whose sanity seems to hinge on a sense of belonging.
David Mitchell likens their situation to the famous tragic line uttered by Mark in Peep Show: In reply to Jeremy declaring he's having a good time at a party, Mark replies: 'So am I! I mean, not actually, but it's like I am!' David remarked that that attitude is, to an extent, a reflection of British society:
"The way the British go to a country pub, is: 'Oh yes, this is going to a country pub, isn't it?... Like we've always said we should be doing... Is this a traditional Sunday roast?... Like they have?... Like people have?... Am I having it like people have?' We all look for it so often, sort of desperately, but by looking for it in that way, we're already out of the moment that we're trying to capture.
"The paradox/irony of Andrew, who is a deeply fake but plausible person, nevertheless having the eye and the ear to be able to make things seem authentic. Stephen, who has no artistry about himself at all, all of his instincts make the pub seem fake and modern and inauthentic, and yet, he is an authentic publican, whose father was a publican, and Andrew's just this interloper, whose got an eye for things - it's that whole notion of what's authentic and what isn't."
Robert Webb states that, despite not being political, he feels the series is "riddled with Brexit anxiety". Optimism against adversity strives in Back, but ultimately Stephen and Andrew are very confused and unhappy protagonists, albeit, in a completely different way to their Peep Show counterparts.
Analysing the series, you'd be forgiven for thinking it was a drama, but in watching, gags are coming at you at a mile a minute. Back benefits from an incredible ensemble cast and a wealth of guest performers; although this is Mitchell & Webb's show, everybody gets their time to shine, particularly the bizarre bar staff: Mike and Jan (Oliver Maltman and Jessica Gunning). Jessica portrays Jan perfectly; a subtle, yet surreal character, who generally thinks that 'aww' is the best response to everything in life.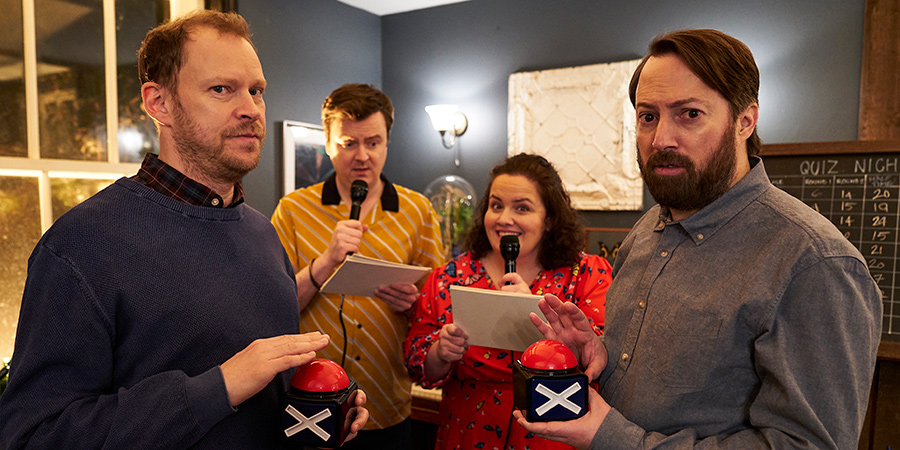 Uncle Geoff's colourful language remains a highlight for most, in fact, it's so colourful that a cleaner version of a few of his scenes had to be re-shot for an American broadcast. Geoffrey McGivern's character, brother of the deceased Laurie, described as a 'firework' by Simon Blackwell, is the source of some of the series' biggest laughs. One perfectly timed expletive from Geoff relieves any tension from a scene. His insane high jinks were never better displayed than when he took over The John Barleycorn - taking it back to 'the good old days' in the first series. "I'm just bringing a taste of the seventies back, like BBC Four", he declares, while serving beer to minors and allowing everybody to smoke in the pub.
The decrepit Barleycorn was very much a bone of contention for Stephen and Andrew in the first series. Simon Blackwell explains his inspirations for the ailing business:
"David and I had both been to separate terrible pubs called The John Barleycorn, which had stayed in our minds as what Stephen had wanted to do with The Barleycorn... then Andrew comes along and makes it fantastic and popular, but Stephen wanted it to be quite focused on 'pine', which it was, until it burned down."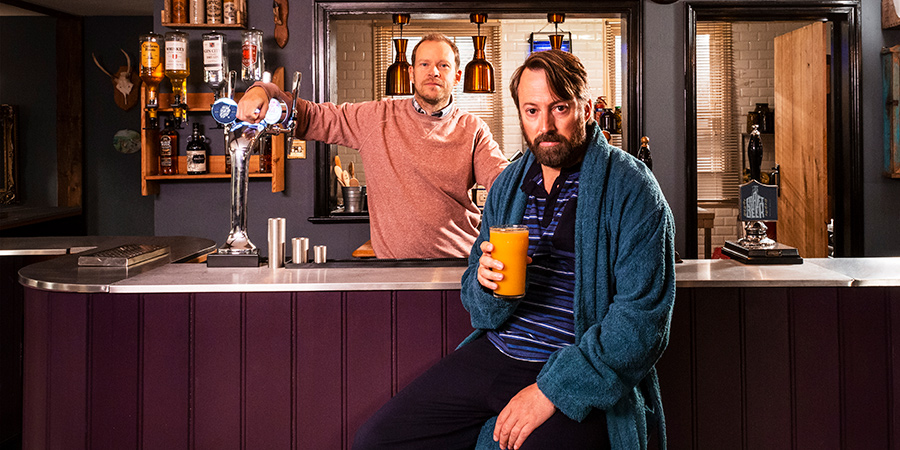 The pub, stripped of Stephen's beloved pine, and then stripped of almost everything else due to the massive fire, causes David Mitchell's character, who is pitched beautifully as an instantly lovable, but ultimately tragic figure, to fall into a state of madness, as the question 'Who is Andrew?' starts to take a grip on his mind above all things. Progressively cracks start to appear in Andrew's tales of continuing successes across the globe, as do his memories of his time with the Nichols family.
"There's a very particular end to the series... where we might go in terms of story", Simon Blackwell reveals. Although an ending is clearly planned, Robert Webb reveals that, he too, is in the dark as to his character's true motivations: "I never really decide whether Andrew is motivated by malice and just out to get everyone, or, whether he's just this very needy guy, who had quite a challenging childhood and whose need for attention comes out in various harmful ways ... and it's really been a question of me finding a way through that, or finding the funniest way through that."
It's been a long time since the first series aired in 2017, a combination of Robert Webb having to undergo major heart surgery (a heart murmur was picked up during his medical for the series), and a global pandemic halting various filming attempts; but good things come to those who wait, and set in a weird pre-covid age, we re-join the bunch of misfits who call The John Barleycorn their sort-of home. Honestly, it feels as though they've never been away.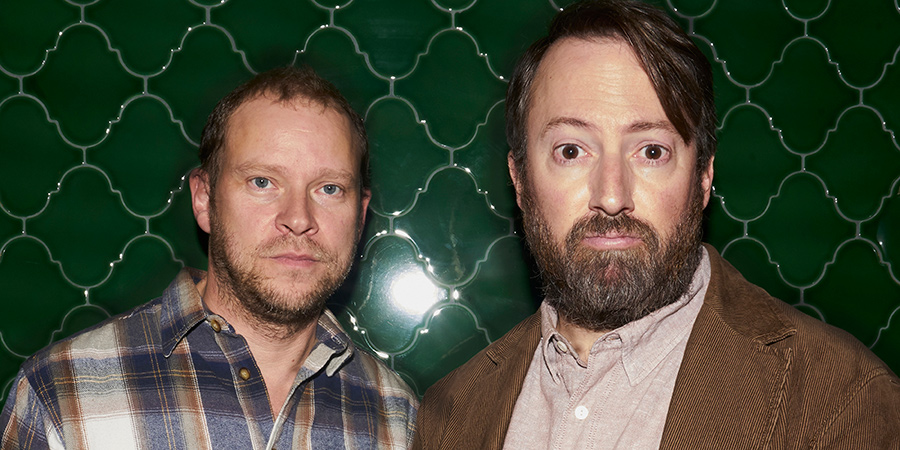 Series 2 picks up perfectly from where Series 1 left off, keeping exactly the same high level of intrigue and comedy. Stephen's awkwardness remains - a particularly great moment sees Stephen miming shaking dice to disastrous effect. The only real change is that there aren't so many flashbacks to Stephen and Andrew as children as there were before. They aren't remembering their childhoods anymore and there's a general theme of moving on in this new series: Stephen's mother, Ellen has a new man in her life, Cass is flying the nest ... again and Uncle Geoff too, has a new relationship.
Most significantly, the tables have turned, this time it's Andrew who calls The John Barleycorn home, and it's Stephen who's been away, an outsider to his own family. But, now he's back and we're about to find out what's in store for him...
Published: Monday 18th January 2021