Likely Lads film screening
Network confirms Likely Lads screening event
A screening of The Likely Lads film will take place ahead of its restored Blu-ray release
The event will also include two previously lost episodes of the original BBC2 sitcom, and a writers' Q&A
Due to take place on Tuesday 12th March, tickets are available now from Prince Charles Cinema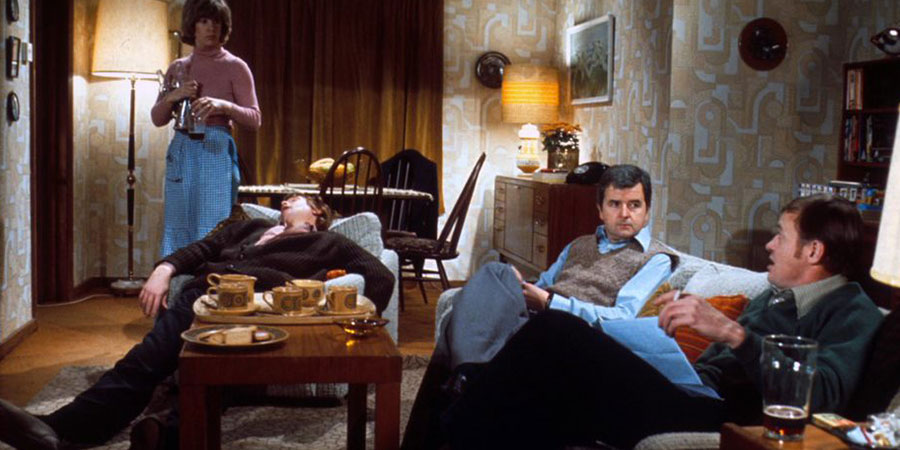 Film, DVD and Blu-ray distributor Network has announced a special screening event for The Likely Lads film.
More Than Likely: A Celebration Of The Likely Lads will take place on Tuesday 12th March at the Prince Charles Cinema in Central London, concluding with a special question-and-answer session with the writers of the landmark comedy, Dick Clement and Ian La Frenais.
Ahead of Network's 18th March re-release of the film - restored and available for the first time on Blu-ray - the screening of the 1976 movie will be accompanied by two newly recovered episodes of the original mid-1960s sitcom, which are also included on the DVD/Blu-ray and have previously been missing from BBC archives.
The company explains: "The Likely Lads (1976) feature film starred James Bolam and Rodney Bewes as Terry Collier and Bob Ferris, two life-long friends with vastly different outlooks on life. This feature presentation has been beautifully restored from original film elements.
"But that's not all...Bob may memorably bemoan that 'in the chocolate box of life, the top layer may have already gone', however, the folks at Network have discovered a secret stash of orange crème...in the form of two recently recovered episodes from the original BBC TV series, thought lost for over five decades!
"Screening for the first time, episodes A Star Is Born and Far Away Places, will follow the feature film presentation. To round off an already exciting evening, Likely Lads creators Dick Clement and Ian La Frenais will join us for a very special Q&A session."
Copies of the DVD and Blu-ray will be available at the event for early purchase.
Tickets for the event are available now
Here is an exclusive clip from the episode Far Away Places:
---
For updates, click the buttons below.
Spinning off from the incredibly popular 1960s sitcom and its BAFTA-winning 1970s sequel, James Bolam and Rodney Bewes star as Terry Collier and Bob Ferris, two life-long friends with vastly different outlooks on life! Written by comedy legends Dick Clement and Ian La Frenais - who would go on to further success with series like Porridge and Auf Wiedersehen, Pet - The Likely Lads is presented here as a brand-new high definition transfer from the original film elements in its original theatrical aspect ratio.
Thelma's continued annoyance at her husband Bob's disruptive friend shows no sign of abating. But when Terry lands himself a new girlfriend Thelma sees her chance to finally get Terry married off and out of her and Bob's life forever! Her solution of touring the north of England in a caravan, however, leaves a lot to be desired...
First released: Monday 1st April 2019
It looks like you're in the US? Fear not! Almost everything can still be ordered.
Amazon UK
deliver internationally,
Amazon.com
carries many items separately, or you can look out for US/Canadian flags on our product listings for direct links.
If ordering from a UK store, please note that you are in Region 1 (DVD)/Region A (Blu-ray), whilst the UK is in Region 2/B, respectively. This means that many - but by no means all - may fail to play. Look for products marked "Region free", "All regions", "Region 0" or "Multi-region". Blu-rays may also be marked "Region A/B/C", or variations thereof. You may also check whether your DVD/Blu-ray player supports multi-region playback (also referred to as "region free"), or whether it can be set to do so. There should, of course, be no problems with books, CDs, or other physical items.
More advice & help on importing
Share this page