Book Review: 30 Years Of 'Allo 'Allo!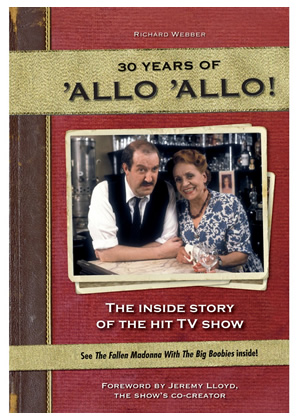 There are a plethora of guides and tell-all publications related to British comedies, but until this year one of the BBC's most successful and popular sitcoms, both with domestic and international audiences, remained strangely overlooked.
'Allo 'Allo! began life as a pilot at Christmas 1982, launching for a full series run in September 1984. By the time it drew to a close in December 1992, 85 episodes had broadcast - rarely to critical acclaim, but always to popular appeal. Indeed, at the height of the show's success it was drawing in a weekly audience of 14 million viewers. By contrast, the highest rating programmes today, such as long-running panel show Have I Got News For You, enjoy ratings around the 5 million mark.
Penned by prolific comedy historian Richard Webber, this brand new book does exactly as its title suggests: celebrates three decades of a comedy classic that has bewitched audiences from Australia to the former Soviet bloc of eastern Europe, the USA - and of course, France and Germany themselves.
Webber's style reads as well as one would expect of a man who has previously penned volumes covering the Carry On films, Only Fools And Horses, Dad's Army, Rising Damp and One Foot In The Grave. His writing evokes delightful memories of the wartime sitcom, and whilst there's a little bit of repetition in re-introducing people at different points, everything flows well.
It's an eminently readable book, with heart-warming and fascinating stories of life making one of Britain's most popular sitcoms. The tales of the cast's backstage pranking antics are a particular joy, several of which made us laugh-out-loud, and the picture painted of writer-producer-director supremo David Croft is as charming as it is inspiring.
Our only criticism is that the biggest single chunk of the book - details of each individual episode with cast list and plot summary - is little more than one could find freely on any number of websites. Webber's synopses are perhaps more in-depth and well thought-out than many free resources offer, but a little extra such as the premiere viewing figures for each episode, or the date and location of the studio recordings, would have really proved the icing on the cake.
However, there's little doubt this is a work of love and with a great selection of full colour photographs from the personal archives of cast members, fantastic anecdotes, and interviews with almost everyone involved in the sitcom's production who is still alive, this is a publication that any 'Allo 'Allo! fan simply needs to have on their shelf.