Comedy writer and star Moray Hunter talks to us about his radio sitcom, Alone.
Hi Moray. We're always curious to discover how people first got into performing comedy. What's your early back story please?
I started writing and performing sketches aged about 14 as part of a church youth group who did an annual charity revue. I was at an all boys' school so it was a way to meet girls, basically.
I also produced our school Sixth Form Revue, and a few years later, two guys from the same school got in touch and asked if I fancied becoming part of a sketch show on the Fringe. It was just down the road from me so I said yes, a team was recruited and The Bodgers were formed. There were 9 of us to start with but gradually, over a few years on the Fringe, it whittled itself down to a foursome who wanted to do it full time - namely Gordon Kennedy, Pete Baikie, John (Jack) Docherty and myself. And from that we got our first radio series, In Other Words... The Bodgers.
You have written for and starred in many comedy shows, most notably perhaps Absolutely. Aside from that programme, what have your personal career highlights been to date?
Writing for Spitting Image in the early days was a real buzz, working all week on a show that went out on the Sunday night and that everyone seemed to be watching.
The Absolutely spin off sitcom Mr. Don And Mr. George with Jack Docherty was another high point, tinged with huge disappointment that we didn't get to do more.
The Cup, which Jack and I adapted from Canadian sitcom The Tournament, was great fun to do - see previous answer re huge disappointment/didn't get to do more etc.
As a comedy actor, my favourite role, apart from my old Absolutely fave Calum Gilhooley, was Objection McNally, the drunk lawyer in a couple of episodes of Bob Servant. Of course, I'd properly researched that role, having been drunk on numerous occasions and a lousy lawyer once.
Mr. Don And Mr. George will be 25 years old this August. Time flies?!?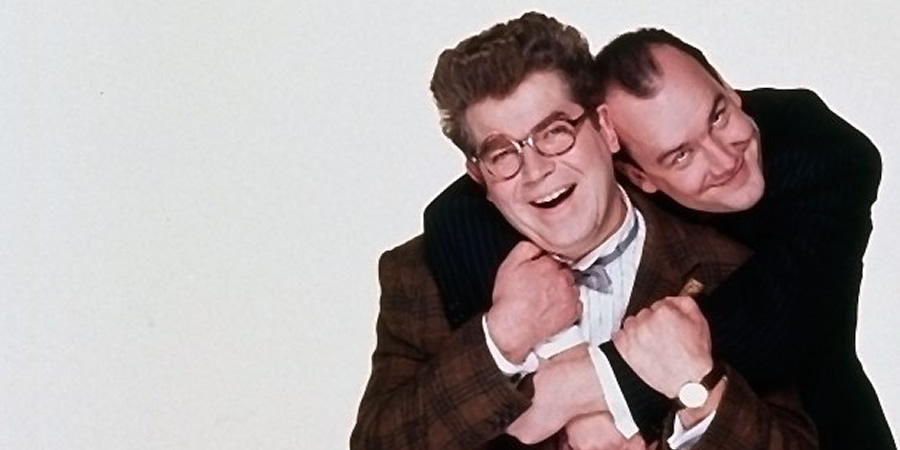 Yep, sure does. That was some of the best fun I've ever had. Jack's eldest son was born the night before one of the recordings so it's been easy for us to remember, as the show is the same age as Nico. But not quite as tall.
Your latest project is Alone, for Radio 4. Following on from the great pilot, you've now made a full series. Could you explain the set up please...
Alone features five single, middle aged people living in flats in a converted house, somewhere in North London.
Mitch (Angus Deayton) is a widower and part time therapist who is trying to put his life back together and so has moved in with his rather furious, divorced half-brother Will (Pearce Quigley)... Will was Mitch's full brother in the pilot but he's now the half-brother, owing to a reason. Will works from home as a translator and the pair share a flat on the ground floor.
On the first floor we have Ellie (Abigail Cruttenden), an overly sensitive primary school teacher who split up with boyfriend Mark four years ago and is just about, but not really, over him; and Louisa (Kate Isitt), who is a struggling, mouthy actor.
On the top floor is Morris (Bennett Arron), who is a lonely and rather sad IT expert.
Living in close proximity and being single, their lives become more and more entangled, which suits some of them a lot better than it suits others.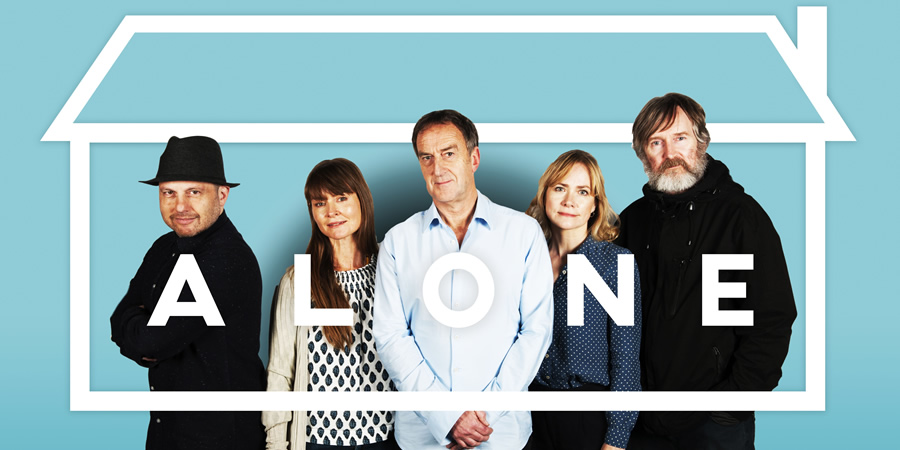 Does the premise mirror anything in your own life?
I wrote a spec script of this back in about 2002, when I was single and living in a top floor flat in a large converted house in North London. There was actually a mix of singles and couples in the building but that's where I got the idea.
I'm now married but I spent quite a few years as a single, sole occupant, and at the time it did feel like I was never going to manage to settle down. I think it's just like that. But apart from all that, Alone doesn't mirror my life in any way, shape or form.
Flatshare sitcoms tend to focus on people in their 20s and 30s. Do you think comedy as a genre sometimes overlooks the older generations?
True what you say about flatshare sitcoms and 20 and 30 somethings but, being pedantic for a minute, this isn't actually a flatshare sitcom, apart from Mitch and Will. I think of it as a neighbours type sitcom, except they're all living in the same building.
What I was really trying to get away from was writing a family sitcom - there seem to me to be enough of them - especially as more and more people are living on their own, increasingly as a lifestyle choice. So that was more what I wanted to look at, being on your own in middle age. And there's a distance between neighbours that, normally at least, makes them to try to be polite, which I find funny.
I'm not sure I agree that the older generation has been overlooked in sitcom but I do think there's a gap for the older sketch show, which seems to be the preserve of the younger generation. That said, I guess, at least on radio, with shows like Harry And Paul Present and our own Absolutely we're gradually addressing that by simply getting older and carrying on doing it.
We're big fans of Absolutely here at BCG, so delighted in recent years you've started working together again. What prompted the reunion?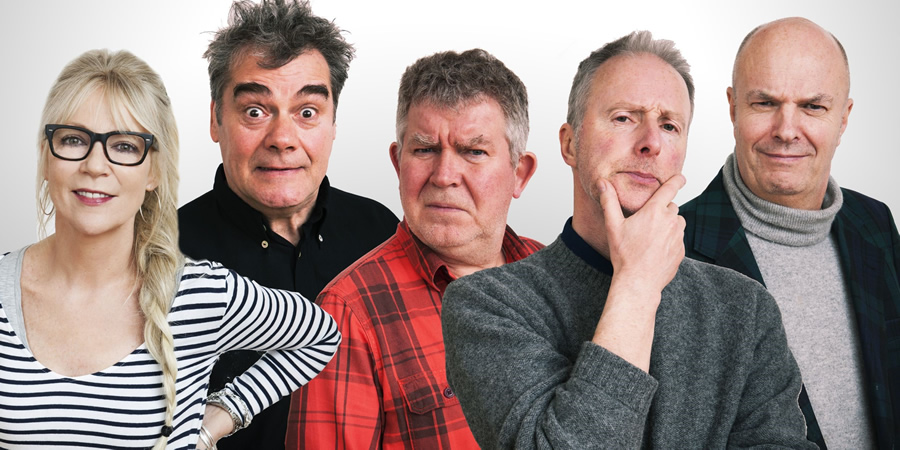 Well thank you. Delighted to hear it. The reunion was a total surprise and was actually down to The Comedy Unit, and in particular Gus Beattie, the producer of Sketchorama. Gus had the idea of asking us to perform a set on the show, and I actually heard him mention the idea on a radio show one morning before they'd run it past us. After the initial shock, we realised that it was a good idea and that there was no good reason not to do it.
We over-recorded on the night, some old stuff and some new, and when the new stuff went down well, we thought we might as well carry on. So, it's thanks really to Gus, who now co-produces the show, and The Comedy Unit, or we would actually have died wondering.
Jack Docherty is missing from The Absolutely Radio Show. Any particular reason why?
Well, Jack was busy with his own radio series, Start/Stop, when we initially were asked to resurrect Absolutely and he wanted to focus on that.
Also he just felt he didn't really fancy doing it again anyway. And that remains his position, which is a shame but it's fine. There are no hard feelings on any side although we did have a bit of an ironic laugh when our Radio 4 special won our first ever Absolutely award without him.
Your Absolutely co-star Gordon Kennedy is producing Alone. Does it make it easier or harder working in such a dynamic with someone you've known for so long?
Easier, basically. Gordy not only produces the show but he co-directs it with me, all of which would be hard if we didn't go back together so far.
Luckily, we have a shorthand, as we basically have the same comic view on most things. When we do disagree there won't be a scene; more likely one of us will say nothing, pout slightly and look into the far distance until the other one notices something is up. It works pretty well.
Did you not fancy writing a part for yourself in the show?
No. I decided at the beginning that I just wanted to be the writer and keep a distance. Don't know why. Maybe I wanted to be paid less. But what with now co-directing the show, which I've never done before, I think that one and a half hats are enough to be going on with.
And, let's face it, someone has to do all the pacing up and down in the box during the recording shouting 'why the **** didn't they laugh at that line, they laughed at the one before?' ... I think I'm best suited to that role.
What's next for you Moray? You'll be returning for Series 3 of The Absolutely Radio Show in 2019 we understand?
Yeah, looking forward to Absolutely Radio 3 for sure. Plus, I hope I get to do more Alone - although see earlier answers re: huge disappointment/didn't get to do more etc.
Other than that, I've got a couple of spec scripts I'm currently trying to sell. Don't want to hex them by talking about them out loud although I will say that one of them is a sitcom for Calum Gilhooley, which I'm pretty excited about. And that one, I'd like to have a main part in.